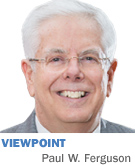 Beneficence, a bronze statue near my office at Ball State University, is a monument to innovation and philanthropy.
Crafted by the artist who sculpted Lincoln's statue for the Lincoln Memorial, Beneficence honors the five Ball brothers whose entrepreneurial spirit built a business and whose generosity established our university nearly a century ago.
Beneficence takes on even greater meaning for millennial-generation students whose lives and careers depend on innovative approaches to education, and whose passion lies in service to others. To meet those needs, Ball State is focusing on a critical niche: entrepreneurial education.
Why does this concept matter? How does it serve students and their personal and professional interests?
Statewide and nationally, there is tremendous pressure to provide postsecondary education to more working adults. Unfortunately, Indiana and the nation fall far short of that goal, so employers struggle to find qualified workers.
The question is, what kind of education is needed most?
Some want more vocational education that provides immediate skills for immediate jobs.
Others emphasize a traditional liberal arts education that encourages intellectual rigor and versatile thinking.
Still others promote professional programs—for example, agriculture and engineering at Purdue or law and medicine at Indiana University.
All of these approaches are important in the educational mix.
But given contemporary needs of our students and employers, our state's economy and society at large, a fresh approach—entrepreneurial education—is increasingly vital.
The notion here is not your business-school definition of entrepreneurship (though Ball State teaches that well). Entrepreneurial education recognizes that 21st-century life and work are unpredictable. They turn on a dime. Every year, there are jobs and careers that didn't exist the year before. And those that did change rapidly.
Ask the schoolteacher whose job security now depends on new education standards and standardized tests. Ask the architect embracing new green-building demands. Ask the nurse who must constantly learn new prescriptions and procedures. Ask the scientist using new technologies. Ask the journalist adapting to ever-changing media platforms. Ask the business owner facing innovative global competitors.
The point is, traditional education models—the "sage-on-the-stage" professor talking at passively listening students; the siloed, single-discipline focus, ivory-tower isolation from the community—all are increasingly passé for today's students.
Today's young people are street-smart, collaborative, service-oriented, insistent on diversity, and global in their thinking. They learn differently than they did in the past.
Equally important, today's employers want, more than anything, critical thinking skills. They're not asking graduates to perform a set task for 30 years.
Instead, they are asking them to invent, to solve problems, to figure things out. They are asking them to be entrepreneurial. And that's true whether they're English majors, actors, architects, scientists, actuaries, small-business owners or whatever they choose to be during their evolving lives and careers.
So at Ball State, we are taking an entrepreneurial approach to education—connected to a broader world through service learning, internships and volunteerism; collaborative so that students, their peers and professors learn from one another; interdisciplinary so the silos come down and the real world steps in; embracing of risk and fearless of failure—because we learn more from trial and error than from safe, formulaic success.
And like the entrepreneurial, philanthropic Ball brothers, all of this will be done with an eye toward beneficence, because that is what millennials need and want, and because community and global service is what our fractured society so desperately needs.•
__________
Ferguson is the 15th president of Ball State University, which celebrates its centennial in 2018. Send comments on this column to ibjedit@ibj.com.
Please enable JavaScript to view this content.