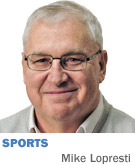 It's May. It's my month. My name is the Indianapolis Motor Speedway, and pardon me if my bricks are showing their age a little. Let's see what you look like when you're 106 years old.

It's that time of year again when I see so many familiar faces—and fried chicken bones. I'm saying hello again to Helio and Tony and Scott. Even a few Americans. My gates are open, so come on in. Don't mind all the Sunoco signs and other new advertising. I have bills to pay, same as you.

I hope you appreciate me, even if you're so distant from racing, you think an aero kit sounds like a model airplane. Or you can't remember whether they turn left or right in the Indianapolis 500. Hey, my grand marshal this year is a 5-foot-3 Russian-born gymnast. I like everybody. And I'm a survivor. I've endured. I was christened the same year the hull was laid for the construction of a ship to be called The Titanic, and look how that turned out.

In this disposable world that worships pretty young faces and kills off sports venues for lack of luxury boxes, I'm still here. I'm 3 years older than Fenway Park, 13 years older than the Rose Bowl, 24 years older than Augusta National. That track at Daytona, which NASCAR always goes on about? It could be my grandson.

Walk around and take a look at me. I'll bet I don't look a day over 90. Still 2-1/2 miles and the exact same shape. Even the Masters changes its pin positions.

The year I was born, in 1909, so was Jessica Tandy, Burl Ives, Errol Flynn and the city of Tel Aviv. Russia had a czar, Turkey had a sultan, and America had 46 states. Gas was 6 cents a gallon. The Navy started building a base in Hawaii; someone would call it Pearl Harbor.

I saw the Boston Doves and Brooklyn Superbas play Major League Baseball in the National League and the New York Highlanders and Cleveland Naps play in the American. I was already nearly 58 when the Super Bowl was born.

My first day was a helium balloon race. I don't really remember much about how it began. Gentlemen, start your hot air blowers? Anyway, four days later came the big news involving autos. A lady named Alice Ramsey started out to become the first woman to ever drive across the United States. Took her 59 days to get from Manhattan to San Francisco.

This will be my 99th Indianapolis 500. I have seen 69 different drivers win the thing. A few were even Indiana native sons, but none of those since Wilbur Shaw 75 years ago.

I've lived through a lot. The Great Depression, 18 U.S. presidents, the Civil War. No, not the one between Grant and Lee, the one between Indy Racing League and CART. Boy did that ever rain on my parade lap. I still haven't bounced all the way back. It was like getting malaria.

If I'm honest, I have to admit I've lost a step. Race day is not as magical as it used to be, and the qualifying sessions are shadows of their former selves.

But still, a heck of a lot of people will show up on May 24, and the racing teams would fight a family of fire-breathing dragons to win on my track. And I'm trying to keep up. I'm trying to be hip and modern. Aren't my video boards spiffy? Come July, I'm hosting The Rolling Stones. Mick Jagger might be nearly as old as I am.

Tell the truth, sometimes I feel a little taken for granted. Do the younger generations understand the lasting gem I am, holding firm out here on West 16th Street? Do they realize how few places can claim a genuine, world-renowned landmark?

I'm probably second in the nation in longevity among sport treasures, behind only that dirt oval down the road in Louisville, Churchill Downs. It's been around since before Custer. But I still smoke the geezer in attendance.

I've seen them come and go. Foyt, a gaggle of Unsers and Andrettis, Paul Newman, David Letterman, Jim Nabors. No worries, by the way. "Back Home Again in Indiana" will never be left unsung. That homage to the Hoosier state, with lyrics by a guy from Oregon.

I'm never going away, either. They're not going to implode me one day for a newer model. I am not the RCA Dome. I am the Indianapolis Motor Speedway and I've been around longer than the Panama Canal. The fastest drivers in the world still come to me for glory. In my sport, I am Yankee Stadium, Lambeau Field and Madison Square Garden all rolled into four turns.

Remember what last year's winner said about me just after the race? "This," Ryan Hunter-Reay mentioned, "is where drivers were made and where history is made."

The world turns, changes and often forgets, but I'm still here. Welcome back.•

__________

Lopresti is a lifelong resident of Richmond and a graduate of Ball State University. He was a columnist for USA Today and Gannett newspapers for 31 years; he covered 34 Final Fours, 30 Super Bowls, 32 World Series and 16 Olympics. His column appears weekly. He can be reached at mlopresti@ibj.com.