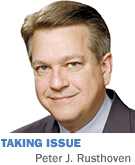 Donald Trump has joined the presidential race. Our problems will soon end, as shown by The Donald's announcement. Some highlights:
What we need: "Our country needs a truly great leader, and we need a truly great leader now. We need a leader that wrote 'The Art of the Deal.'" Narrows it down.
Jobs: "I will be the greatest jobs president that God ever created." How? "I'll bring back our jobs from China, from Mexico, from Japan, from so many places. I'll bring back our jobs, and I'll bring back our money." Check.
Trade: "I know the smartest negotiators in the world," and, "I put them one for each country. Believe me, folks. We will do very, very well, very, very well." Who could doubt?
Entitlements: "Save Medicare, Medicaid and Social Security without cuts." How? "You save it by making the United States, by making us rich again, by taking back all of the money that's being lost." OK.
Border security: "I would build a great wall, and nobody builds walls better than me [sic], believe me, and I'll build them very inexpensively, I will build a great, great wall on our southern border. And I will have Mexico pay for that wall. Mark my words." Duly marked.
ISIS: "Nobody would be tougher on ISIS than Donald Trump. Nobody. Within our military, I will find the General Patton or I will find General MacArthur, I will find the right guy." Problem solved.
Iran: "I will stop Iran from getting nuclear weapons." It's not about how, but how not: "We won't be using a man like Secretary Kerry," who "goes into a bicycle race at 72 years old, and falls and breaks his leg. I won't be doing that. And I promise I will never be in a bicycle race." Good plan.
His wealth: "I'm using my own money. I'm not using the lobbyists. I'm not using donors. I don't care. I'm really rich." How rich? "I have a total net worth [of] $8,737,540,000." And "I made it the old-fashioned way. It's real estate."
Very "old-fashioned." As National Review's Kevin Williamson notes, Trump is "the self-made man who started with nothing but a modest portfolio of 27,000 New York City properties acquired by his millionaire slumlord father." The empire's since been through four bankruptcies.
But why talk about wealth? "I'm not doing that to brag, because you know what? I don't have to brag. I don't have to, believe it or not." Sorry; have to check "not" on that.
But this one's credible: "I run, because I'm really proud of my success. I really am." Indeed.
The day Trump announced, WFYI-TV Channel 20 ran the segment of "The Roosevelts: An Intimate History" covering World War II. It was moving, as always, to watch familiar footage of serious leaders—Churchill, FDR, Indiana's Wendell Willkie—speaking and acting courageously and responsibly.
The Donald, by contrast, makes Ross Perot look like a reflective statesman, personifying the tawdry "reality show" character of much of modern culture and politics.
How pathetic that Trump and some others in the 2016 field can be seen by any portion of today's electorate as occupying the office FDR held, for which Willkie honorably ran. This is among the reasons that, when asked who's my GOP candidate, I respond, "the grown-up." Another reason is that everyone immediately knows that means Jeb Bush.•
__________
Rusthoven, an Indianapolis attorney and graduate of Harvard College and Harvard Law School, was associate counsel to President Reagan. Send comments on this column to ibjedit@ibj.com.
Please enable JavaScript to view this content.