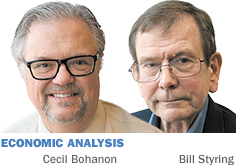 It's pretty clear in retrospect that letting Greece into the euro was like giving whiskey and car keys to teenage boys: Whatever happens will be bad. Of course, sovereign states aren't supposed to act like irresponsible teenagers, but we know they often do.
Economists on the right tend to think the Greeks are responsible for the fix they are in. They borrowed the money and should have to pay it back. To let them off the hook (again) sets a terrible precedent. Economists on the left tend to blame the rest of Europe for the Greeks' plight. After all, the austerity policies foisted on Greece by the rest of Europe plunged the Greek economy into a deep depression, making it even more difficult for the Greeks to pay back their loans.
Interestingly, many economists who differ over the blame issue agree in thinking it is a good idea for the Greeks to leave the euro and go back to using the Greek drachma. A good idea for both Greece and the future of the eurozone.
If the old Greek currency, the drachma, is reintroduced, it will likely take something like 3 drachma to buy a euro. This will mean Greeks will pay three times what they currently pay for imported goods. Ouch! Since the smallish Greek economy imports a large chunk of its consumer goods, this will be a huge hit to their living standard.
However, the upside is that Greek goods will sell in the euro market at one-third their current prices. Demand for domestic Greek goods will rise as the local folks substitute out of expensive imports and as foreigners flock to buy cheap Greek exports.
This is probably Greece's best shot at getting its economy back to work. And we mean back to work literally. Seventy percent of Greeks retire before age 61, and government workers have it even sweeter. Greek youth unemployment is over 50 percent.
Those who dream of a united Europe fear contagion from a Greek euro exit. There are other euro-welfare states living beyond their means at others' expense that might end up in a similar position as Greece. Spain, Portugal and Italy come to mind. Yet, Greece's creditors appear to be hanging tough. We hope they persist. The signal is quite clear to other euro-using nations: The European Central Bank and its member countries will not absorb your losses indefinitely. Get used to it.•
__________
Bohanon is a professor of economics at Ball State University. Styring is an economist and independent researcher. Both also blog at INforefront.com. Send comments to ibjedit@ibj.com.
Please enable JavaScript to view this content.