Hamilton County leaders are getting a clearer picture of what a public transit bus system could look like and, according to a new study, the annual operating cost could range from $10 million to nearly $25 million.
Elected officials are wary to support a massive transit project, arguing public dollars shouldn't be spent on a system that might fail to attract riders. But business and economic development representatives are welcoming the idea as some employees struggle to find transportation to and from work.
"We think we put together a pretty sound system," said Mike Hollibaugh, director of community services for Carmel.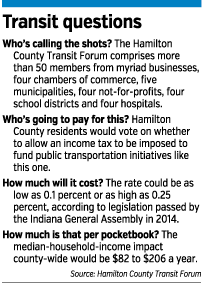 The preliminary proposal assumes Hamilton and Marion County voters approve a referendum in November 2016 to impose an income tax that would cost the average household anywhere from $82 to $206 a year.
It also depends on completion of the $100 million Red Line, which would run from Greenwood through Indianapolis and Carmel and end in Westfield. That route would be part of a $1.2 billion rapid-transit electric bus system known as IndyConnect.
Preliminary stages
Mass transit discussions took off in 2014 after the Indiana General Assembly approved legislation that allows six counties, including Marion and Hamilton, to propose a referendum to fund a public transit system through income taxes. The tax rate could be as low as 0.1 percent or as high as 0.25 percent.
Shortly after the bill passed, Hamilton County leaders created a volunteer transit forum with representatives from municipalities, not-for-profits, school districts, hospitals, economic development and transportation departments, and engineering firms. The goal was to create a plan to connect to the Red Line or any other future rapid-transit line; that plan is now being introduced to the community.
"This is a draft discussion plan for the rest of the year," Cindy Benedict, community engagement manager for Noblesville, said at a July 1 meeting with Hamilton County Council members.
Several council members voiced hesitance to fund any kind of mass transit.
"Implementing a countywide tax to fund this is shaky at best," council member Brad Beaver said.
If a referendum is approved in 2016, the tax would go into effect in 2017.
Three scenarios are on the table—with one assuming the lowest income tax is imposed and the system starts in 2018, and two assuming the highest tax rate is approved and buses are moving in 2018 and 2025.
The annual projected operating budget is as low as $9.9 million and as high as $23.8 million.
Hollibaugh said the forum estimated revenue of $35 million initially and $46 million by 2025, mostly based on the income tax. Projections do not include other possible funding sources, like state or federal grants.
Routes would follow high-traffic areas, like 96th Street, 116th Street, 146th Street, State Road 37, State Road 32, Main Street in Carmel, and Allisonville Road in Fishers.
Hollibaugh said the 40-foot buses would cost $500,000 each and the system could have anywhere from 22 to 46 vehicles.
Recent failures
Some skeptics point to the recent commuter bus failures in Carmel and Fishers as a sign that attracting riders would be difficult.
Indy Express routes to Indianapolis started in 2008 backed by federal grant money, but as the number and frequency of buses decreased, so did ridership.
IndyGo dropped the service in 2010 when federal funds were depleted, and the Central Indiana Regional Transportation Authority and charter bus company Miller Transportation took control. But a lack of revenue continued to plague the operation, and the Carmel route ended in December. The Fishers line stopped in May.
Mass-transit proponents argue the express lines were under a different business model and catered to a specific type of rider.
"Express bus is not mass transit," Hollibaugh said. "It didn't serve people. It served commuters."
He said if the mass-transit system is convenient in terms of frequency, cost and stop locations, people will use it.

Monger
Hamilton County Economic Development Corp. President and CEO Tim Monger said ridership will significantly depend on commuter schedules.If someone just needs to attend a meeting downtown, they might take it. But if someone needs to get to several places throughout the day, they are more likely to drive.
"It certainly is a challenge from a standpoint of getting people to think differently of how they get around," Monger said.
County council member Amy Massillamany said she doesn't see it being beneficial for most residents, who would have to drive to a bus stop and walk several blocks after being dropped off.
"It's not the same as if you're in New York or Chicago. Why would I do this?" Massillamany said. "The density is just not there, in my opinion."
Beaver said he won't support the system unless he knows ridership will be strong long term.
"It would help me a lot if there was a model that was successful," he said.
Getting to work
Hamilton County imports a sizable chunk of its employee base. According to data compiled by the Metropolitan Indianapolis Board of Realtors, about 42 percent of Hamilton County workers live elsewhere.
"In terms of Hamilton County being able to recruit employers, I think it's going to be important to have public transportation in order to get people to those jobs," Monger said, noting it's particularly a problem for entry-level positions.

Rosenthal
Conner Prairie Interactive History Park President and CEO Ellen Rosenthal said she knows some of her 350 employees drive an extra 40 minutes to transport a co-worker to the interactive history park.
"People have come up with convoluted driving schemes," Rosenthal said.
She said not having mass transit is a barrier for employment for those with disabilities who cannot drive, low-income workers who can't afford cars, and younger individuals who choose not to own vehicles.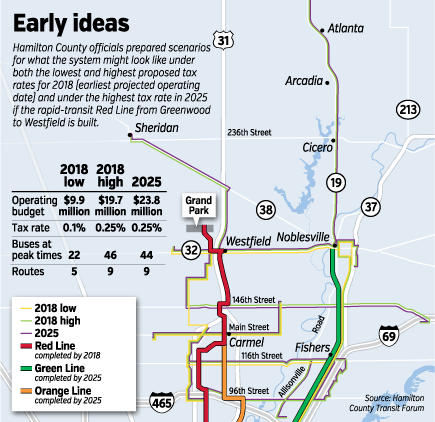 "There are people who just can't manage," Rosenthal said.
The push from businesses is why some county council members think companies should fund a transit system.
"This is for businesses that want this, but businesses aren't being asked to pay for it," council member Fred Glynn said.
Some companies do find solutions, though.
Pittsburgh-based Giant Eagle Inc., which is constructing a Market District grocery store in Carmel, will offer a shuttle service for employees who don't have vehicles.
"We continue to work with local Hamilton County officials on other potential solutions as well," Giant Eagle spokesman Dan Donovan said in an email.
A tough sell
Transit forum members will spend the rest of the year meeting with county leaders to present options and tweak a plan.
"We're just trying to ease into this because we have a real uphill battle," Hollibaugh said.
The regional Red Line project, for example, has already hit roadblocks.
The initiative received $2 million in federal grant money last year, with a 50-percent matching requirement to be split among Westfield, Indianapolis, Greenwood and Carmel, but the Carmel City Council voted July 6 against spending nearly $200,000 for its portion.
"Why would we let IndyGo manage anything?" council member Ron Carter said. "They can't even get the trash cans emptied at the bus stops."
Council member Luci Snyder said she couldn't support a publicly funded transit system because operators won't adjust the business plan when profits shrink. Instead, managers ask for more public funding.
During the same Carmel meeting, the council approved creating and participating in the Central Indiana Regional Development Authority with Greenwood, Westfield and Indianapolis. Doing so allows the group to go after state funding under Gov. Mike Pence's Regional Cities initiative that legislators allocated $84 million for during the next two years.
"I do not understand the thinking that was expressed [July 6] by some of the council," Hollibaugh said. "If we're going to think regionally, we need to act regionally."•
Please enable JavaScript to view this content.