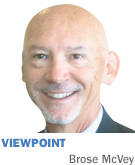 Most Americans now face increased financial exposure to medical bills due to increasing insurance deductibles or no insurance at all. In fact, a recent study shows about 50 percent of Hoosiers with employer plans are in high-deductible plans.
But early indications suggest that every breadwinner, employer and insurance carrier should ponder the downside with concern. Two in five working-age adults delay or avoid health care because of the out-of-pocket expense, according to a study cited in a recent USA Today story.
When medical care is needed, many apparently skip or delay the most powerful sources of prevention and early intervention—primary care, prescription drugs, laboratory testing and radiology.
This phenomenon is predictable.
First, most folks don't have money tucked away for a $300 lab test or a $500 X-ray. An average family on an employer-sponsored plan spends about $4,000 on its share of insurance and medical services. The maximum annual out-of-pocket cost in a typical "bronze" plan in the federal marketplace is $6,000, about the same as average total savings for a typical American family.
For another thing, consumers accustomed to yesterday's health plans don't expect to spend more than $20 for anything medical and will do almost anything to avoid spending on something as discretionary as their health.
Never mind that all health plans now pay for annual wellness visits and screenings. A growing number of Americans don't have a primary care physician and, unless the employer strongly encourages it, many will ignore a free service they don't value.
More than 82 percent of larger companies pay for claims instead of shifting that risk to insurance carriers. Many more small employers will soon choose to do the same, a smart idea if done correctly. However, if rising deductibles are not balanced with tools to stimulate primary care and prevention, the employer may be trading inexpensive care today for much more expensive care tomorrow.
I'm not arguing for more subsidies or for over-insuring primary care, which has raised its cost and reduced its quality. I'm not against higher deductibles, which often make sense. And I join employers who dream of well-informed, motivated employees and want everyone to share the cost burden.
Rather, I raise for consideration the notion of "balanced" health plans that place priority on prevention and access. Preventive care is inexpensive, while chronic disease treatments and emergency-room visits are not. Enlightened employers and plans might avoid increased exposure by finding a way to encourage primary care and prevention.
They can do so by adding a more intentional primary care solution or by making contributions to tax-friendly flexible savings, health reimbursement or health savings accounts tied to annual screenings, health coaching and other prevention milestones. Compare this approach and its annual cost of $500 to $1,000 per employee with the cost of treating chronic disease or a $50,000 hospital stay.
While the Affordable Care Act reduced choices and increased the cost of traditional, fully insured group plans, more employers today can enjoy increased flexibility and cost controls with the new partially self-insured plans, and by adding primary care programs.
Employers with fewer than 50 employees, who are not mandated to provide coverage, also have options. A primary care solution, coupled with assistance in finding the most affordable individual plan or membership in a medical-cost-sharing program can be an attractive alternative that optimizes consumer choice and the budget. •
__________
Brose McVey is CEO of Expedite Healthcare LLC.
Please enable JavaScript to view this content.