BlueIndy plans to charge past its skeptics as its electric car-sharing program launches in Indianapolis Sept. 2, leaving behind the political consternation about whether Mayor Greg Ballard went rogue in green-lighting the program in the first place.

Forget politics. Bolloré Group, the French company behind BlueIndy, now faces an even tougher test as it sets out to prove it chose the right city for the American debut of its service, which charges users a small fee to drive one of its electric cars.

The company's first 25 stations and 50 cars—it eventually plans 200 stations and 500 cars—are scattered downtown and in popular destinations like Broad Ripple and Meridian-Kessler.

The company, which runs the popular Autolib' car service in Paris, hopes for "tens of thousands of users" in its first year in Indianapolis, said BlueIndy General Manager Scott Prince. Bolloré says it is investing $41 million here. The city on Aug. 26 approved spending $6 million on the project and $3 million will come from Indianapolis Power and Light.

Prince
But it wasn't just a public-private partnership with a supportive mayor that brought the program to Indianapolis. Downtown tourism and athletic event traffic, a substantial college student population and a relative lack of mass-transit options bode well for BlueIndy's success, Prince said.

"We think it's the perfect city to do this," he said. "If we had the world's greatest mass transit system today, this arguably would not be the first city we'd be launching in in America."

But the company will face challenges as it strives to prove that a Midwestern, midsize city will use an electric car-sharing service.
"It's an exciting opportunity for the city, but a lot of things need to come together for this to be a showcase and to be successful," said Susan Shaheen, a director at University of California-Berkeley's Transportation Sustainability Research Center. "Can this happen in Indianapolis? I think it's a really good question. I don't believe Bolloré would have made the commitment to go into Indianapolis if they didn't see it."

But the announcement two years ago that the service would launch in Indianapolis came as quite a surprise to those who follow the electric vehicle and public transit industries.

"It is an odd choice, there's no doubt about it," said Michael Thwaite, president of Plug In America and a partner of Tesla Motors Club. "One would have thought that they would have started in a very electric-car-friendly city."

Indianapolis Mayor Greg Ballard's spokeswoman, Jen Pittman, pointed to the city's growing number of tech jobs, and its medical and educational institutions, as reasons the program will succeed here. She also said she was encouraged by the success of Uber and the Pacers Bikeshare program.

"We have emerged in the last decade as a hub for tourism, arts and culture," Pittman added in a statement, "and all of these factors combined have helped attract top talent to the city—individuals who expect and are keen to adopt transit options such as car sharing and ride sharing."

The program's success depends upon ease-of-use and cost, experts said. But first, people here need to get comfortable with the cars themselves.

"It's quite alien," Thwaite said. The car "requires someone to take a leap of faith that the thing will work and it will meet their needs. It has to be better than the alternatives."

Crunching the numbers

A key question is whether the program is cheaper than driving a car.

The program offers weekly, monthly and annual paid memberships, which have a tiered structure. Daily memberships, geared toward tourists, are free. All drivers also pay user rates by minutes in car, with longer memberships paying lower rates.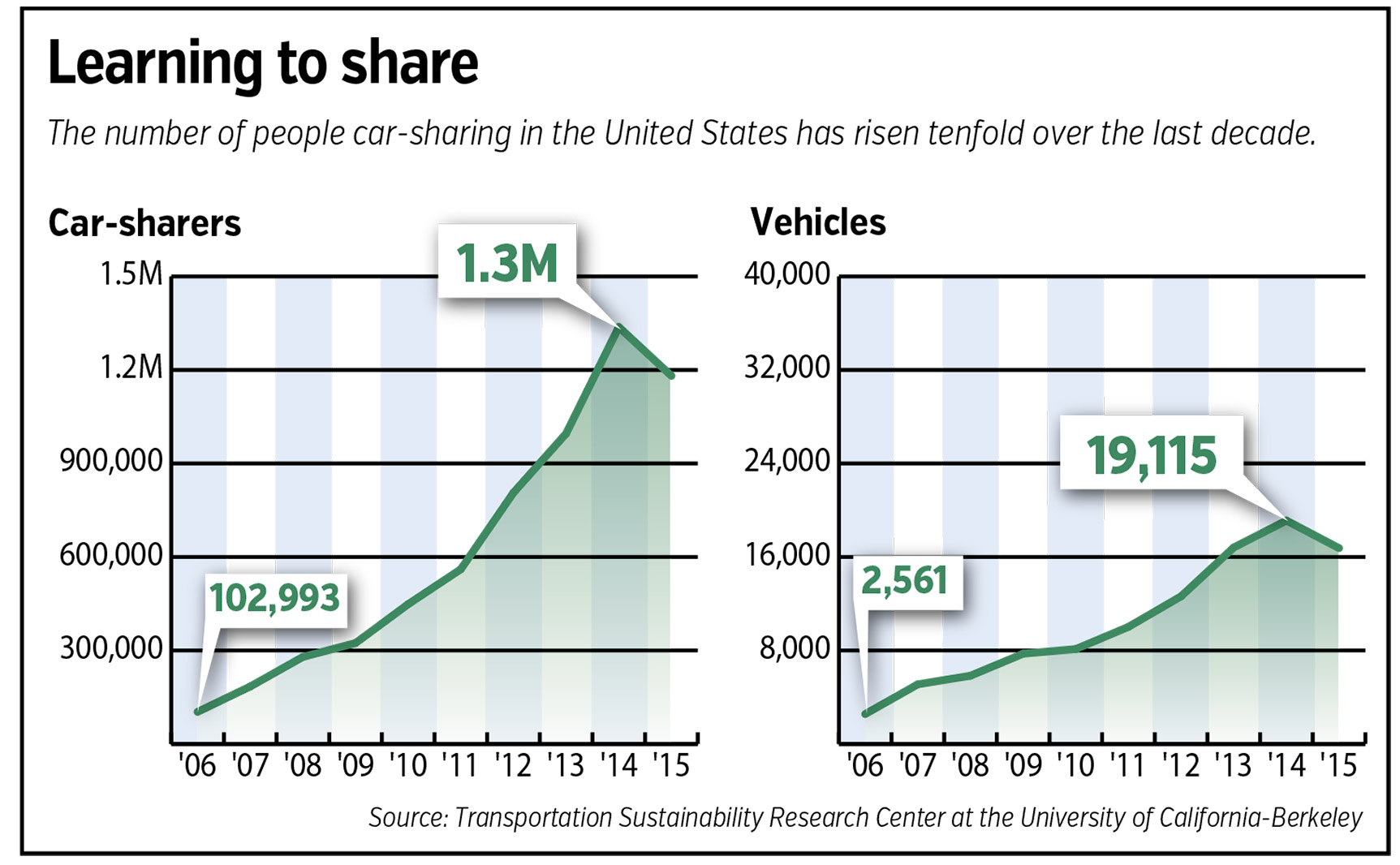 The company, which will initially offer half-price annual memberships, said it doesn't anticipate making a profit in the first five to 10 years. It has a 15-year contract with the city. Prince said the company's "large balance sheet" can support these losses. Bolloré Group's founder, Vincent Bolloré, has an estimated net worth of $7.1 billion, according to Forbes, ranking him No. 201 on the list of world's richest people.

Driving a BlueIndy car from the station in Fountain Square to the one at East 52nd Street and College Avenue takes exactly 20 minutes, according to Google Maps. For an annual member, the user rate would be $4. For a monthly member, $6; weekly member, $7; and daily member, $8. After 20 minutes, a minute-by-minute fee kicks in.

But users won't need to fill a gas tank or pay for parking.

Damaging a BlueIndy vehicle or breaking the rules of the service also will cost you. The member deductible for the first incident is $500, according to its user terms. Users can be charged $35 for lack of cleanliness, $55 for failure to properly plug in the car or close the windows, along with a host of other fees.

Though the program doesn't require users to have insurance, BlueIndy Manager Scott Prince said he anticipates users who already have cars likely will keep their own policies. A minimum amount of insurance is included in the rental cost.

Despite those costs, Shaheen said car-sharing can still be an economical option.

"One of the things I've studied and documented with respect to user behavior is, often, once someone understands that they can be free of the fixed cost of auto ownership to go to a variable-cost system, they carpool more, they walk more, and they start seeing cost savings," Shaheen said.

Richard Steiner, president of the Hoosier Electric Vehicle Association, said he doesn't believe most Indianapolis residents are familiar with the concept of car-sharing.

"It's going to be a huge educational adjustment," Steiner said. "As Americans, we consider our car an extension of ourselves."

Though the popularity of car-sharing has grown rapidly in the United States over the last 10 years, it still represents a tiny fraction of America's more than 210 million licensed drivers.

In January 2015, 1.18 million Americans were sharing 16,754 vehicles through car services, compared with nearly 103,000 Americans sharing 2,561 cars in 2006, according to the Transportation Sustainability Research Center at the University of California-Berkeley. Car-sharing membership dropped for the first time in 2015; it's 3 percent lower than it was in January 2014.

Huber
But Michael Huber, president of the Indy Chamber, said a culture shift for Indianapolis is possible—and it's happened before. The Indianapolis Cultural Trail and the expansion of bike lanes also initially encountered skepticism. Now they're core features of downtown, he said.

"People forget [those] were once new ideas," Huber said. "I would tend to see BlueIndy as part of that same progression. I acknowledge there have been some challenges with the rollout, but I hope people are still seeing the possibility in the concept because it's a very good one.

New way of living

Huber said he's also encouraged by the continued development of dense housing downtown in high-traffic commercial areas like Mass Ave and on Virginia Avenue in Fletcher Place.

"You're seeing a very conscious move toward smaller living spaces, closer proximity to work, desire to be near[businesses]," Huber said. "More people are figuring out a way to live without a car. More families who would have multiple cars are figuring out how to live with one car."

Nearby bike-sharing and car-sharing stations can become attractive amenities for an apartment complex, Shaheen added.

Steiner said he anticipates business owners who have bemoaned the program for taking premium parking spots in front of their establishments will change their tune once the program launches.

"Pretty soon, people are going to realize that, as business owners, if they want these customers at their locations, they're going to have a parking space for the electric cars," he said.

Broad Ripple Brewpub's owner, John Hill, already has figured that out. Hill said he is open to working with BlueIndy to install charging stations near his brewery. The spots are considered prime real estate in the usually congested area along the Monon Trail.

"I'm all for it," Hill said. "I'm English, so I'm used to going down the street and getting a bus every 10 minutes."

Even the program's harshest critics in the Indianapolis City-County Council—who even threatened to tow BlueIndy cars parked on major downtown streets—acknowledge the potential merits of a car-sharing program.

They're just not sure this is the right one.

Scales
Republican Christine Scales, who has led the charge against the program with Democrat Zach Adamson, said she wants to give other vendors a chance to bid for a program. She'd also prefer to start with a pilot program rather than the full-scale launch.

"I do believe this could be successful," Scales said. "I am very concerned about rolling it out to the level we are."

Adamson, who said he wants to negotiate "an entirely different deal" with the company, said people are so desperate for more transportation options that they're willing to settle for an imperfect deal.

"People are saying, 'This may be our only chance to get an electric car-share program,'" Adamson said. "Why? We can do a lot of these things. None of them are dependent on this deal to happen."
Adamson
Prince said the company wants to work with the City-County Council. The council recently postponed a proposal to tow BlueIndy's downtown demonstration cars, saying talks with the company had opened up to consider a franchise agreement, which would give the legislative body oversight of the program.

But BlueIndy is not putting the brakes on a launch. It has something else to prove.

"A lot of people will want to come here: council members, mayors, governors, and see … how Indianapolis is rolling this out," Prince said. "Is it operationally successful? The answer is going to be yes."•