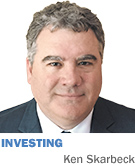 Picture a rational investor sitting in an isolated room. Focusing on the fundamentals of a handful of well-chosen businesses, he will probably arrive at a well-thought-out investment strategy for the future.
Now, expose that investor to a few weeks of financial media, politics, and news around the world. Suddenly, he's overwhelmed with cross-currents of conflicting information. The daily ups and downs of the market have him rattled. Last month's portfolio statement arrives showing a fairly sizable (unrealized) dollar loss. It doesn't take much influence from these outside forces to turn the rational investor into an aimless and less confident individual.
Crowd psychology in situations like this is studied in behavioral finance. Why is it that when the market is racing upward, everyone cheers, and when it sinks, investors become grouchy and glum? That's easily explained. We like to see our net worth increase and we don't like to see it shrink.
Yet, the challenge for investors is that these influences and emotions can lead to poor decisions, particularly in periods of fast-moving markets. For example, the largest mutual-fund contributions on record were made in early 2000, just months before the market collapsed. Inexperienced investors were smitten with seemingly ever-rising stock prices and poured into stocks at unjustified valuations. Conversely, in 2009, panicked investors threw in the towel and sold their stocks near the market bottom.
Robert Shiller, a Yale professor and a proponent of behavioral finance, believes the psychological behavior of investors has a big influence on the markets. Shiller coined the term "irrational exuberance" during the stock-market bubble in the late 1990s. He also has described the emotions that tug at investors as "animal spirits." In fact, Shiller has written two books titled by these behavioral theories.
Shiller's theories attack one of the seminal financial theories developed in 1965 by University of Chicago professor Eugene Fama called the Efficient Market Hypothesis. According to the EMH, investors always behave rationally, and it is impossible to outperform the market because stocks are efficiently priced, reflecting all publicly known information.
While aspects of the EMH have been used to advocate index investing, most market observers reject it as being a flawed academic theory. The assumption that investors always act rationally has been debunked by their behavior during several periods in stock market history.
Warren Buffett has said chapters eight and 20 of Ben Graham's classic book, "The Intelligent Investor," are the two most important things ever written about investing. Graham's parable of "Mr. Market" deals with how investors should "think" about market fluctuations. Chapter 20 discusses the concept of "margin of safety" in selecting undervalued stocks. Both of these chapters provide counsel on how investors' success will be determined by how they think and behave in their decision-making.
Investors who can block out the emotional influences that frequently swirl about the markets can significantly improve their investment results. Understanding certain behavioral aspects of investing, like crowd psychology, will embolden investors in their decision-making when the markets are acting irrational.•
__________
Skarbeck is managing partner of Indianapolis-based Aldebaran Capital LLC, a money-management firm. His column appears every other week. Views expressed are his own. He can be reached at 818-7827 or [email protected]
Please enable JavaScript to view this content.