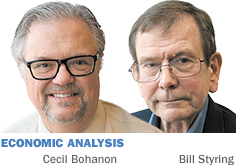 Recent events in Paris tweaked our curiosity. How does terrorism affect economic growth?
The average U.S. real GDP growth rate from 1987-2000 was 3.65 percent. From 2001-2014, it was 1.64 percent. What event divides these two equal time periods? The 9/11 terrorist attacks. If you take out recession years, the picture isn't much different. The pre-9/11 growth rate, 3.92 percent. The post-9/11 growth rate, 2.35 percent.
Growth after 9/11 has been roughly half of what it was pre-9/11. It would be easy (and wrong) to fall into a naive "after it, therefore because of it" fallacy and conclude terrorists halved the growth rate. We do not suggest this. Obviously, other factors were in play post-9/11. Dodgy, "affordable housing" mortgages and a ready resale market for the crummy paper provided by Fannie Mae and Freddie Mac caught up with us in 2008. Tax policy became increasing unfriendly to growth. Dodd-Frank crimped lending to smaller and newer businesses. The demographics of the post-World War II baby boom gunned entitlement spending.
But terrorist attacks sure didn't help matters. An exchange economy hates uncertainty, and the risk of terrorism provided plenty of that! Add to this that anti-terrorist policies redirect resources in ways that impair growth. TSA could well stand for "thousands standing around," as any flier knows. Our intelligence and security agencies hired hordes of our brightest young people who could otherwise be doing something else.  
Seemingly small slowdowns in the growth rate, in fact, are a very big deal. GDP doubles every 19-odd years under 3.65 percent growth. It takes 43-odd years if growth is 1.64 percent. In other words, someone entering the workforce today will be twice as wealthy under the high-growth scenario than under the low-growth scenario when they retire. That difference can paper over a lot of potential social stress.  
If the Paris massacres are what they seem to be—a newly minted Islamo-fascist organization (this time ISIS) is getting off its training wheels—prospects for the world economy can't be getting better.
We confess Bohanon and Styring were both naive after 9/11. We expected the attack would slow down growth for a while—12-18 months (it did)—but growth would then recover to its historic trend. It didn't.
We'll swallow a further dose of humility and confess we don't know exactly what ISIS' newfound influence will do to economic growth. But knocking down our growth projections a notch seems prudent.•
__________
Bohanon is a professor of economics at Ball State University. Styring is an economist and independent researcher. Both also blog at INforefront.com. Send comments to ibjedit@ibj.com.
Please enable JavaScript to view this content.