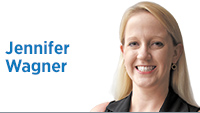 "Your words matter."
Chuck Todd was visibly annoyed by his guest on "Meet the Press" a few Sunday mornings ago.
"You're running for president of the United States," the host implored his guest, GOP front-runner and billionaire businessman Donald Trump, who stood by his comments that thousands of Muslims celebrated in the streets following the 9/11 attacks.
Trump's response?
"Take it easy, Chuck. Just play cool."
No matter that the story has been universally debunked by myriad media outlets and fact-checkers on every side of the aisle.
Just play cool, everyone. Nothing to see here. No need to let the truth get in the way of an egomaniacal political campaign.
The day after the terrorist attacks in Paris, I spoke on a panel sponsored by the Muslim Alliance of Indiana about media perception and coverage of Muslims in America.
The event had been planned for months; the timing was painful. When I'm asked to speak on panels, it's often to discuss the intersection of public relations and journalism or to give an assessment of the political landscape from a Democratic perspective. People want to know who's influencing what or how to get more coverage for their particular issue. It's almost always an uplifting experience because I can provide answers to questions based on my professional experience.
It's a much different and far more difficult thing to speak to a room filled with people whose questions all stem from this premise: Right now in America, the default perception is that we are bad people because of our faith.
I found myself responding with advice that made me sad: Be visible doing good deeds in your community or neighborhood. Explain the tenets of your faith. Work together to show that your families are just like every other Hoosier family.
No one should have to do those things to be recognized as hard-working, law-abiding American citizens, to not be treated as potentially dangerous simply for praying or dressing a certain way.
But that's the consequence—and I won't say it's unintended—of the reckless behavior of Donald Trump and others.
This didn't happen overnight, of course.
Fifteen years ago, when I started as a reporter, we had strict standards about sourcing and attribution and documentation. To be fair to my friends who still work in the Fourth Estate, those standards still exist.
But so do a lot of other sources of information.
Blogs and online outlets and social media aren't wholly responsible for the decline of truth in politics today, but they haven't helped.
In his "Meet the Press" interview, Trump self-validated his fiction by stating that hundreds of people on Twitter said they also saw Muslims celebrating the terror attacks. Never mind that he said it first.
And so we find ourselves in a world where fibs are perpetuated into a dangerous, divisive reality.
The media cycle moves so quickly that we have less opportunity to get the details, and it's harder and harder to separate truth from truthiness from unvarnished lies.
The result: Look how our elected leaders responded to the resettlement of Syrian refugees following the Paris attacks.
Instead of embracing Muslims who are running away from the very terrorists who committed that violence, politicians from both parties looked at the poll numbers and turned their backs on desperate refugees—50 percent of them children—waiting to find new permanent homes.
Come on, America. We can do better. It's time to quit playing cool.•
__________
Wagner is a lifelong Indianapolis resident and founding principal of Mass Ave Public Relations, a local public relations and publicity firm. Send comments on this column to ibjedit@ibj.com.
Please enable JavaScript to view this content.