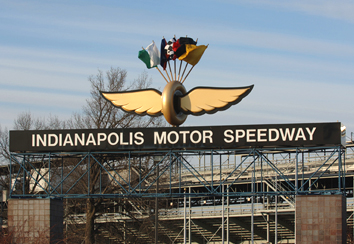 Indiana lawmakers are on track to help race fans celebrate the 100th running of the Indianapolis 500 in May with a high-octane beverage they can take home as a keepsake.
Fans of the Indy 500 would be able to purchase a commemorative bottle of wine or liquor on their way out of the Indianapolis Motor Speedway on race day under a bill advancing this year in the Indiana General Assembly.
Sen. Ron Alting, R- Lafayette, said he's getting wide support on the bill, which would allow carryout alcohol sales of sealed bottles just on the day of the race, which is scheduled for May 29. The bottles must celebrate the 100th anniversary of the race.
"It's the state's gem," Alting said. "We would like to do something for the fans. Their [children] can look at that bottle and say, 'My dad was part of that.'"
Alting told IBJ on Monday he was approached by IMS officials about taking the lead on the bill.
IMS spokesman Alex Damron said it has not determined its exact retail and concession plans with regard to the bottle. It is working with its partner, Fuzzy's Vodka, to help design the bottle.
"The bottle itself will be a celebration of the 100th running, which is obviously an important event for our state and our sport," Damron said. "We're all about celebrating the past, present and future of the sport and the Indy 500 itself."
The bill already has been advanced unanimously by a Senate committee and will face the full Senate this week.
Alcohol is already sold at the Indianapolis Motor Speedway for on-site consumption, and guests are able to bring their own in coolers, provided it is not in a glass container.
Alting said he has worked with the Indiana Alcohol and Tobacco Commission on the bill with the goal of ensuring safety for drivers and guests.
"This is for collectors," Alting said. "This is not something you're going to open up and drink. You'll put it on your shelf."
Please enable JavaScript to view this content.