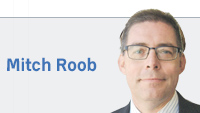 Mayor Hogsett's predecessors have been successful at making downtown a "place" where "millennials" wish to live. Brew pubs and condominiums dot a landscape once abandoned. Indianapolis boasts a vibrant downtown—a place to work, live and play.

Job well done—but not finished.

Indianapolis has invested millions in public dollars to attract millennials to downtown living, but when they mature, will they skip over Marion County's aging suburbs and move to Carmel, Fishers and Noblesville?

Place matters. This seems in general to be agreed upon. But the place you want at 22 or 25 might not be the same place you want at 30 or 40. As we age, we hopefully grow wealthier, collecting possessions to go along with our growing nuclear families.

Time waits for no man, or woman for that matter. Millennials are getting older, pairing off, even having a first then a second child, and discovering what their parents and grandparents discovered: a single-family home in a safe neighborhood with strong schools is where they wish to raise their children.

A generation or more ago, Unigov expanded the scope of Indianapolis to embrace a growing set of suburbs on every side of town. Neighborhoods like Devonshire in Lawrence Township became part of Indianapolis. In the 1960s, the upper-middle-class homes of 3,000 or more square feet provided beautiful castles for the millennials' grandparents and perhaps parents.

Unfortunately, it is not your father's suburban home. It's not cool and hip, with granite countertops, an open floor plan, 9-foot ceilings and wired; it does not come with good schools and a safe neighborhood. In many cases, it does not come with sidewalks, sewers or city water.

If the city, and by that I mean Marion County, is to benefit from the investment in downtown housing, the city will need to capture the next stage in life, from apartment or condo to single-family home.

Our community's housing stock is not what millennials covet. And let's face it, they are the market. Hogsett has the distinctly unsexy task of figuring out how to improve the housing stock, and not bankrupt the city. Here are some ideas:

■ Phase in increases in assessed valuation ofproperty when an improvement is made on a property. One might look at a 10-year phase-in or abatement. This will further motivate current owners and potential home flippers to buy and improve an existing property.

■ Credit owner-funded infrastructure improvements (sidewalks and sewers) against future property tax liability. Investments by a property owner would need to be approved by DMD before making the improvement. The assessor would then credit this amount against future years' property taxes.

■ Double the homestead exemption for owner-occupied homes in Marion County for five years after purchase? Or enlarge the Marion County homestead exemption by 20 percent for all families with minors at home?

Many of these ideas would take legislative action; they could be implemented in limited areas like a TIF district.

Some will say these ideas erode the city's tax base. They are correct. But with a smaller share of municipal revenue coming from property taxes and a larger share from income taxes, a municipality needs to attract income earners in their peak years, 35-65.

If this does not happen, the millennial generation will move north of 96th Street, venturing in to their one-time home only to see the Colts or Pacers play. The slow but insidious cancer of first rental then abandoned homes will continue to afflict the city.

It is far cheaper to take significant and sustained action now while these neighborhoods are still viable than to let them deteriorate and then make a public investment.•

__________

Roob, executive vice president at Keramida Environmental, has run Indiana Economic Development Corp. and Family and Social Service Administration. Send comments on this column to ibjedit@ibj.com.