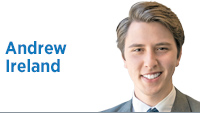 Indiana Superintendent of Public Instruction Glenda Ritz makes Gov. Mike Pence's re-election bid look like a cakewalk.

Fairly unpopular, her incumbency is more of a handicap than an asset.

After years of clashes with the Republican leadership, both Ritz and the governor are certainly bruised, but the cards do not stack up in Ritz's favor come November. Regardless of up-the-ballot races, including Pence's rematch with John Gregg and what is sure to be a polarizing presidential campaign, Indiana is still a Republican stronghold.

Pushing an agenda that flies directly in the face of the Republican Legislature, Ritz has seen little accomplishment over the three years outside of knocking down Pence's approval ratings a couple of points.

Ritz is simply a weak candidate. Previous Superintendent Tony Bennett lost to Ritz by a five-point spread, but his tenure was controversial at best. You could say the writing was on the wall for Bennett. But Ritz was powered only by a so-called grass-roots campaign. She didn't even come close to Bennett's fundraising numbers.

Her short-lived bid for governor that launched last year only highlights her inability to mount a meaningful campaign in a scenario that is anything less than what she faced in 2012. Her fundraising numbers were on par with a small-town council race—and that is about the quality of campaign she put up, too.

Coming under fire for violations of state election code, Ritz dropped out of the race after only two months and announced plans to seek re-election as superintendent instead.

Republican leadership has been itching to see Ritz out the door but struggled to recruit a candidate to lead the charge. Even though this is a no-brainer priority race, it took Indiana Republicans until the end of January to field a viable candidate to challenge her: Jennifer McCormick, the current superintendent of Yorktown Public Schools.

Relatively young and charismatic, McCormick is in a prime position to take down Ritz this fall. That said, her late entry into the race puts her two fundraising quarters behind Ritz—Ritz's only real advantage.

Before McCormick, the only official Republican candidate in the race was Dawn Wooten, a college instructor from Fort Wayne and former homeschool teacher who announced her candidacy in September.

Her campaign of five months has been about as noteworthy as, or maybe less so, your local school board race. The only whisper of its existence is a website so unbefitting its purpose that it's embarrassing—her bid was dead on arrival.

Cari Whicker, a middle school teacher from Uniondale and a Republican member of the State Board of Education, was also said to be considering a run. Despite openly discussing the possibility for almost a year, Whicker never pulled the trigger—certainly much to the frustration of the Indiana Republican leadership.

McCormick is squaring up to be Indiana Republicans' best shot at ousting Ritz. Vowing in her announcement speech to make the Indiana Department of Education a partner with the governor and to mend communication problems between the superintendent's office and the rest of the State Board of Education, McCormick is likely to begin consolidating support over the coming months.

A well-financed, organized campaign with a fresh face could be what it takes to see Ritz out the door this fall. McCormick seems to fit the bill.•

__________

Ireland is a college Republican at Indiana University. Send comments on this column to ibjedit@ibj.com.