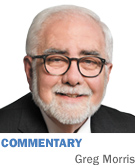 There's an important message being directed to the more than 750,000 Indiana residents who have some college credit but no degree. The message is, you can finish what you started and earn your degree.

Gov. Mike Pence and Indiana Higher Education Commissioner Teresa Lubbers officially announced the "You Can. Go Back." initiative on Feb. 17. IBJ government and education reporter Hayleigh Colombo gave us some background information and an advance look at this campaign in the Jan. 4 IBJ, available online at ibj.com.

Think of the power of unlocking the potential of 750,000 Hoosiers by providing greater opportunities for a college degree or certificate. At any given time, the Indiana Department of Workforce Development has 100,000 jobs open with no qualified applicants in sight. There are good jobs out there. But applicants need to sharpen their skills. And you do that with education and training. It's never too late to better yourself.

In brief, the "You Can. Go Back." effort is designed to ease the transition back to college of prospective returning adults. Before you say you're not a candidate, going back to college doesn't mean you have to quit your job and figure out how to live without any wages and pay for college at the same time. That's the whole point of the initiative. Special programs and incentives are available, including $1,000 scholarships provided through a $7.5 million state grant. There are flexible class schedules and online courses, college credit for work and military experience, grade- and debt-forgiveness programs, and tuition discounts.

Pence, state agencies, lawmakers, colleges and universities are working hard to send the message that you really can go back to school. You can start now and finish more quickly than you might imagine. It can be affordable. Take some time, do the research, and check out this opportunity. Get online and go to YouCanGoBack.org and follow the prompts to match your situation and interests with the colleges that have programs that fit your particular needs.

Here's a brief profile of returning college adults: 38 percent work full time, 56 percent consider themselves to be a worker first and a student second, 49 percent are enrolled part time, and 27 percent have dependents. Others are making it all work, and you can, too. The key is your desire and finding the right combination of flexible options.

Speaking of flexible options, I have to put in a plug for the great job WGU Indiana has done with nontraditional students in such a short time. Under the leadership of Chancellor Allison Barber, in less than six years, this online, competency-based university has graduated 3,000 students at an average completion time of three years. The university offers more than 50 online bachelor's and graduate degree programs and the tuition has remained at $6,000 per year. WGU Indiana also makes the online method work well by providing personalized, one-on-one faculty support. Well done.

A universal truth is, a well-educated workforce is an essential ingredient for companies to thrive and grow their business. In addition to our extensive reporting of these topics on a regular basis in IBJ, a separate division of our company has been helping to provide essential tools to promote quality education for many years. By partnering with the Indiana Commission for Higher Education, IBJ helps produce publications for Indiana students in grades K-10, "Next Magazine" for Indiana students in grades 11 and 12, and "Grad Magazine" targeting juniors and seniors in Indiana colleges and universities. Companion websites provide additional reach and messaging opportunities to the printed publications.

Also, IBJ partners again with the Higher Education Commission, along with the Indiana Department of Workforce Development, to produce "Career Ready Indiana," a publication and website targeting the same non-traditional adult students I've been talking about in this column. This publication is designed to provide help, support and resources for non-traditional students through information about colleges and universities, vocational education, financial aid, job search and career information.

So, we're all working hard to get Hoosiers back to college. As an employer, it's extremely important that you encourage your non-degreed workers to go back to college. By repeating this message, providing flexible work options and, if possible, upfront tuition support, everyone will benefit.

And, a final bit of encouragement to prospective returning college students—this is your time to get your degree. The ball's in your court. Seek help and guidance from the state's "You Can. Go Back." initiative, and do it now!•

__________

Morris is publisher of IBJ. His column appears every other week. To comment on this column, send e-mail to gmorris@ibj.com.