Finalist: Physician
Dr. Linda K. Han
Director of breast surgical oncology, IU Health Simon Cancer Center; professor of clinical surgery, Indiana University School of Medicine
When Linda Han began as a general surgeon in Columbus, Ohio, there weren't many women in the field. But there were women with breast cancer who liked the idea of a woman performing their surgery.

So those patients sought Han out.

"I was grateful they thought they could have a connection with another woman," said Han, whose surgical niche became breast cancer. Now it's her passion and the focus of her medical career.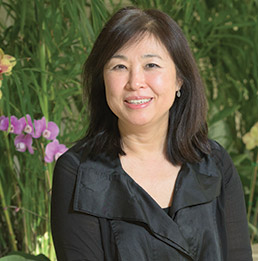 (IBJ photo/Eric Learned)
Han, 55, went to the Indiana University School of Medicine and did her surgery residency at Ohio State. She stayed in Columbus until 2011, when she returned to Indianapolis to teach at her alma mater and to direct breast surgical oncology at the Simon Cancer Center.

Though administrative duties are now part of her routine, Han sees patients and does surgeries five days a week. But that's not the extent of it. "Being a physician defines me," she said. "I'm a healer. I'm a physician 24 hours a day, every day.

"Taking care of patients doesn't mean physically removing a diseased part. It also means taking care of their psyche."

That's why Han is big on doing personal follow-up with all her patients, oftentimes after hours. "I warn them, just because I call doesn't mean it's bad news. I enjoy calling with good news," she said.

Patients appreciate Han's personal touch. "Her caring, compassion and confidence made me feel so secure. She treated me as if I was her relative and not just another woman with a lump in her breast," said a patient for whom Han provided a clear diagnosis and treatment after what had been a confusing and scary journey.

Han's focus outside the operating room is clinical translational research, which involves rapidly applying clinical trial results to patient care. "Medicine is changing too quickly for us to wait five or 10 years" for a drug or treatment to be used to benefit patients, Han said.

In fact, cancer treatment has changed radically since Han began her career. One-size-fits-all treatments have been replaced with highly personalized plans based on a patient's genetic makeup and the characteristics of the cancer in question.

"Often, women will say, 'Please remove both of my breasts because they're trying to kill me.' But we have to counsel them on all their options and make sure they know that all cancers aren't the same," Han said. Having a double mastectomy, in many cases, won't change the outcome, she said. "But there is something to be said for peace of mind. I have to find out what 'peace' means for them and figure out how we get to that place."•