Should the Republican presidential field have consolidated earlier to mount a more serious challenge to Donald Trump?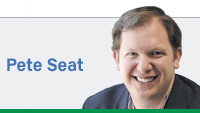 He could have been a contender. He could have been the nominee. He could have been president. But on Sept. 21, 2015, Scott Walker did the right thing and dropped out of the race for the Republican nomination for president.

Where would we be today if others had followed his lead?

The reasons for Walker's abrupt withdrawal were aplenty. He struggled with questions of gravitas, his poll numbers were falling, and supporters were increasingly squishy. The driving force, though, was the campaign's absurdly high burn rate. Walker's team grew too big, too fast, and I almost contributed to the problem.

In March of last year, shortly after Walker launched into orbit following an impressive Iowa Freedom Summit speech, I was summoned to Madison, Wisconsin, for a meeting with the governor. Arriving at the pseudo campaign office in the basement of the Governor's Mansion, I got a glimpse into the blossoming operation. Staffers were working feverishly to schedule events while others were huddled with Walker strategizing about the campaign's next steps. I was there to interview for a job that did not come.

But enough of that. I come here today not to dwell on the past, but to praise Walker for what he almost did for the future. As the political intelligentsia pored over Federal Election Commission reports to highlight excessive disbursements, they glossed over Walker's public reason for suspending his once-promising bid.
In his snappy press conference withdrawing from the race, Walker asked others to do "the same so the voters can focus on a limited number of candidates who can offer a positive conservative alternative to the current front-runner. This is fundamentally important to the future of the party and—ultimately—the future of our country."

It seemed like a poorly played guise to mask the lack of campaign cash. Few believed then that the front-runner of September would remain the front runner of March, so Walker's words fell on deaf ears. But what if they hadn't? What if one, two or 10 of the other candidates had heeded his advice? What if Ben Carson, John Kasich and Ted Cruz got out before Super Tuesday?

It took far too long for consolidation. It took far too long for natural selection to take its course. It took Bobby Jindal nearly two months to the day after Walker's exit to be the next candidate to drop out. It makes me wish there had been an Iowa Straw Poll last summer. Maybe we wouldn't be waking up to this nightmare every morning if another candidate or two had to save face because they couldn't hack it in Ames.

Unless Dr. Emmett Brown makes good on his DeLorean time machine, we will never know what alternative reality could have been. We will never be able to go back to Sept. 21, 2015, and give it another try.

While there's still time to fix this mess, I will always look back on that day as the day that could have been the beginning of the end. Instead, it became the end of the beginning and we're paying the price.•

__________

Seat, a former deputy press secretary to George W. Bush,is the author of "The War on Millennials" and a senior project manager at Indianapolis-based Hathaway Strategies.Send comments to ibjedit@ibj.com.