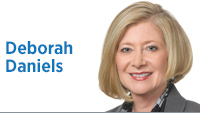 I don't particularly want to write this column.
I'm not a feminist, in the sense that I don't play the gender card every time a woman is criticized.
I am decidedly not a fan of Hillary Clinton; I don't think people should vote for a woman just because she is a woman; and I am offended by Gloria Steinem's recent insult to young women that they are supporting Bernie Sanders because "the boys are with Bernie."
But when I read a recent Dana Milbank column titled "The sexist double standards hurting Hillary Clinton" (The Washington Post, Feb. 12), it struck a chord. Milbank's premise is that women in politics are perceived differently than men.
Men from Bob Woodward to Joe Scarborough have criticized Clinton for "shouting." And Bernie Sanders has done the same, accusing her of shouting when she was simply stating her point forcefully.
Don't these men see the irony? Every clip I see of Sanders shows him shouting. As Milbank says, he "bellows at the top of his lungs." But who is criticizing him for it?
It is a sad truth that when men are forceful, they are viewed as strong, just the sort of leader we want. But when women are forceful, they are seen as strident, lecturing, even "bitchy." Conduct that is "assertive" in men is still viewed as "aggressive" (in the most negative sense) in women.
When women speak out, people say they are not "likeable." They are viewed as shrill, unfriendly, certainly not the sort you'd like to have a beer with.
Carly Fiorina clearly excelled in the Republican debates but was criticized for being too stern. Had she smiled, she would have been dismissed as unserious. And recall the Trump insult about her face.
Women are routinely viewed differently than men when campaigning. When Sue Anne Gilroy was running for mayor of Indianapolis in 1999, a focus group of women over 50 expressed the view that a woman shouldn't be elected mayor of a large city. As one participant put it, "What if something really important needed to be dealt with and she was at the hairdresser?"
The same sort of thing happened to Melina Kennedy when she ran for mayor in 2011. As often as not, a question would come from the audience asking if she had children, and how she was going to see to it that they were cared for while she was serving in public office. Male campaigners who have children are seen as more human. Women are seen as neglectful.
Years ago, when I was a deputy prosecutor in Marion County, we used to send out post-trial questionnaires. In one trial, I had to deal firmly with a witness who changed his prior statement when he reached the witness stand. One of the jurors later wrote in the questionnaire, "I don't know why, but I thought the woman [prosecutor] was vicious, vindictive, power-hungry, and bitchy." (Post-script: The jury convicted the defendant.)
We have been fortunate in Indiana to elect a number of women to public office, including two lieutenant governors, our current state treasurer, auditor, and secretaries of state and education, and two current members of the U.S. House of Representatives. I am pleased that Karen Freeman-Wilson and Blair Milo have been elected mayors of Gary and LaPorte, respectively, and both are doing a tremendous job. But I'd bet that all of these women have similar stories from the campaign trail.
Looks like we still have some work to do.•
__________
Daniels, managing partner of Krieg DeVault LLP, is a former U.S. attorney, assistant U.S. attorney general, and president of the Sagamore Institute. Send comments on this column to ibjedit@ibj.com.

Please enable JavaScript to view this content.