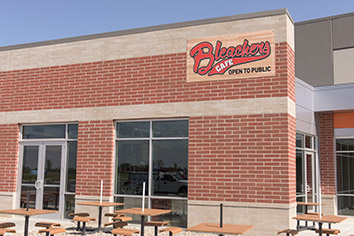 For nearly three decades, the Byrd family has managed a successful restaurant and catering company in Greenwood, but its business portfolio has been quietly expanding beyond the south side of Indianapolis for years.
The late Jonathan Byrd founded Jonathan Byrd's Racing years before the well-known cafeteria and banquet hall opened in 1988—and while he still owned several Kentucky Fried Chicken franchises that he'd started opening in 1975.
In the 1990s, he started a hotel management firm, now known as Byrd Hotel Group, that owns and operates a handful of lodging facilities in Arizona and Utah. More recently, the family formed an events management business in partnership with a marketing firm to maximize its newest opportunities.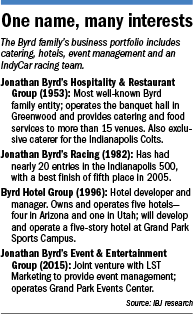 "It's sort of a short hop, skip and a jump into those other areas," Hamilton County Economic Development Corp. President and CEO Tim Monger said. "It certainly makes some sense as you grow your catering business."
Now, Jonathan Byrd's is following population trends into the northern suburbs—and shifting most of its attention to Hamilton County.
In fact, its most prominent business—the Greenwood restaurant—has closed. Two years after vanquishing the cafeteria in favor of more traditional dining options, Jonathan Byrd's shut the restaurant completely.
"I think the family has acknowledged that times have changed … kudos to the Byrd family for realizing that," Greater Greenwood Chamber of Commerce President and CEO Christian Maslowski said. "Unfortunately for Greenwood, they found that in Hamilton County."
The Greenwood banquet hall remains open and Kevin Manship, CEO for Byrd Enterprises Inc., said the company doesn't plan to leave Greenwood.
But Maslowski said he expects Jonathan Byrd's to leave the south side completely as most of its business moves north, although he hopes the family will consider future investments in the area.

Maslowski
"They are staying true to the family's legacy of pioneering and leading their industry. From a business perspective, we salute them and congratulate them on their success," Maslowski said. "We don't think this is goodbye forever. It's until next time."
Manship said the strategy behind the expansion north was to be closer to "where all the major companies were located."
The shift started subtly about two years ago when Jonathan Byrd's announced it would operate a restaurant inside the proposed indoor soccer complex at Westfield's Grand Park Sports Campus.

Burtron
Westfield Chief of Staff Todd Burtron said the company initially reached out to the city looking for an available building or land for its food operations, and conversations evolved to include Grand Park.
"They had what appears to be a north-side strategy to create a presence up here," Burtron said. "They recognized Grand Park as an opportunity."
Manship said the relationship started with cold calls looking for catering opportunities and, "One thing led to another."

'New era'
In a February 2015 Facebook post—in the midst of an Open Door Law challenge that delayed the start of construction on the indoor soccer facility—Jonathan Byrd's said it would create a new brand within its food service operations and described it as a "new era" for the company.
At that time, Jonathan Byrd's estimated it would create 100 jobs with an annual payroll of $1.6 million in Westfield.
"Since our very first meeting with Mayor [Andy] Cook and his staff, and the very first mention of the possibility of bringing the Jonathan Byrd's brand to what is going to be the absolutely incredible indoor soccer facility within Grand Park, we have eagerly looked forward to having a stake in what is truly a landmark facility for Westfield, for Hamilton County, and for the state of Indiana," the post read.
Shortly after the announcement of Jonathan Byrd's presence at Grand Park, the company remodeled and updated the former Fountains Banquet & Conference Center in Carmel. It's now known as 502 East Event Centre.
At that time, Virginia "Ginny" Byrd, wife of the late Jonathan Byrd who operates the family businesses along with the couple's two sons, Jonathan Byrd II and David Byrd, said the company wouldn't leave Greenwood.
The Carmel venue, the largest event space in Hamilton County, reopened in March 2015. By April, Jonathan Byrd's was advertising on its Facebook page that it was hiring because "business is booming."
That summer, the company furthered its Grand Park investment by securing the naming rights to the new indoor basketball and volleyball facility under a 10-year agreement that also included the rights to operate a restaurant and the concession stands inside the fieldhouse.
The cost of the deal has not been disclosed.


'Significant investment'
Around the same time, Byrd Hotel Group responded to the city of Westfield's request for proposals to build a hotel on Grand Park's campus.
"They weren't necessarily someone we were thinking would be a response to the hotel," Burtron said.
But in November, the city selected Byrd Hotels over five other developers.
"The Byrd Hotel Group came forward and quite frankly said, 'We don't want your money. We believe we can do this on our own,'" Burtron said, explaining one of the reasons the city chose the company.
The 180-room hotel is expected to be five stories tall and will be built on 5.26 acres of city-owned property immediately adjacent to the Grand Park Events Center on 191st Street. Construction has not started yet.
David Byrd, principal of the hotel business, said shortly after the lodging facility was announced that the Byrds' investment at Grand Park was probably reaching $20 million.
"They've really made a significant investment here in Westfield," Burtron said.
In their latest venture in Westfield, the Byrds have agreed to operate and manage the indoor soccer complex, now known as the Grand Park Events Center.
They'll do that through Jonathan Byrd's Event and Entertainment Group, which was formed last fall as a joint venture with Indianapolis-based LST Marketing. As part of a five-year deal with the city, the company will be responsible for event scheduling and preparation, securing sponsorships for the facility, and providing marketing and communication services.

Lopes
"I think it's really great and smart on their part," LST Marketing CEO John Lopes said about Jonathan Byrd's decision to expand its business scope. "The same model doesn't always work forever. They decided to reshape themselves into a large catering operation."
Lopes, who has known the family since the late 1990s, said the Byrds approached his company about a partnership, acknowledging their expertise was in food and hospitality services, not event management.
"They go together," he said. "That's one of the unique things about hospitality management—almost always, they're attached to some kind of event."
Lopes said the Byrds' business core is still catering, but the company is also experienced with hotels and racing, and he expects the event management business to stick around, too.
"I think at this point, they can lay claim to all those categories as part of what they're doing," he said.•
Please enable JavaScript to view this content.