As president of Hulman & Co.'s IMS Productions, Robby Greene knows what the Indy 500 means to the Indianapolis Motor Speedway, IndyCar Series and the city of Indianapolis.

So when Greene says an event his company is shooting for an outside client is "their 500," you know he takes it seriously. And in the course of a conversation about IMS Productions' growing client list, Greene uses that turn of phrase often. Greene's mind-set has spread like rubber on a racetrack through the operation that now has more than 200 employees.

"As technologically advanced as this company is, it's their people that set them apart," said Brian Douglas, director and producer of the Professional Bull Riders Series. "Simply put, their people are second to none, the best of the best."

IMS Productions' people, clients said, have helped push the firm's technology forward—fast.

In recent years, IMS Productions was one of the first to use biometrics to show athletes' heart rate, body temperature and other vital signs during a competition; pioneered one of the world's fastest, nimblest robotic cameras; and helped Verizon create an app that shows a racecar driver's track position via an interactive map, allows fans to listen in on pit crew conversations, and gives race fans a 3-D virtual-reality look at the track.

The company also helped design a system that allows broadcast signals from in-car cameras to be transmitted from stationary hardware around the track rather than from a costly helicopter—which can't operate in all weather conditions.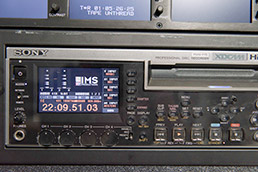 The firm produces L.A. Lakers games and has done games for the NFL and Big Ten Football. (IBJ photo/Eric Learned)
"A lot of the stuff IMS Productions has pioneered or perfected may sound simple," Douglas said. "It's not.

"For instance, they've become experts at shooting events in an outside, often dusty environment," he added. "Dirt and dust can kill equipment and quality. These guys have perfected keeping their [fiber optic] lines clean. That means everything to the quality of the picture fans see at home."

This year's Indianapolis 500 will be another milestone for IMS Productions. The company—along with the Speedway's broadcast partner, ABC—is using 100 cameras for the race's 100th running, the most ever used for the event. That's 20 more than for last year's race and 10 times the number used for the typical NBA or NFL game.

Eleven of those cameras will be IMS' high-speed robotic model.

"We think it's going to give viewers a unique and enhanced perspective of the race," Greene said.

For race day, ABC supplies the on-air talent, while IMS Productions supplies just about everybody else that makes the broadcast happen. It's the same set-up IMS Productions uses for many of its outside clients.

Rich Feinberg became acquainted with IMS Productions while working for ESPN.

"Live sports is one of the hardest things to do in video production, and motorsports is one of the hardest of any sport," Feinberg said. "There's no ball to follow and no timeouts. When you work with these guys, you learn quickly just how good they are at what they do."

Feinberg was so impressed, he joined the firm as vice president and executive producer earlier this spring.

"This company is growing and doing exciting things," he said. "When they asked if I was interested in coming on board, it was a quick 'yes.' It's a unique atmosphere here and I wanted to be a part of the growth."

Part of the unique atmosphere is making it like family, staffers told IBJ during opening week of Indy 500 practice. Greene is certainly the patriarch, calling employees by name and insisting on not only the best equipment for them but also amenities like a chef and mobile kitchen.

"These guys work long, hard hours," Greene said. "And it can be unpredictable. If a shoot goes long, I'm not going to feed them a cold, soggy meal. I go to our caterer and tell him to back the meal up an hour."

Greene also gets much of the credit for the operation's expansion.

He joined IMS Productions in January 2008 and started the diversification push the next year.

"All we were doing in 2008 was the IndyCar Series and some work for the [Indiana] Pacers," Greene said. "We knew we could take what we do and what we've learned in auto racing and apply it in other areas."

IMS Productions was founded as Wabash Valley Broadcasting in 1945. The Hulman & Co.-owned firm sold most of its TV and radio stations to Emmis Communications Corp. in 1998, but kept a part of the company to focus on creating content for the Indianapolis Motor Speedway and IndyCar Series, which was formed in 1996. It then named that firm IMS Productions.

The company, owned by the same Hulman-George family that owns the Speedway and IndyCar Series, has three distinct divisions: the TV production arm, post-production department and the IMS Radio Network—which syndicates race broadcasts to other stations.

Now, company executives see an opportunity to speed toward new horizons.

"The consumption of content has grown exponentially," Feinberg said. "Our goal is to feed that hunger with technology."

Greene grew the company by simple word of mouth.

"We didn't make many cold calls. Once we started to branch out and treated every event like the [Indianapolis] 500, word started to spread and more work came in," said Greene, who previously worked in radio and TV management and most recently worked for Cumulus Media and Clear Channel Communications, which is now iHeart Media.

When Greene joined IMS Productions, it had one production truck or semi-trailer; it now has 16, including five high-definition trucks.

"We can do five shows in one day," he said.

On opening practice week, IMS Productions did just that, handling the five-day Mecum Auctions event at the Indiana State Fairgrounds, a WNBA L.A. Sparks game, Global Rally Cross event in Phoenix, and a Professional Bull Riders event in Las Vegas.

In 2015, IMS Productions added 60 clients—ranging from sports properties to commercial endeavors such as Butterball and Home Shopping Network, Greene said. Revenue rose more than 10 percent, he said, and he projected similar growth this year.

The firm produces L.A. Lakers games and has done games for the NFL and Big Ten Football. It also handles work for ad agencies, including locally based Hirons & Co.

"Initially, word was IMS Productions knows cars, and if you have a car event, you want to work with them," said Mecum Auctions CEO Dave Magers. "That was certainly the case for us. But now, I think their reputation is spreading far beyond the automotive world. Our partners at NBC can't stop raving about these guys.

"They're cutting-edge and, just as important, they're consistently good," he added. "A combination like that is hard to find in any line."•