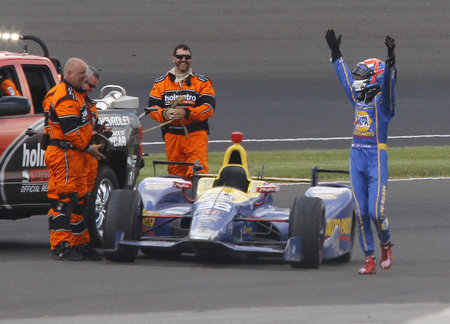 Perfect. Absolutely perfect.
For its 100th running, the Indianapolis 500 needed a signature moment, something that would shine through time. A stunning last act to match the hoopla and do justice to the party this month became on 16th Street.
And suddenly, there Alexander Rossi was, with a bottle of milk in his hand and a folk tale to never forget. Rain did not drop from the sky Sunday, as forecast, but he did.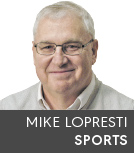 The 100th Indianapolis 500 went to a rookie who hadn't raced in this country since he was 16, bouncing around Europe, hoping for a Formula I ride. Who had never seen the Indianapolis Motor Speedway in his life before March. Who, in the words of his car owner Michael Andretti, "had no idea" about this place when he signed on.
The new face on the Borg-Warner Trophy watched the Indianapolis 500 last year from nearly 5,000 miles away, in Monaco. He is a champion nobody saw coming, who somehow ran the last 36 laps without a pit stop, took the checkered flag on fumes, and had to be towed to Victory Lane.
And who looked out at the world on the biggest day so far of his 24-year-old life and said, "I have no idea how we pulled that off."
Yeah, Alexander Rossi will do for No. 100.
So will the race itself, with its 54 lead changes—second most in history—and screwball ending, when the plot took a left turn, just like the 800 that Rossi had to make.
It came down to fuel, and a win-or-bust roll of the dice by his team. The faster cars that Rossi was chasing all pitted in the final laps. He didn't. He had enough fuel to get to the finish line, strategist Bryan Herta figured, getting updates from his number crunchers every quarter of a lap near the end.
Yes, there would be enough left in the tank, Herta decided. Maybe. It was the chance they had to take because it was the only way they could win—something between a Hail Mary pass and a suicide squeeze bunt. And it worked. Strategy, not horsepower, won this Indy 500.
So Rossi went past the white flag with a big lead, while 350,000 spectators—not to mention several drivers pursuing him—waited to see if he really, truly had 2-1/2 miles left. By the time he came out of the fourth turn, with the checkered flag ahead, he looked as if he was coasting down Keystone Avenue, looking for a gas station.
He . . . had . . . just . . . enough. "It was close, obviously," he said.
"I don't know about you guys, I'm shocked" Herta said to the media afterward. "I can't believe this happened."
Maybe Rossi didn't have the most powerful car. Didn't look as if he was going to outrun the leaders, if it came to that. Maybe it will long eat at the guys who came close that they were beaten not by speed, but a few spare ounces of fuel. But that'll be part of the story for future generations, won't it? How a rookie stole the Borg-Warner Trophy right from the gloved hands of the leadfoots up front.
Take Josef Newgarden, who finished third.
"I just wish we had the opportunity to race those guys up straight up at the end. I really think we would have had something for them," he said. But he also added, "If I was in Alex's position I'd be the happiest man in the world right now. I wouldn't care how we won the damn race, we won the damn race."
Or Carlos Munoz, a teammate of Rossi, who finished second.
"I don't know how my teammate did it without stopping. If I'm honest, I want to know what he did. I am second and (was thinking during the last laps), `Why's he not stopping? He's supposed to stop.'''
But he also added, "This is the 100th, anything can happen."
Which it did, with a surprise ending as special as the occasion. Only six younger men in 99 races had won the Indianapolis 500.
"It sucks not winning this thing," Newgarden said. "But at least people had an amazing show to watch for the 100th running."
That's what mattered the most. This was a one-shot deal for the Indy 500. A single chance to revive itself by taking full advantage of the buzz created by the landmark number. "It was nuts today," Newgarden said of the environment. "Today was another level."
The day began as a testament to the ages, as it should have.
There were Pearl Harbor survivors making their way down the red carpet, men in their 90s who draw a louder applause even than Chris Pine or Ice-T. The drivers were called to their cars by 82-year-old Florence Henderson. The field was waved on at the start by A.J. Foyt at 81, a man who survived 35 races here, but nearly died in a killer bee attack. Roaring down the front stretch was the pace car, with Roger Penske at the wheel; at that moment probably the fastest 79-year-old in the world.
But then they started the race, with a full house to watch, and the Indianapolis 500 was young again.
Thirteen men took turns on the lead, and many of them left the Speedway Sunday night believing they should have won. But in the end, there were the shocked victors. "It won't sink in for a while, I don't want it to," Rossi said. "I kept saying, Wow," Andretti mentioned.
The 101st running of the Indianapolis 500 next May won't come with nearly the same hype, but Sunday should help keep the momentum going. "It's alive and well, and it's wonderful," Mario Andretti said of the race.
Really, could Indianapolis have asked for better on its big birthday?
No.
Please enable JavaScript to view this content.