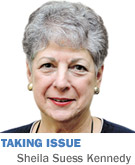 Fingers crossed!

The City-County Council has authorized inclusion of a referendum on the November ballot. The issue is public transportation—more specifically, the (desperately needed) expansion and improvement of Indianapolis' antiquated bus system.

The lack of a modern, reliable and user-friendly transportation system with reasonable headways has been a persistent problem for our city. If all goes well, Indianapolis voters will go to the polls in November, authorize a modest tax, and join the 21st century.

Why is an improved public transportation system important? Let me start by enumerating some of the benefits that will accrue to people who will never take a bus, no matter how nice or convenient:

• Good public transportation decreases congestion, so those still driving will have shorter and less stressful commutes.

• Air quality and public health improve in cities with good public transit. (And that's with "old-style" systems using fossil fuels. Indy's buses will be fully electric.)

• Economic development efforts depend more than most people realize upon the availability of public transportation. Employers—especially those who hire lower-income workers—want potential employees who have reliable access to their workplace.

• To the extent that the ready availability of transit is seen as essential to quality of life (and, increasingly, millennials see it that way), it is key to successful and convenient development patterns. Indianapolis' most vibrant neighborhoods—think Broad Ripple, Fountain Square, Massachusetts Avenue, Irvington—developed around early transit stops, back in the day when fewer people had cars. Public transportation is an essential planning tool.

• Research shows that every $1 invested in public transportation generates $4 in economic returns, every $1 billion invested creates 50,000 jobs, and every $10 million of capital investment in transit yields $30 million in increased business sales. Not too shabby!

For those who do use the system—or who would do so if it were more frequent and reliable and served more areas—there are many added advantages:

• If a two-person household downsizes from two cars to one, annual savings average $10,174 or more. Such downsizing is only practicable, however, if there is access to high-quality public transportation.

• Sale prices of homes and businesses near high-frequency public transit routes are significantly and consistently higher than the values of similar properties that are not. Ditto land values.

• Taking transit is safer—and less stressful—than driving.

Other benefits are more targeted.

For example, expanded transit increases the ability of disabled residents and others who cannot drive to get from place to place. And that non-driving population is set to grow significantly.

As the population ages—a process I am more aware of with each passing year—more elderly people lose their driver's licenses. Many are effectively stranded in neighborhoods without transit, becoming dependent upon adult children, expensive taxis and/or a patchwork of volunteer services to get them to the grocery, the doctor and other destinations. The increased independence that nearby transit affords offers multiple benefits to this population.

Being the nerds we are, my husband and I have visited several cities just to ride their public tranportation systems. Most recently, we sampled the relatively new system in Charlotte, North Carolina, and the truly "state of the art" system in Portland, Oregon. In both cities, we found the interlocking networks easy to use and extremely popular.

Indianapolis business leaders have for years studied the city's unique needs and alternative approaches to meeting those needs. November's referendum is the culmination of an incredible amount of research and planning.

It deserves our support.•

__________

Kennedy is a professor of law and public policy at the School of Public and Environmental Affairs at IUPUI. She can be reached at skennedy@ibj.com.