IndyGo is hitting the streets—but not by bus.

Teams of IndyGo volunteers, called "transit ambassadors," are on foot at bus stops around the city, spreading the word about big changes that will affect all 31 of the system's routes.

The changes coincide with—and many are actually caused by—the June 26 opening of the $27.4 million Julia M. Carson Transit Center, which will serve as the transfer station for nearly every route.

For almost a month, teams of volunteers have been visiting bus stops three days a week. But with the changes imminent, the volunteers are on the move every day, boarding buses to connect with riders there. During peak crunch time, some 80 or so IndyGo employees will join them in the task.

Horne
"IndyGo has never done anything like this before," said Jerome Horne, IndyGo's community engagement coordinator.

One Monday afternoon, Horne met with a group of volunteers, each wearing a turquoise shirt with the phrase "Ask me about transit" printed on the back. Many are IndyGo riders.

As the volunteers prepared to fan out among bus stops along Ohio Street and Capitol Avenue, Horne gave brief instructions on interacting with riders.

"Have some really interesting, fun conversations," he said.

The volunteers are talking to riders about the transit center, but also explaining the large number of upcoming route changes.
When the transit center opens at Washington and Delaware streets, it will serve as a central transfer point for all routes that pass through downtown.

That means the "downtown loop" transfer system, in place since 1986, is going away. Instead of switching routes at bus shelters along the loop—from Capitol to Maryland Street to Delaware to Ohio and back to Capitol—riders will make transfers at the center.

Twenty-seven of IndyGo's 31 bus routes travel downtown. But even the four non-downtown routes will get adjustments.

Luellen
"In a nutshell, every single route is changing," said Bryan Luellen, IndyGo's director of public affairs.

Some changes were prompted by the transit center's opening, Luellen said, but others are unrelated.

IndyGo does comprehensive data reviews every five years and changes its routes accordingly, he said. The upcoming changes are based on the most recent review.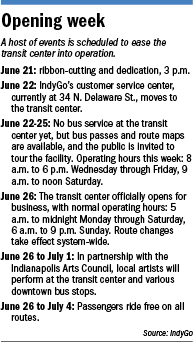 Still, the changes don't extend any bus lines or move into new areas of town. The goal, Luellen said, was to "prioritize key corridors for frequent routes" in a way that's revenue-neutral.

As an example, he cited Meridian Street from 38th Street to Monument Circle. That corridor, he said, makes up only 1 percent of IndyGo's service area but accounts for 15 percent of boardings.

With the new schedule, Luellen said, buses will arrive at Meridian Street stops every 7-1/2 minutes—about twice as often as they do now—on weekdays..

Other key changes:

• Two routes will include stops at Butler University, which had been without service for several years.

• A low-ridership circulator route between IUPUI and downtown will be dropped. The campus will be served by stops on other, reconfigured routes.

• Some riders who were accustomed to direct routes will have to make transfers. One example: A passenger who boards at 34th Street and Keystone Avenue now can take a bus directly to the Indiana Statehouse. Starting June 26, that rider will have to get off at the transit center and either transfer to another bus or walk the final four blocks to the Statehouse.

The transit ambassador program is among several moves IndyGo is making to help smooth the transition.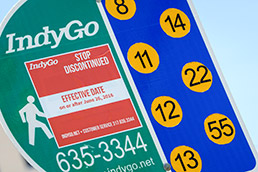 Some bus stops that will close altogether on June 26 are marked with stickers to alert riders.
(IBJ photo/ Eric Learned)
From June 26 to July 4, it is offering free rides on all routes—both as a way to reward riders' patience and to encourage newcomers to come aboard.

And, in partnership with the Arts Council of Indianapolis, local artists will perform at the transit center and various downtown bus stops from June 26 to July 1.

The transit center's ribbon-cutting and grand opening is June 21. Starting the next day, passengers who need to buy bus passes and get route maps will do so at the new facility. IndyGo's nearby Delaware Street retail center, which currently serves that purpose, will close.

From June 22-25, the transit center will also be open for anyone who just wants a peek at the facility before buses start rolling in on June 26.

The glass-and-metal transit center will include several features not currently part of the IndyGo experience. It will offer free Wi-Fi, restrooms, an indoor waiting area and 19 bus bays, all sheltered by canopies. Real-time schedule information will be displayed on digital signs at each bay, and at touch-screen kiosks.

Plans also call for a retail space where both passengers and passers-by can purchase snacks and convenience items. That yet-undeveloped space occupies 640 square feet on the northeast corner of the transit center building. IndyGo is in the process of soliciting proposals from vendors interested in leasing the space.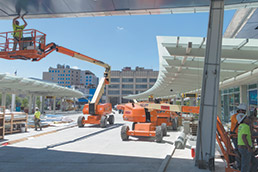 Construction workers put in extra hours this month to have the transit center ready by its June 21 ribbon cutting. All 19 bus bays on the property will be under canopy.
(IBJ photo/ Eric Learned)
The facility will also include a private lounge and restroom area for drivers. Until now, drivers who needed to use the bathroom or eat a meal mid-shift were on their own to find a place along their routes.

Liz Cleland, a special projects manager at Cummins Inc., said the chance to learn about the transit center was a big part of why she signed up as a transit ambassador.

Cleland is involved in Cummins' new distribution headquarters under construction at the former Market Square Arena site, just diagonal to the transit center.

The Cummins building will house 400 employees, including 250 who currently work at the company's Columbus, Indiana, headquarters. It will also have a conference center to host visiting Cummins employees from around the globe.

Cleland said her "number-one concern" was that Cummins employees unfamiliar with public transit might feel unsafe working so close to the IndyGo facility.

"There's just this stigma that riffraff hangs out at the stops," she said. By learning about IndyGo, Cleland said, she can answer employees' questions and concerns.

The distribution headquarters will also offer concierge service to both its full-time employees and its visitors. The goal is to be a resource for "everything Indianapolis," including local bus service. So if an employee has questions about IndyGo, the concierges will be able to help.

"There are going to be [Cummins] employees who live in Indianapolis who use the bus," Cleland said.

People who drive downtown will notice traffic adjustments. IndyGo buses will enter and exit the transit center from both Delaware and Alabama streets. Traffic lights have been installed at each of these points; they will begin operating June 26.

The lights are synced with sensors on each bus, to trigger lights to allow buses to enter and exit in timed waves every 15 minutes.

And because all downtown transfers will take place at the transit center, the volume of buses on the current downtown loop will diminish. Buses will still make stops along the loop, IndyGo says, but they won't need to linger for transfers.•
Correction: The original story has been corrected to reflect that buses on Meridian Street will come every 7-1/2 minutes. Also, a reference the Arts Council of Indianapolis has been corrected.