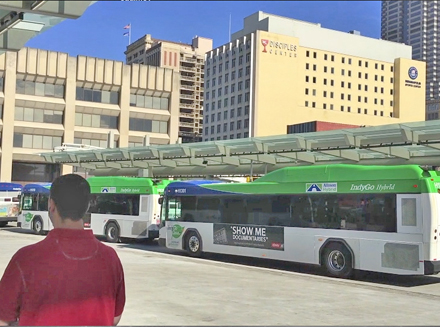 During its first test of weekday commuter traffic, IndyGo's new transit center appeared to be making the grade, passengers and employees said Monday.
IndyGo's $27.4 million Julia M. Carson Transit Center, at Washington and Delaware streets downtown, officially opened on Sunday—a day when ridership is traditionally light. So Monday was the first day of operations at full capacity.
"All in all, things are going pretty smoothly," said Bryan Luellen, IndyGo's director of public affairs.
IndyGo employees blanketed the transit center Monday to help passengers and drivers adjust. Luellen said about 20 IndyGo staffers would be at the transit center through the weekend to help smooth the transition.
"We've just got to monitor and see how things go. It's all-hands-on-deck," he said.
No one reported major malfunctions, but employees said IndyGo is working out some minor glitches.
New traffic lights on Delaware and Alabama streets went into operation Friday. They're triggered by IndyGo bus sensors, allowing buses to smoothly enter and exit the transit center.
Early Monday morning, Luellen said, the Delaware Street light was out of sync with the light half a block north at Delaware and Washington, causing some backups while buses waited for the Washington Street light to turn green.
Luellen said IndyGo will work with the Department of Public Works to resolve the problem.
Other glitches:
— The transit center is for bus traffic only, but a couple of passenger cars and at least one bicyclist have already driven through the property.
— Passengers are supposed to use a crosswalk to get between the property's two rows of bus bays. IndyGo workers stayed busy watching for jaywalkers and telling them to use the crosswalks.
— Construction workers are still finishing the bus canopy on Delaware Street, and some seating in the south bus bay area has yet to be installed.
— The system is working to properly calibrate bus sensors that feed information to IndyGo's real-time bus information signs. If the sensors are too strong, they might interfere with one another. But if they're too weak, they might not pick up a signal.
Passengers seemed mostly focused on the basics: finding their buses and making their connections.
"You gotta know how to catch your bus. It's just a new bus stop to me," rider Connie Wilson said of the facility.
Wilson, an Indianapolis resident, uses the bus to get to and from work.
The transit center replaces IndyGo's "downtown loop" transfer system that had riders switching routes at bus shelters along a loop that ran from Capitol Avenue to Maryland Street to Delaware to Ohio Street and back to Capitol.
Wilson noted that the change to the centrally located transit center means some riders now must transfer to a new bus or face a lengthy walk from the center.
For example, people who work at the state government complex or the JW Marriott on the Mile Square's west side face a walk of six or seven blocks from the center.
"It's going to inconvenience some of the downtown workers," Wilson said.
With so many buses coming to a central spot, riders now have to read signs and hunt for their buses.
"I think it's going to take some getting used to," said Mary Lee, an Indianapolis resident who takes the bus to and from her job at the Indiana Convention Center.
Lee, who works the night shift, gets a ride to work on Sunday nights, so Monday morning was her first experience with the Transit Center as she boarded a bus for home.
"It seems to be going good today. I don't know what the rest of the week will bring," she said.
 
Please enable JavaScript to view this content.