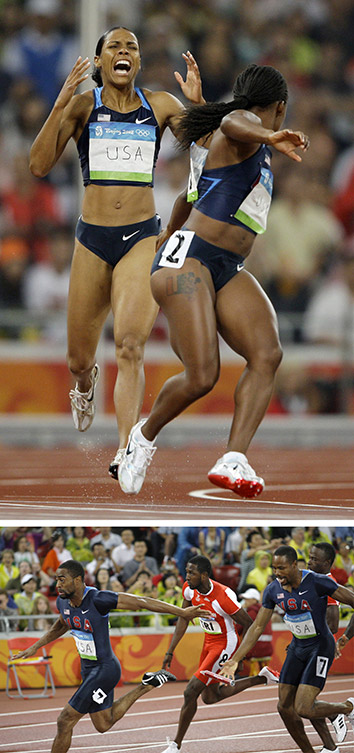 USA Track & Field CEO Max Siegel is staring at his organization's biggest growth opportunity—and deepest potential pitfall.
The results of next month's Olympic Games in Rio de Janeiro will directly affect the funding USATF gets from the U.S. Olympic Committee and will play a big part in the number and size of sponsor deals Siegel will be able to sign until the next Olympics.
"The pressure on the administrators of these national sports-governing bodies during the Olympics is tremendous," said Dale Neuburger, former president of USA Swimming and of the Indiana Sports Corp. "Not only are the Olympics the one chance they have for their athletes and sport to be in the national and global spotlight, but they also have to live up to the high-performance plan the USOC requires them to file. That's what determines funding."
Siegel has brought Indianapolis-based USATF a long way, both financially and organizationally, since taking over in early 2012, but he still has hurdles to clear to achieve his ambitious agenda.
A high-profile stumble at the Olympics—a positive drug test, an athlete uprising or a dropped relay baton—could hamstring Siegel and his organization, which has 70 employees and a nearly $36 million budget.
USATF has been bedeviled by so many failings—many Olympics-related—that it's difficult to count them all.
They range from track star Marion Jones' positive drug tests in 2006 to two dropped batons by favored U.S. relay teams at the 2008 Olympics to various fights (some legal) with athletes over sponsor conflicts and organizational mandates.
The lead-up to the 2012 Olympics also was marred by internal strife, including complaints from athletes about scant payments.
Siegel, an Indianapolis native and University of Notre Dame graduate, admits USATF had serious dysfunction when he joined the board in 2009 and even when he took over for Doug Logan as CEO in 2012.
"If we were 100 percent dysfunctional when I took over, we're only 15 percent dysfunctional now," said Siegel, who joined USATF after a career as gospel-music executive and a stint as president of NASCAR's Dale Earnhardt Inc. Siegel started out as an attorney at Baker & Daniels in Indianapolis.
"People love to talk about the dysfunction of USA Track & Field. That had become almost the total focus, and it was bad for the sport," he added. "I think we've addressed 85 percent of the issues related to dysfunction."
Siegel said the complaints surrounding the sport five years ago—many coming from insiders—were so deafening he begged for two years of quiet to address the problems, which he saw as primarily financial.
"There were a lot of people arguing over a limited pool of resources," he said. "Unless you addressed that limited pool of resources, the only solution was robbing from one [USATF] constituency to give to another. That simply created more internal turmoil."
Siegel added: "Listening to everyone's concerns was a big part of coming up with solutions. This organization had become used to working in silos. I wanted to knock down the walls within the organization."
Resurrection
Whatever Siegel's tactics, they appear to be working. The 51-year-old has moved with the speed of sprinter Carl Lewis and the endurance of marathoner Frank Shorter.
He increased membership from 90,000 to 130,000, grew the budget from $17 million to nearly $36 million, and increased assets from $8 million to $42 million.

Siegel
USATF's sponsors have grown from seven to 20 in four years; sponsor revenue swelled from $10.5 million in 2012 to $22.5 million in 2015.
Before Siegel's hiring, USATF hadn't signed a new sponsor in about eight years. It now generates more in sponsor revenue than it got before his arrival from all sources.
Siegel also sought to depoliticize the organization and push an agenda that benefited all constituents.
"It's not just about the elite athletes," he said.
To that end, Siegel began paying meet officials, provided national uniforms for masters members (who are 30 and older), and upped development funding for youth programs.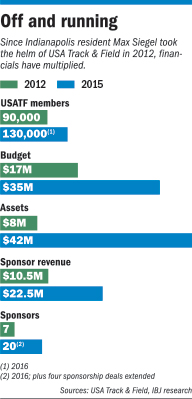 The masters are a key source of support, Siegel said, and the youth "are the future lifeblood of the organization from the standpoint of giving rise to our next generation of elite athletes and also in terms of developing future fans for the sport."
Siegel hopes the improvements will position USATF to hit medal pay dirt in Rio. He's aiming for 30 track and field medals—the most since 1992. And if American track athletes surpass Siegel's goal by just one, they will have garnered more medals than at any Olympics since 1956 (with the exception of the 1984 games the Soviets boycotted).
Beyond the Olympics, he's shooting to increase USATF's membership to 250,000 and its budget to $50 million by 2020.
He's already instituted a plan to distribute an additional $9 million to elite athletes over the next five years—increasing annual distribution from $5 million to $6.8 million. He's hoping for success that will allow him to boost that even further.
If anyone can attain these lofty goals, it's Siegel, said Neuburger, who was USATF chief operating officer from 1991-1993.
"His 2020 goals are very difficult," Neuburger said. "But Max is regarded as the smartest and savviest director among the Olympic sanctioning bodies. What he's already done is extraordinary. There are no new veins of gold here. … He found ways to greatly expand revenue sources that were thought to be pretty mature. That's as impressive as any gold medal performance I've ever seen."
Harsh criticism
Despite his successes, Siegel has critics.
For instance, Nick Symmonds, a six-time U.S. outdoor champion at 800 meters who finished fifth at the 2012 Olympics, complained that USATF forces athletes to wear Nike apparel wherever they go while competing for the United States in international events. Symmonds said he was even harassed by the organization for not wearing the proper apparel while out for coffee.
Nike, which supplies apparel for U.S. track athletes, has a contract that industry sources say pays USATF $500 million through 2040. Symmonds is sponsored by Brooks.
USATF spokeswoman Jill Geer said the document that regulates official attire adheres to industry standards that govern international sports and professional leagues.
Greg Harger, who coaches an Indianapolis-based track and field team of Olympic hopefuls, said the U.S. Olympic Committee and USATF strong-arm athletes over what they can wear and when they can wear it. Strict rules govern the size of logos of athletes' personal sponsors that are not USATF or USOC sponsors—worn at national championships and other USATF events.
"There are so few opportunities for these athletes to generate funding other than through personal sponsorships. Athletes are being ripped off of the one thing they have other than their performance [results] in the competition," Harger said. "This is classic big-business bullying.
"Max has done some great things, but he's not standing up and advocating for the athletes," he added.
Some sports marketers think USATF needs to do more to promote its athletes.
"Ashton Eaton is the world's greatest athlete and few people know who he is," said Larry DeGaris, director of sports marketing at the University of Indianapolis, referring to the decathlon world-record holder who is a favorite to take gold in Rio. "It's not clear if an organization like USA Track & Field doesn't have the marketing muscle or the wherewithal, but they need to do a better job of elevating the status of their member athletes."

To try to raise athletes' profiles, Siegel has hired 1996 gold-medal Olympic decathlete Dan O'Brien to run a speakers' bureau. The idea behind the initiative—which will launch after the Olympics—is to teach U.S. track athletes to better handle themselves in public and with the media and also help them secure money-making speaking engagements and sponsorships.
Siegel also has signed a sponsorship deal with Rosetta Stone, which makes foreign-language tutorials, to help athletes learn languages spoken in countries where track and field is popular—and where they might have commercial opportunities.
Baton drama
Of all the suspenseful moments for the American team in Rio, none may be as gut-wrenching as the relays. Painful memories remain from Beijing in 2008, when U.S. competitors fumbled away batons.
Two Olympics later, Siegel acknowledges he's still working on minimizing drops. He has sought to bolster coaching of the relay teams and eliminate controversy over the runners' selection process, but said that's still a work in progress.
Some coaches have argued relay teams should qualify at the U.S. trials as a four-person unit. They say the current practice of just putting the four fastest sprinters together doesn't give teams enough time to work on timing and baton exchanges.
"In my 25 years in sports, dealing with the U.S. relay teams is the biggest challenge I've faced," Siegel said. "The selection of coaches and athletes for the American relay teams that compete in international events—especially the Olympics—is fraught with real, perceived and emotional conflicts of interest."
Last year, Siegel pulled together a relay coalition "to increase cohesion and continuity."
"Some of these issues take time to sort out and deal with," Siegel said. "That doesn't mean they're not going to get done. It just means it won't happen overnight."
It's a rare show of patience for an executive who's used to quick results.•
This story has been corrected. It originally included incorrect information about when the USATF board was restructured. That has been removed from the story. In addition, the story now says that before Siegel's hiring, USATF had not signed a new sponsor in about eight years.
Please enable JavaScript to view this content.