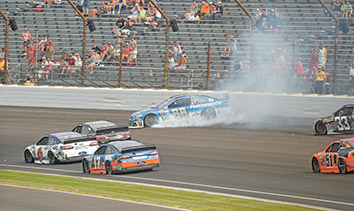 After a hugely successful Indianapolis 500 in May, Indianapolis Motor Speedway officials are hoping the Brickyard 400 enjoys a resurgence as well—a goal that will get a boost from the hoopla surrounding the retirement of Hoosier native Tony Stewart.
Attendance for the annual NASCAR race had been dropping each year since 2008, but saw a slight increase last year from the roughly 85,000 fans on hand in 2014. Last year's bump stemmed largely from five-time Brickyard 400 winner Jeff Gordon's then-looming retirement.
Now, the Speedway is pushing for another upswing through a range of marketing strategies, including promoting the race around Stewart, the Columbus native who announced in September this would be his final NASCAR season.
The IMS announced June 28 that it will create a 3/16th-mile temporary oval dirt track inside of turn three. Stewart will make a media appearance at IMS on July 5, and will have a chance to take a spin around the track. The Speedway also has invited dirt midget drivers to take part in the exhibition.

Boles
"We're trying to get creative," Speedway President Doug Boles said. "It's a chance to celebrate Tony, but it's also an experiment to see how it works."
Boles said that, if all goes well, IMS eventually might add a dirt-track event to the Brickyard weekend slate.
Stewart, who has 49 NASCAR Sprint Cup wins in his 18 years with the league, started on dirt and has continued to make dirt-track appearances.
In addition to building the dirt track, Boles said, the Speedway hopes to bolster attendance for the July 24 race by spending 10 percent more on traditional marketing than it did last year. He said the marketing push is more focused than usual on southern Indiana, particularly Stewart's hometown.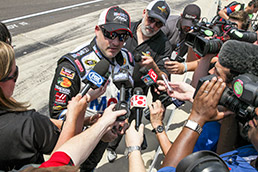 Tony Stewart was a media draw on qualifying day for the 2015 Brickyard 400. IMS officials are marketing the 2016 race around the Columbus native, including building a temporary dirt track to honor his racing roots.
 (Photo courtesy of Indianapolis Motor Speedway)
"We are trying to reconnect to the grass-roots people who love Tony," Boles said.
It is the latest strategy to combat long-standing attendance woes for the Brickyard 400, which started in 1994 at the peak of NASCAR's popularity. That race sold out and capacity crowds of at least 250,000 continued for a few years.
Brickyard attendance began falling in the late 1990s, mirroring a downturn in the sport's popularity. The decline was accelerated by tire-failure problems that plagued the 2008 race and by the Great Recession.
As attendance dropped, fans criticized the race for being boring, complaining the 2.5-mile oval track is not well-suited for passing.
Some suggested attendance would benefit if IMS made the Brickyard a night race or moved it to the track's road course. Boles said a night race won't happen, as it would cost at least $20 million to install lights. He also dismissed switching to the road course, saying NASCAR drivers appreciate the history of the oval and that competing on it is "part of the magic" of racing at the Speedway.
Saturday value
While Speedway officials plan no changes to the race itself, they are working to improve the fan experience in hopes of luring bigger crowds over the full weekend of activities.
For example, in recent years, IMS added concerts to the Brickyard 400 festivities, with tickets costing extra. But this year, a Kid Rock performance following Saturday's Xfinity Series race will be included in the price of admission.

Frost
Indianapolis is not alone in upping the entertainment at race events, said Tim Frost, a Chicago-based motorsports business consultant. Venues around the country are adding concerts to NASCAR races in an attempt to curb declining attendance.
"They have to look at, 'What can they do to create more value for their spectators?'" he said.
Even though the concerts will no longer be an extra line item in ticket sales, Frost said they can still increase revenue as fans stay longer at the track and buy more food and beverages. The Speedway also is selling "concert pit access" wristbands for $55, which reserve purchasers a spot close to the stage.
Boles said Saturday ticket sales have seen a "significant increase" since the early June announcement of the concert. The day's events include Sprint Cup and Xfinity Series qualifications, the Xfinity Series Lilly Diabetes 250 race, and the Kid Rock performance. Boles said he wants Saturday to feel like a "mid-summer Carb Day."
General admission tickets for Saturday cost $30 now, but will jump to $40 on July 9. Boles said having so many events scheduled for that day make it "the best value motorsport day of the year" at IMS.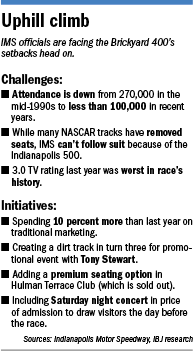 Perception problem
One of the Speedway's challenges, he said, is that the track's massive seating capacity leaves large sections of stands empty for the Brickyard 400, fueling a perception that attendance is even weaker than it is.
Other NASCAR tracks have removed seats over the last decade. Daytona completed a $400 million renovation this year that reduced its capacity from 147,000 to 101,000. Richmond International Raceway has removed nearly 50,000 seats over the last nine years, going from 110,000 to about 60,000. Talladega, Michigan, Darlington and others have also trimmed seating.
With an estimated 235,000 permanent seats, IMS has by far the largest capacity of any NASCAR track. However, removing a large number of seats doesn't make sense because of high demand for the Indianapolis 500, as evidenced by this year's sellout.
Even with an attendance of 101,000—a sellout at Daytona—more than half the seats at IMS would sit empty.
"Our challenge is, we're compared against our capacity," Boles said.
He noted that, despite the declines, the Brickyard still "draws more people than most NFL stadiums." He said it's the third-biggest annual sporting event in the state, behind the Indianapolis 500 and Carb Day.
NASCAR does not release attendance figures, but Boles said the Brickyard 400 ranks between fourth and eighth out of NASCAR's 36 races each year.
Boles is optimistic about attendance this year. He said ticket sales are in line with where they were at this point in 2014.
"The challenge is having a year equal to or better than last year," he added.
More sources
Another way the Speedway is bolstering attendance and revenue is through top-tier seating options it added as part of its recent $92 million renovation. Tickets in the 1,150-seat Hulman Terrace Club outside the track's front straightaway include access to exclusive, premium concessions, as well as pit and garage credentials.
Hulman Terrace Club seats are $1,750 each, and are good for each practice, qualification and race day for the year. The club is sold out for 2016, netting the Speedway more than $2 million in ticket sales.
"There's been a decline in attendance, but less of a decline in revenue," said Larry DeGaris, director of sports marketing at the University of Indianapolis.
Other key revenue sources include TV and sponsorship deals.
In 2011, Crown Royal agreed to a five-year, $15 million title sponsor deal that began in 2012. It includes $1.5 million a year that Crown Royal uses to promote the race.
The agreement ends with this year's race, though Boles said he expects Crown Royal will remain beyond 2016.
"I fully anticipate that there will be a partnership as we go forward," he said.
IMS also gets a share of NASCAR's TV deals with Fox and NBC, which are paying the league a combined $8.2 billion over 10 years.
NBC's NBCSN took over broadcasting duties from ESPN last year. The 2015 race received a 3.0 rating, which was the worst in its history, but also the highest-rated program ever on NBCSN.•
Please enable JavaScript to view this content.