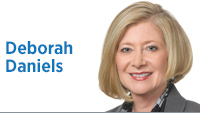 Much has been written about the recent Orlando mass murder. We need to give serious thought to what that horrific event means to American society.
Many politicians used the tragedy to justify previously held beliefs, ranging from gun control to immigration restrictions to proposed changes in due process protections.
The benefits of a free society are precisely those that make us vulnerable to people like the Orlando shooter, Omar Mateen. Mateen, born a U.S. citizen, has Constitutionally guaranteed rights, the absence of which might have prevented him from carrying out his murderous attack. They include the right to bear arms; the right to due process; freedom of religion; freedom of speech.
Everyone in the U.S. believes that he or she personally should have these rights; but in the aftermath of a tragedy such as this, we tend to re-think the extent of those rights.
It's important to remember that none of our rights is absolute. The freedom of speech guarantee does not permit yelling "fire" in a crowded theater. There are varying levels of due process depending on the nature of the restriction the government seeks to impose on a person's life, liberty or property. There is a natural tension between our desire to keep people safe and to secure the rights guaranteed by the Constitution. In the aftermath of a terrorist act, we need to be particularly careful about how we balance these two important goals.
First, shouldn't we call this what it is? Mateen was clearly influenced by ISIS, which now focuses on radicalizing young Muslims via the Internet to wreak terror everywhere.We just saw this in the arrest of a Brownsburg youth on federal terrorism charges. But President Obama refuses to acknowledge the obvious.It doesn't fit his narrative: "GM is alive; Bin Laden is dead." Thus, the Fort Hood shooting was "workplace violence," and Benghazi was a "spontaneous uprising."
How can we seek to prevent such acts on American soil?
We need a far greater mutual understanding among religions in this country. President Bush, while responding harshly to radical Islamic extremism, repeatedly articulated the difference between that perverted approach to Islam and the true, peaceful Islamic religion. If Muslims in the U.S. feel an integrated part of American culture, perhaps they will be willing to share concerns about someone like Mateen.
How much surveillance should we allow? This is the hardest question. After 9/11, when I was with the Justice Department, we sought ways to engender a nationwide spirit much like that during World War II, when everyone in the country played a part in the war effort in his or her own way. One suggestion: that people in a position to see something suspicious be asked to report potential terrorist activity. The left went berserk. (In the current administration, this concept has been labeled "See Something, Say Something", and it's now acceptable.)
What I see as a reasonable effort to monitorcommunications between known terrorists abroad and people in the U.S. was vilified as un-American. But the FBI is now accused of not doing enough to follow Mateen.
Finally, while many claims espoused during the post-Orlando Democratic Senate gun-control filibuster were debunked by Washington Post fact-checkers, certain restraints on the unfettered right of those under suspicion to purchase guns may be in order and are worth discussing. Expanded background checks? Check. No-fly, no-buy? Sure—with due process protections, of course.
Let's set politics aside and work together on a solution, for all our sakes.•
__________
Daniels, managing partner of Krieg DeVault LLP, is a former U.S. attorney, assistant U.S. attorney general, and president of the Sagamore Institute. Send comments on this column to ibjedit@ibj.com.

Please enable JavaScript to view this content.