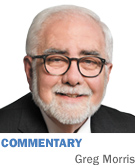 It was only about a month ago that we learned our blood supply had fallen to a critically low level. No community ever wants to be in that position. We were at risk of not being able to supply enough life-saving blood to all hospital patients who needed it.

On July 14, Dr. Charles Miraglia, president and CEO of the Indiana Blood Center, notified the Indiana State Department of Health that the blood supply had fallen to a level of less than a one-day supply. The emergency call was put out and nearly 2,000 people donated blood over the next three days. Thanks to many organizations and individual donors, the inventory of transfusion-ready units is again stable.

But the status can change quickly, and we shouldn't wait for another critically low inventory crisis to spur us to action. That's why IBJ is hosting a community blood drive Aug. 15, 2-5 p.m. The Indiana Blood Center Bloodmobile will be parked on the east side of our building on Pennsylvania Street, just south of Washington Street. Yes, IBJ staff members are filling donation slots, but I've been assured the Indiana Blood Center will expand its capacity to accommodate all who want to participate.

In a recent open letter to the community, Miraglia tells us, "The blood supply is the people's asset. We are vulnerable—the blood supply is vulnerable—if it is top-of-mind only in a crisis. What's more, we fail in our responsibility to our hospitals—and in our responsibility to each other—when the greatest turnout of blood donors occurs when we are in such a dire position that patients are at risk."

"Success is convincing 500 Hoosiers, one donor at a time, today is a good day to step up and donate blood. Each night, that measure of success resets."

"We monitor our donations in real time and are on standby, ever ready to answer the call from a hospital that needs more units. Truly, it is a by-the-minute proposition. We must keep enough blood on the shelf that one traumatic accident or one surgery with complications isn't a critical blow to the blood needed for another patient or another hospital."

The need is real. And it's so easy to help save lives. The donation process takes less than an hour. It's recommended that donors have a light snack before donating. Most people are eligible to donate. There are very few causes for deferral and very few medications you might be taking that would disqualify you. To find out the answers to all your questions about giving blood, visit www.indianablood.org.

So we invite you to participate in the IBJ Community Blood Drive. We are at 40 E. Washington St.; you won't be able to miss the bloodmobile on Pennsylvania.

You'll need to sign up in advance. Here's how: At ibj.com, find the Indiana Blood Center/IBJ Community Blood Drive box in the far-right column just below the search bar. Click on the link and follow instructions. We've made the process easy for you.

If you can't make our blood drive, why not host your own event? If you have questions about the IBJ Community Blood Drive or about how your company can host its own blood drive or in any way help the blood center, contact Dotti Laas at dlaas@indianablood.org.

I'll close with Dr. Miraglia's words:

"I appeal to you as business and community leaders. Please, engage in our cause. You are the gateway to your organization's greatest asset—your people. Likely, you already host blood drives. Are you personally involved? Your organization likely contributes thousands of dollars to community causes. How many units of blood do you donate?

"My obligation is to make sure that the availability of blood is never a complication in the care a patient receives. Join me. Together, we will save lives."•

__________

Morris is publisher of IBJ. His column appears every other week. To comment on this column, send email to gmorris@ibj.com.