An IndyGo-sponsored jury has named three winners of a competition to design stations for the Red Line route, but IndyGo says it hasn't yet decided how closely the final stations might reflect the winning designs.
The first-place entry was created by Fishers native Sean Morrissey. (Image courtesy IndyGo)
Last month, IndyGo asked contestants to submit design ideas for the 28 stations—essentially, bus stops—that will be built along Phase 1 of its planned Red Line rapid transit project. The stations would be separate from regular IndyGo bus stops.
Phase 1 of the Red Line includes a 13-mile stretch running from 66th Street in Broad Ripple to the University of Indianapolis on the city's south side. Construction on this phase is expected to start in spring 2017, with service in fall 2018.
In the design contest, an eight-member jury panel considered anonymous submissions from 24 contestants. This month, it announced three winners: Sean Morrissey, a Fishers native who is now working at Seattle architectural firm Miller Hull Partnership; DELV Design, an Indianapolis-based architecture and design group; and Darin Lanich, an Indianapolis architect.
The winners earned prizes of $5,000, $2,000 and $1,000, respectively.
Morrissey, 27, came up with a design that features cedar planks, exposed steel and a pitched roof. He told IBJ that he was inspired by Indiana's agricultural history and its covered bridges.
"Being far away now, it was nice to kind of work on a project that is a part of my childhood," Morrissey said.
In written comments, the jury described Morrissey's design as "very friendly and accessible," "just contemporary enough" and something that would complement the Indianapolis Cultural Trail. But the jury also said the design needs additional features that would allow stations to be customized for different neighborhoods.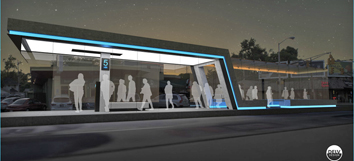 The second-place entry was created by Indianapolis-based DELV Design. (Image courtesy IndyGo)
DELV Design's concept shows a glass-heavy structure with built-in lights that change colors as Red Line buses approach.
Jurors liked this feature, calling it "well integrated and attractive." The jury also said this was the "most urban and edgy" of the contest submissions, but also noted that the glass paneling might attract vandalism.
Amanda Welu, who handles marketing and branding at DELV Design, said her team enjoyed the chance to contribute to a public project like the Red Line.
"If we're a part of the city, we wanted to be a part of solving these types of problems," Welu said.
Lanich's design includes a large swooping roof, which jurors found reflective of IndyGo's new downtown transit center. The jurors also called Lanich's design "safe, believable, accessible [and] mature." While it "felt too heavy," it could be lightened up with building materials and color.
The third-place entry was created by Indianapolis architect Darin Lanich. (Image courtesy IndyGo)
Lanich, 49, said he entered the contest for the fun of it, and enjoyed seeing all of the ideas from other contestants.
"I was pleased with the number of ideas that were presented," he said.
Lauren Day, marketing manager at IndyGo, said it's likely that the final Red Line stations would be based on one of the three winning designs—but the stations won't necessarily follow every detail.
"To the degree that they [the winners] are interested, they can be involved in a conversation with our engineers," Day said.
The purpose of the contest, Day said, was to generate ideas, encourage public input and to get IndyGo thinking about issues and design concepts for the project.
IndyGo hopes to settle on a final Red Line station design by the end of the year.
In total, Phase One of the Red Line is expected to cost $96 million to build and another $6 million annually to operate.
In February, the Federal Transit Administration recommended the Red Line Phase 1 project for $75 million in funding from a federal grant program called Small Starts. That funding recommendation is making its way through Congress now as legislators hash out the 2017 federal budget.
Meanwhile, IndyGo is moving forward with its part of things. Last month, the organization awarded two contracts totaling $10.8 million for project planning and construction management.
Members of the jury panel included: David Hampton, Indianapolis' Deputy Mayor of Neighborhood Engagement;  Emily Mack, director of the city of Indianapolis' Department of Metropolitan Development; Brad Beaubien, long-range planning administrator of the city's Department of Metropolitan Development; Leigh Riley Evans, CEO of the Mapleton-Fall Creek Development Corp.; Addison Pollack, Indiana Citizens' Alliance for Transit coordinator at Health by Design; Donna Sink, an architect and board member with People for Urban Progress;  Julia Moore, director of public art at the Arts Council of Indianapolis; and Rebecca King, vice president of programs and alumni relations at Leadership Indianapolis/Central Indiana Community Foundation representative.
Please enable JavaScript to view this content.