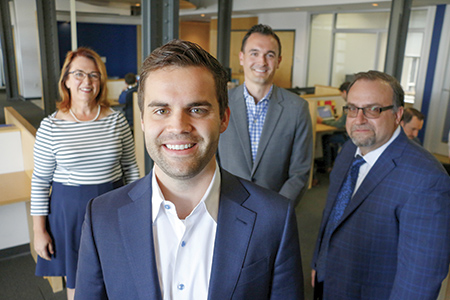 Patrick Sells has never taken a single marketing or advertising class.
And he's certainly no tech geek. Sells has never written a line of code. He doesn't know how.
Yet the 25-year-old Taylor University political science graduate is founder and CEO of a namesake company that has become one of the city's biggest and fastest-growing digital marketing firms.
Sells Group might also be one of the city's best-kept secrets—that is, until it signed a seven-figure naming-rights deal with Pacers Sports & Entertainment this month to put its name on a new posh mega-suite at Bankers Life Fieldhouse. The suite is now known as the Sells Group Loft, and Sells promises the company will be uber active in the space. He's even proposed naming drinks served in the loft after his company's core values.
To be sure, Sells—and his company—are no ordinary story.
After moving in his childhood every couple of years—due to his parents' work as Christian missionaries—Sells and his family settled in Upland, where his dad took a job as vice president at Taylor.
While still in college in 2012, Sells launched Sells Group in an unassuming space in an Upland flower shop.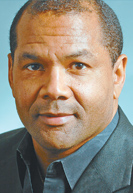 Bryant
But that's not really where Sells Group's story began.
Instead, it was born a couple of years before in a field, where Sells built a fence, hauled 900 pounds of dirt, and planted pounds and mounds of grass seed in a mad 48-hour rush. Leland Boren, the local businessman who gave Sells the seemingly impossible job, knocked the fence down two weeks later.
"It was never about the fence. But it was a humbling moment," recalled Sells, who tries hard to cover up his baby face with a two-day growth of beard.
In Sells' early college years, he did a variety of odd jobs for Boren, CEO of Avis Industrial Corp. For many of the tasks, the young entrepreneur said, Boren had "no reason to believe I could do them."
But he did.
Then Boren asked Sells for his goals. And like the fence, he knocked those down, and told him to build higher ones.
"You can only see as far as the tallest set of shoulders you've stood on. That's what Leland did for me," Sells said.
So when the 80-something-year-old Boren asked Sells to develop a website for Avis Industrial, an Upland-based company that owns a variety of manufacturers nationwide, Sells didn't hesitate to take the job, even though he knew nothing about computer programming or website development.
"I hired other Taylor students and did whatever it took to get it done," Sells said. "He loved it."
Going solo
Sells quickly decided digital marketing was an area where he could make his mark. And so he has.
In Sells Group's four years, it has grown to 47 full-time employees, 55 total. The company has about 40 clients—including the likes of Harry & Izzy's, Super Service Challenge, Citizens State Bank, SunCrest Solar and The Lutheran Foundation—and 2015 revenue of $2.3 million, a figure that doesn't include pass-through money for ad buys and other expenses, Sells said.
According to Inc. Magazine's ranking of the nation's fastest-growing companies, Sells Group revenue grew 563 percent over the last three years. Sells Group is the sixth-fastest-growing company in Indianapolis and the second-fastest-growing marketing firm—behind Fizziology, a social media research firm and consultancy that is an outgrowth of Bradley and Montgomery, the city's third-largest ad agency, according to IBJ's 2016 Book of Lists.
Sells has grown his company with no venture capital or outside investors.
"I don't need it," Sells said. "You don't give a well person an IV, do you?"
Boren wasn't available for an interview for this story. But another of Sells' mentors and early clients said that, despite Sells' age and lack of experience, it became quickly apparent he was going to be a success.
"He could have gotten a big-time job with an established corporate firm," said Roger Muselman, chairman of DRG Holdings LLC, a Berne-based printing and publishing business. "But he wanted to make it on his own. He never stops asking questions and he's tenacious at problem-solving. He shows clients very quickly he's a problem-solver extraordinaire. And that trumps age."
But veteran Indianapolis marketer Bruce Bryant, president of Promotus Advertising, said Sells Group isn't the first marketing firm to come out of the box hot.
"Their story sounds great, but sustainability can be a bear," Bryant said. "They'll have to prove they can provide real, long-term value. You can only last so long selling the latest gadgets and technology."
No slowing down
Sells promised his firm's torrid growth isn't slowing.
From a barren office—with only two white boards as wall hangings—on the eighth floor of the Majestic Building where his company moved in May, Sells told IBJ his firm's revenue will hit at least $7 million this year.
In December, when Sells Group had 16 employees, the Indiana Economic Development Corp. offered the firm $875,000 in conditional tax credits and up to $125,000 in training grants in exchange for a promise to add 65 jobs by 2019. Sells Group will knock out that goal two years ahead of schedule, Sells said.
He has hired a trio of executives this year to guide the company through its rapid growth.
Marcia Barnes, 54, came on this month as president and chief marketing officer. She previously served as CEO of Indianapolis-based home security company Defender Direct (now Defenders), and Ryno Strategic Solutions, an internet marketing firm with offices in Indianapolis and Phoenix.
In July, Sells hired 54-year-old Gregg Albacete, a longtime executive who most recently served as vice president at Defenders, to serve as chief operating officer.
In January, he hired Chris Huxhold, who now serves as chief financial officer. The 31-year-old previously held financial positions at Appirio, an Indianapolis-based technology consulting firm, and accounting firm Crowe Horwath.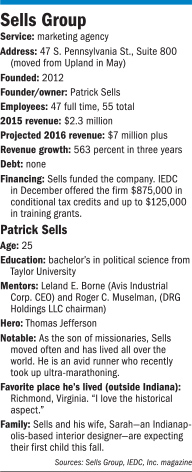 "I was once given the advice that you're only limited by the team that surrounds you," Sells said. "Now, I feel the sky'sthe limit."
Sells, who retains the CEO title, began recruiting Barnes, whom he knew through mutual acquaintances, years ago.
"I've got a 21-year-old kid sitting in front of me telling me to come join his story," Barnes said. "That was scary."
She paused to ponder that for a moment.
"He's the same age as my youngest son," she quipped, then paused again. "They're very different people. Patrick isn't your normal 25-year-old."
Over time, Barnes became convinced that Sells' unorthodox approach would breed long-term growth.
"When I took a hard look at his company's growth rate, I knew how difficult it was to get those type of results," Barnes said. "That wowed me. Being a farmer's daughter, I had to go where the growth is."
Sells, possibly giving a hint to his firm's future, said one of Barnes' attractive traits was her experience with acquisitions and industry consolidation.
Pacers sales boss Todd Taylor, a veteran sports marketer, realized fairly quickly the fresh-faced Sells wasn't your normal millennial. But perhaps even Taylor underestimated him at first.
Taylor had a lieutenant call Sells about upgrading his Pacers season tickets. The pitch was for Sells to move into a mega-suite with an all-you-can-eat-and-drink buffet.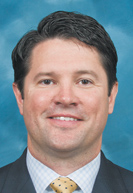 Taylor
Sells instead inquired about buying naming rights for the space, a multiyear deal with a seven-figure price tag.
"Age is the first thing you notice, but in terms of his experience and presentation, I didn't feel he was young," Taylor said. "We do our research before we start seriously talking to a company about a deal like this. He's a pretty impressive guy—and so is his company. We want a long-term commitment on any deal, especially a naming-rights deal. With the Sells Group, we're not worried about that."
As easy as 2+2?
Sells said the reason for his firm's success is simple. To the uninitiated, it is not.
Sells pounds a black marker on a dry erase board like an evangelist on a pulpit. He swirls math and philosophy into a stew he calls "reverse engineering."
"It's all about math," Sells said emphatically. "Once you know that 2+X=4, and you solve that X equals 2, that equation can run in an infinite loop and always be true."
One thing is certain. Sells, an avid runner who recently took up ultra-marathons, has an endless supply of energy—and confidence he can increase his clients' revenue.
He called the traditional methodology of ad agencies and marketing firms "a broken paradigm."
Like most marketing firms, Sells Group offers a smorgasbord of services, including direct-mail campaigns, website and mobile-app development, search engine optimization and marketing, social media marketing, pay-per-click services, and software development.
Sells insisted he doesn't pull out the services his company offers like a blind archer randomly yanking an arrow from a quiver.
Traditional marketing "is time- and materials- and fee-based, and there's no tying that back to the client's business," Sells said. "Companies don't just want a prettier website or better search engine optimization. They want more customers. They want more revenue and profits.
"We ask how much you'd be willing to spend to reach the goal," Sells added. "What's the conversion rate? How many deals do you want to make it a good year? We need to reverse-engineer solutions that make sense. We do a model that is all about the business. If we don't give you what you really want, which is revenue that is profitable, we're going to give you your money back. Nobody else in the industry is going to give you your money back."
Conversely, if Sells Group's work achieves more than the client's outlined goals, the company gets a higher cut of the take.
"We want to be a true partner," Sells said. "We want to have skin in the game."•
Please enable JavaScript to view this content.