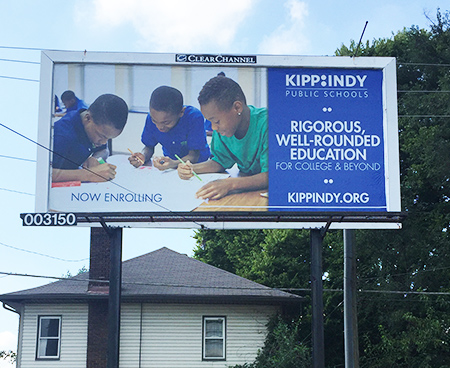 Most Indianapolis kids went back to class in early August. But across town, billboards, yard signs and mailers put out by schools are making a last-minute pitch to parents: Enroll your child here.
Public schools—including traditional, district-run schools and charters—are employing ever-more sophisticated advertising and marketing campaigns. The goal is to meet enrollment targets by the time the official state count day rolls around. This year, a school's attendance on Sept. 16 determines its funding levels for the fall semester.
Now there's increasing debate about what level of marketing is appropriate—for instance, a state law in 2015 banned schools from offering monetary incentives to students for enrolling—and how much taxpayer money should be spent on recruiting from a limited pool of students.
School leaders and state officials say the increased competition for enrollment and the marketing campaigns that follow are a result of school choice, which lets parents choose from a growing menu of traditional public schools, charters and private schools in which they can enroll their children on the state's dime.
"This was inevitable," said State Rep. Ed DeLaney, D-Indianapolis. "We've given [schools] way too much incentive to get one more body into the school."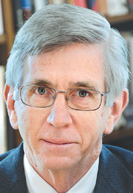 DeLaney
Some warn the city may be approaching—or in danger of barreling past—a point where the supply of seats is far greater than the number of kids who need them, creating problems for all schools.
"I definitely think that Indianapolis has reached a saturation point," said James Betley, director of the Indiana Charter School Board, an authorizer that supervises about a dozen schools across Indianapolis and many more across the state. "People are realizing it and we're trying to do something about it."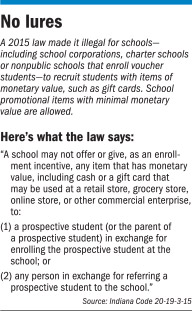 Marketing: a necessary evil?
Advertising by schools may be part of a new normal, Betley said.
"It's not the highest and best use of money," he said. "We all want more money in the classroom. I don't want my schools having spent $50,000 to recruit 12 students. But it's where we are now."
Near 30th Street and Capitol Avenue, a billboard advertising the KIPP Indianapolis charter school network towers over cars.
KIPP Indy Executive Director Emily Pelino, who is in her eighth recruitment season at the network, said the competition between schools has led her staff to employ traditional marketing campaigns, such as yard signs and billboards.
But she said nothing is as effective for recruiting kids as a referral from a satisfied family. She said the network has been pleased with its recruitment year over year.
"The biggest reason people come is because current or former families have referred them," Pelino said. "It's more of a long game, building relationships with kids and families."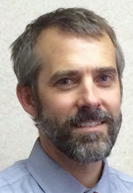 Betley
Indianapolis Public Schools has competed with the ever-growing portfolio of charter schools within its boundaries for several years. Before that, it was competing for enrollment with the surrounding township school districts.
Now IPS is trying more overtly to get students back. IPS in 2015 spent about $14,500 on print advertisements, radio spots and billboards, according to the district. And community partners provided another $9,000 in advertising to promote the district. This year so far, IPS has spent about $4,000, while community groups have spent $6,000.
IPS's campaigns include a back-to-school enrollment blitz, the launch of a new strategic plan, celebrations of top scholars from each IPS high school, and advertisements for the annual Showcase of Schools, an enrollment fair.
"The landscape of education is unique in Indianapolis, as families have a wide variety of choices when deciding where to enroll their scholars," according to a statement from the district. "IPS is dedicated to employing a variety of methods to ensure families are informed" about their options.
But a big marketing blitz doesn't always work in an age of intense competition.
Signs for charter school Ace Preparatory Academy blanketed yards in Midtown this summer, and residents received mailers alerting to the new school's opening.
Despite a robust outreach campaign, state officials said Ace Prep has struggled to meet its enrollment goal of about 150 kids this fall. The school leader for Ace Prep did not reply to IBJ's request for comment.
Betley and charter board lawyer Michelle McKeown even put Ace Prep signs in their own lawns to generate awareness for what they both believe is a good option in the area.
"It's really tough to get kids there the first year," McKeown said. "There's so many schools. It's a tough task to generate awareness as well as confidence in parents that you're able to offer a quality school option."
And already this year, Indianapolis' Carpe Diem charter school network has merged two of its three campuses due to missed enrollment targets. The three schools planned to enroll 900 kids total, but so far they serve just 340 kids, Chalkbeat Indiana reported in August.
Caitlin Hannon, a former IPS school board member, is in the process of developing a unified enrollment system called Enroll Indy. She said the city has the potential to offer students a plethora of different school choices, but she worries the competition and a lack of collaboration between schools have watered down the distinctions.
"Schools are disincentivized from telling their story because it's such a scramble to get students in seats," Hannon said. "Nobody's really making decisions driven exclusively by what families are actually asking for. We're all making our best guess about how to market and what to offer and what schools to expand."
Sketchy pitches
The competition has also led to some marketing campaigns that education advocates say parents should be skeptical of.
A 2015 report on Indianapolis schools by the Institute for Innovation in Public School Choice noted that since schools have incentives to enroll kids "using any means necessary … the risk is families are choosing schools based on marketing prowess, not based on measurements of school quality."
Carpe Diem Meridian charter school's 2015 marketing campaign tactic—offering $100 gift cards to anyone who referred a student who enrolled—was later that year made illegal by the Indiana General Assembly.
The law says that a "school may not offer or give, as an enrollment incentive, any item that has monetary value, including cash or a gift card that may be used at a retail store, grocery store, online store, or other commercial enterprise" to prospective students in exchange for enrolling or to anyone who makes referrals.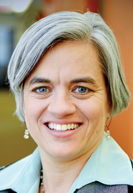 Baber
But some schools appear to be skirting those lines.
Indiana Math and Science Academy South, located on Bethel Avenue, on July 7 posted to its Facebook page that families would receive a $50 credit to their children's accounts if they referred a new family to enroll in the school.
When asked by IBJ about the legality of the post, school spokeswoman Katherine Beckwith said "we are looking into this matter with a legal adviser."
School advertising is not just an Indianapolis trend. It has popped up across the state, leading to spending concerns.
"We're playing whack-a-mole here," DeLaney said.
One Southern Indiana district, Clarksville Community Schools, paid ad agency Bandy Carroll Hellige more than $160,000 for an ad campaign that it credits with bringing 87 more students to the district, or an estimated $435,000 in tuition support, WFYI reported in June.
The South Bend Tribune reported last October that South Bend Community School Corp. embarked on a $12,000 radio ad blitz after losing hundreds of kids to a new charter school. The charter school and its sister building spent about $98,000 in radio and television ads.
Nick LeRoy is a former Indiana Charter School Board director who now runs a private consulting firm helping charter and private schools improve their marketing techniques. He said it's ultimately helpful to parents to get more information—through marketing or otherwise—about available school options.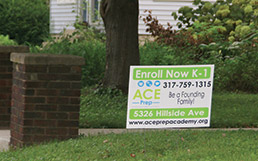 A sign in a yard along Delaware Street encourages parents to enroll students in Ace Preparatory Academy, but despite heavy marketing, the school has not hit its enrollment goal of 150 students for this fall. (IBJ photo/Lesley Weidenbener)
"The marketplace for education continues to get more competitive," LeRoy said. "And schools continue to struggle to tell the story of why a parent who does have a choice should choose them. Schools investing some dollars in helping parents understand what their schools have to offer is a good thing."
But DeLaney said he is concerned about the spending.
"We have one state budget, one wallet, to finance education," DeLaney said. "This is an additional cost we put on our schools, the cost of advertising in order that some of the schools can meet their financial needs. I don't think we've thought this through very well."
Working together
There seems to be recognition of the enrollment competition problem—and a new era of collaboration underway.
IPS, under Superintendent Lewis Ferebee, has started directly collaborating with charter schools, in part through a relatively new district-charter compact program called "innovation network schools."
In those arrangements, charters run the day-to-day operations of some IPS schools, but the schools are still considered IPS schools.
And Betley said the state charter board and the Indianapolis mayor's office, which authorizes about 40 schools, are "definitely on the same page" with the awareness that Indianapolis appears to be reaching saturation, with too many seats to serve a limited group of kids.
"I think we're transitioning from the Wild West of choice, where people could go anywhere and you really had to compete against others … to a much more mature recognition that we're going to have choice, so let's look at how we locate those schools so there are good options for kids in almost every neighborhood," said Scott Bess, who is heading up Purdue University's new STEM-focused Indianapolis charter school.
Jovita Baber, research director for IFF, a community development group that works in cities across the Midwest, including Indianapolis, cautioned that leaders shouldn't mistake an overabundance of seats with an overabundance of quality seats.
A research study by IFF found there were 59,000 Indianapolis students in 2014-15 who didn't have a high-quality school seat—which the group defines as a space at a school graded either an A or B by the state's accountability timeline.
That's an improvement from three years earlier, when the group found 78,000 Indianapolis children lacked a high-quality seat. Baber cautioned that although things appear to be moving in the right direction, some of the shift could be attributed to changes in the state's accountability metrics.
Hannon hopes that her new Enroll Indy project—which she hopes will help students next year enroll in both IPS and charters—will help schools better anticipate supply and demand.
"I don't think we're oversaturated yet," Hannon said. "But we could get there really quickly if we don't start to coordinate and we continue to launch new schools willy nilly."•
Please enable JavaScript to view this content.