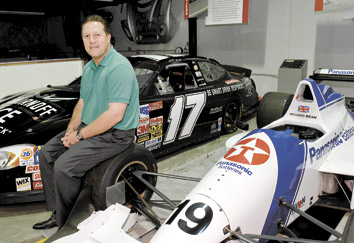 Zak Brown, founder of Zionsville-based Just Marketing International and one of the most powerful people in the motorsports marketing industry, is changing gears and stepping down from his current job at the end of the year.
Brown, 44, told IBJ on Monday he wants to be "heavily involved" in some way in Formula One but wouldn't commit to a particular role. Some have speculated Brown will join F1 management. But that doesn't necessarily mean F1 is headed back to Indy.
It was announced earlier this month that Formula One is being bought by Liberty Media, a U.S. company that invests in entertainment and sports, for $4.4 billion. That change, along with Brown's resignation, has led to much speculation about Brown's potential future with the series.
In 2013, Brown sold JMI to London-based CSM Sport & Entertainment for $76 million and subsequently became CSM's CEO, leading its push into North America.
Brown, who founded JMI in 1995, will leave his post as executive chairman of both CSM and JMI to take on a role of non-executive chairman for both entities.
Brown told IBJ Monday that he will remain involved in the strategy of both firms, "but there will be much less of a time commitment."
"I will be there to support, but it will no longer be my full-time job," Brown said.
Brown intends to devote himself full-time to motorsports business endeavors, he told IBJ. Although several industry sources have linked Brown to an executive role with Formula One, he said he hasn't yet decided his future and would make no announcement on his next business foray until early 2017.
"I will definitely stay based in London, and I plan to be heavily involved in F1 in some way, but that could be one of several paths," Brown said. "I have some good ideas of what I'll be doing, but I can't sit here today and tell you I have anything definitive."
If there's a way Brown could be more involved in IndyCar from his London home, he said he'd consider it.
"I love IndyCar, and if there's a way I could be involved, I would be," Brown said.
JMI has been instrumental in bringing several big sponsors, including series title sponsor Verizon, to the IndyCar Series.
As for JMI, which has about 200 employees locally, Brown said "it's business as usual."
"They have a great team there and they're coming off another record year [financially]," Brown said. "So that [firm] will keep motoring forward."
Even if Brown were to take some executive role in F1, as has been speculated, he is doubtful the global open-wheel series would return to Indianapolis. F1 debuted at the Indianapolis Motor Speedway in 2000 to much fanfare. In the early years, the U.S. Grand Prix at Indianapolis attracted 250,000 fans. But interest waned. A tire issue during the 2005 race further hurt the event, and, after the 2007 race, F1 exited Indianapolis.
"I think it would be great for F1 to come back to Indianapolis," Brown said. "But unless there is government [financial] support, I don't see how the economics work. I don't think the series can get what it needs and the track can get what it needs to make a race there happen."
The sanctioning fee for an F1 race starts at $30 million. F1 keeps all the money from the broadcast deals and trackside signage, leaving venues to try to recoup their investment through revenue from tickets, parking, concessions and some merchandise.
A number of international government agencies have been willing to pay tens of millions of dollars toward hosting an F1 race to bring global publicity to their homes. In the U.S., there aren't many government agencies willing to take on that type of expense to host an auto race.
Please enable JavaScript to view this content.