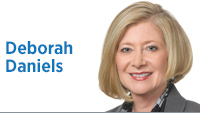 I am a fiscal conservative, taught frugality at an early age.
I also know that communities cannot thrive without focusing on the factors that drive their economies—and communities that don't tend to these essentials wither.
Those who have led our city over the past 50 years have wisely focused on maintaining a strong center core. Their visionary leadership has improved the quality of life for everyone in Indianapolis.
But we lag in certain critical areas. We have a poor record of social mobility—the ability of those on the lower rungs of the socio-economic ladder to move up. Though we are the 14th largest U.S. city, we are 46th in social mobility, and the percentage of families in poverty in Indianapolis has been growing exponentially.
Much has been made of the city's $50 million structural deficit. It has been suggested that we can erase the deficit by attracting more residents, and jobs, to the city. Millennials, those who will determine our future, like to live in downtown areas and have access to mass transit. In order to attract good jobs, including high-tech jobs coveted by millennials, we need to provide the quality of life that draws them. The primary missing piece: good mass transit.
We've long bemoaned the quality of our bus system; but truth be told, we have failed to invest in it. Other needs, such as public safety, have been viewed as more pressing. At this point, we rank 86th in the country for transit investment per capita out of the 100 largest regions.
This lack of investment in transit seriously endangers our economy. We can't bring in jobs but leave our residents unable to access them. I'm told that, while there are good jobs at the FedEx facility near the airport, it can take a person from Pike Township two hours and 40 minutes to get there using our bus system. Some can't take a second shift or weekend job because the buses don't run during those hours.
We make it very difficult for our poorer residents to access food. People who can least afford it have to pay for a cab ride to get groceries. Doctors' visits have to wait until an emergency arises—when the patient is in crisis and care is most expensive.
Many elderly and disabled citizens lack transportation to obtain their basic needs. Less than one in 10 residents over age 65 lives near frequent bus service. And this population is growing as the Boomers age.
Fortunately, a solution is at hand. For a minimal investment, we can expand our bus service to 100,000 more minority residents. We can triple service to seniors and those with disabilities. We can make Indianapolis attractive to the millennials we so desperately need to insure our future and to the job-creators who will hire them. We can vastly increase both the reach and the frequency of bus routes, benefiting hundreds of thousands of people in our community.
We can do this by voting "yes" on the mass transit referendum that will be near the top of the ballot on Election Day. For a mere 0.25 percent tax increase—25 cents for every $100 of taxable income—we can solve this pressing problem.
The referendum is not about the Red Line, which is being built with federal money. Instead, it addresses a larger problem: providing convenient, frequent transportation to those who need it to access jobs, food and medical care.
I'm a fiscal conservative. But this one seems worth it.•
__________
Daniels, managing partner of Krieg DeVault LLP, is a former U.S. attorney, assistant U.S. attorney general, and president of the Sagamore Institute. Send comments on this column to ibjedit@ibj.com.
Please enable JavaScript to view this content.