Covideo, a video-email technology company, plans to nearly double its office space at its Broad Ripple-based headquarters to make room for headcount growth.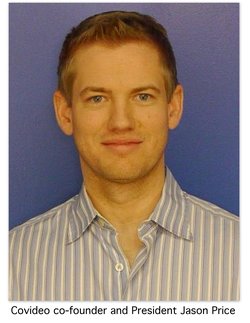 The company sells software that enables businesses in the auto industry, real estate industry and more to manage video messages it sends customers and prospects through email. President and co-founder Jason Price said the company occupies about 4,000 square feet on the third floor at 6235 Guilford Ave., and is adding 3,000 square feet on the second floor of the three-story building in December.
Brick House Dueling Pianos, a piano bar, occupies the first floor.
"We actually fit up here comfortably—we're maybe a person or two too heavy," Price said. "But it's really to support growth. Our projection right now is to hire 10 new employees in 2017."
Price said Covideo has 19 employees, up from eight on the payroll when he moved the company from West Lafayette in 2014.
Price, a 35-year-old Monticello native, started the company with Purdue University roommate Jason Cooper, 36, in 2004, just a year after graduating. 
They incubated it at the Purdue Research Park and never took on any equity or debt capital. In 2010 it was acquired by Georgia-based Automobile Protection Corp. for an undisclosed price.
It remained an independent subsidiary. Price and Cooper, the vice president of technology, stayed on. Ed Mugg, the third business partner and shareholder, left after the acquisition.
Covideo has more than 5,000 clients across the country, charging between $49 and $99 per user per month for its software. Some clients have as many as 50 users.
Price said Covideo is laying the ground work for international expansion, starting with Europe. "Throughout the United State, there's a lot to do, still, in our own backyard, but [we want] to start pushing this out globally, too."
Please enable JavaScript to view this content.