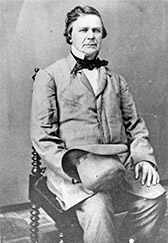 Deeply religious, Fletcher was a staunch opponent of slavery and led an unostentatious life despite being one of the state's richest men. (Photo courtesy of Indiana Historical Society)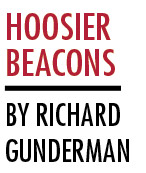 Widely regarded as the first lawyer in Indianapolis, Calvin Fletcher arrived in 1821, the very same year the city was named as the future capital of Indiana. Though nearly penniless, Fletcher became one of the state's wealthiest men and greatest benefactors.
Fletcher was the 11th of 15 children born to a Vermont farmer in 1798. Leaving home at the age of 17, he worked as a laborer before becoming a teacher in Ohio and studying law there. In 1821, he gained admission to the Indiana bar, married Sarah Hill—a former student of his—and moved to Indianapolis—all in the same year.
Like Abraham Lincoln, Fletcher became a circuit lawyer. He traveled around central Indiana much of the year, making numerous professional contacts and establishing a sterling reputation for honesty and hard work.
In addition to practicing law, Fletcher became active in real estate, purchasing parcels of land that he later sold at a substantial profit. Though he became rich, he and his family continued to lead an unostentatious life.
Fletcher was elected to the Indiana Senate and served on a committee to organize the first state bank. In 1843, he retired from the practice of law and devoted most of his attention to banking, serving as a president of the State Bank of Indianapolis. His brother Stoughton A. Fletcher Sr. was a founder of what became Fletcher National Bank. The Fletcher name remained synonymous with banking in the Hoosier state until the 1980s.
Calvin and Sarah Fletcher had 11 children: nine sons and two daughters, some of whom became prominent in local business and civic activities. Sarah died in 1854, and the next year Fletcher married a schoolteacher whose husband had left her. Fletcher himself died in 1866 after a horse-riding accident.
Fletcher was a strong supporter of free public education and served as one of the first members of Indianapolis' board of school trustees. He was also a trustee for the forerunner of DePauw University, where he also served as treasurer.
Like other prominent Indianapolis residents, such as Ovid Butler and Henry Ward Beecher, Fletcher was a staunch opponent of slavery. During the Civil War, Fletcher contributed to the Union Army, in which three of his sons served.
Fletcher clearly understood the grave risks he and his colleagues were running in their effort to abolish slavery, once writing to a friend, "I am almost ready to forgo the greatest blessing that ever was conferred on a nation, the union of our states."
Fletcher's opposition to slavery reflected his deeply religious nature. Though a Methodist, he provided funds to help numerous local congregations build their own churches. He also helped to acquire the property for Crown Hill Cemetery.
Charitable giving was a huge part of Fletcher's life. He once claimed that he arrived in Indianapolis with but 50 cents, which he used to buy two bushels of potatoes, one of which he and his wife gave to a poor family.
One of Fletcher's friends, a clergyman, described him as "one of the most scrupulously honest, conscientious, upright, and charitable men I ever knew." He had a "systematic plan of visiting the sick and needy in the whole town," finding out what they needed, and providing it at his own expense.
Regarding the overall impact of Fletcher's philanthropic endeavors, his friend wrote that many once-impoverished people were induced "by the counsel and charities of Calvin Fletcher to rise to positions of respectability and usefulness. Eternity alone can show the results of his work."
In 1830, Fletcher played a key role in founding the Indiana Historical Society. He also provided one of the organization's greatest treasures—his diary, which the society published in nine volumes from 1972 to 1983. Today, it represents a treasure trove of early Indiana history.•
__________
Hoosier Beacons paid tribute throughout 2016 to Indiana's bicentennial by telling the stories of famous Hoosiers. Gunderman is chancellor's professor at Indiana University.
Please enable JavaScript to view this content.