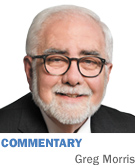 It's January and the Indiana General Assembly is back in session. Until April 29, we'll hear about proposed legislation designed to better our collective lives. While there is always controversy, I do appreciate our officials' service to the people of our state.

I start each session with the glass "half full," meaning I believe each bill introduced has the best intentions behind it. But, sometimes, after digesting the details, I realize some proposals are completely off the grid.

Again this year, I expect the relentless annual attack against public notice in newspapers to continue. I'll probably have to show up (again) at the Statehouse and testify in a hearing why public notice in newspapers is important for reasons beyond the tired argument that "newspapers just want to line their pockets with money."

Probably the most widely publicized recent example of the attack on public notice came from New Jersey. Gov. Chris Christie tried to move public notice from the state's newspapers to government websites. This response from the New Jersey Press Association was posted on several websites:

"It isn't unusual for politicians seeking revenge for negative press coverage to retaliate by sponsoring legislation that would eliminate public notice advertising in newspapers. It is unprecedented, however, for the press to openly acknowledge the lawmaker's intentions and to dub the legislation a 'newspaper revenge bill.'"

It has been widely alleged that Christie blames the press corps for many of his ills. This year's attempt at revenge didn't make it to a vote, but I'm confident this fight will continue in New Jersey, other states and right here in Indiana.

Steve Key, executive director and general counsel of the Hoosier State Press Association (of which I am a board member and past board president), penned the following defense of why public notice is best served in newspapers:

"Government units inform Americans about important actions taken or contemplated by placing public notice advertisements, or 'legals,' in newspapers. This practice, as old as the United States, is no less valuable in an electronic age than it was when homes were lit by candlelight.

But today, some state and local elected officials argue that public notice advertisements should disappear from newspapers—replaced by postings on their government websites. That would be a mistake.

Besides democratic principles, there are multiple reasons for using Indiana newspapers to convey information that the state legislature has mandated to be shared with Hoosiers.

Consider this: Using newspapers inserts an independent third party with an incentive to make sure the notice is published on time and accurately.

Unfortunately, some public officials don't want to encourage public participation. If we put them in charge of disseminating public notices, some might be tempted to post them too late for citizens to respond.

One Indiana school superintendent described her feelings about public notice succinctly: 'When we publish public notices, the only thing that happens is people come to our meetings and give us crap,' she told a northwest Indiana publisher.

Not a ringing endorsement of democracy but a reason to have an independent third party responsible for publishing notices.

Consider this: Publication of notices in newspapers preserves the action for historical purposes.

Most libraries contain microfilmed copies of local newspapers. That's why newspapers have been called the first draft of history. They're archivable. The same can't be said for websites. Newspapers are unchangeable snapshots, while the Internet is a stream with contents constantly in flux.

Consider this: Public notices need to be accessible to all segments of the population. While every Hoosier may not read newspapers, they remain the most cost-effective way for people to access public notices.

Opponents of publication argue that everyone can access government websites, but the reality is few people visit those sites. Posting on government websites would effectively hide the notices in plain sight.

People buy newspapers for the news, sports, advertising, obituaries and much more. Even if they aren't looking for a specific public notice, they find it because it's included in a package they welcome into their homes and businesses."

In closing, the point of public notice is to get information out in an accessible medium where people can trust its authenticity and look back at it later to make sure the law and process were followed. The internet is not yet up to the challenge. Public notices in local newspapers are vital to the proper functioning of democratic government.•

__________

Morris is publisher of IBJ. His column appears every other week. To comment on this column, send email to gmorris@ibj.com.