Jeff Belskus became CEO of the Indianapolis Motor Speedway and Indy Racing League July 1, replacing Tony George, who led the Speedway since January 1990 and launched the IRL in 1996. Belskus has a bevy of challenges in front of him, including signing a long-awaited IRL title sponsor, improving the league's attendance and television ratings, and expanding into profitable global markets—all the while assuring the series' teams achieve long-term viability.


IBJ.COM EXTRA

Go to ibj.com for a video excerpt of the Belskus interview.


On the Speedway side, Belskus must manage the facilities' three events while evaluating a plethora of other opportunities, including hosting a second IRL or NASCAR race on the road course, increasing commercial efforts at the Brickyard, and determining to what extent the IMS should financially support the IRL.

Belskus recently spoke with IBJ about his new job and the near-term challenges and long-term future of the operations he oversees.



IBJ: What was your initial reaction upon learning Tony George would no longer be the head of the Indianapolis Motor Speedway?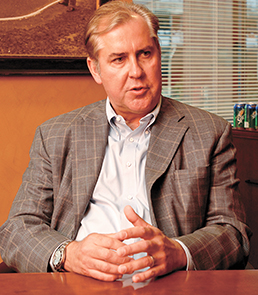 Some speculate Jeff Belskus will evaluate spinning off the Indy Racing League. (IBJ Photo/Robin Jerstad)


Belskus: I certainly wouldn't have scripted things the way this has gone. But this is a family-owned business. I worked for Tony for 22 years and expected to work for him for another 22.

IBJ: Were you surprised when Tony George turned down the opportunity to continue to run the IRL?

Belskus: I wouldn't say I was surprised, but on the other hand, I would have liked to have seen him in a more active leadership role.

IBJ: Have you spoken to Tony George since the changes?

Belskus: I have spoken to him on numerous occasions. We have a good working relationship.

IBJ: What did he tell you about his decision?


Belskus: We haven't discussed it directly.

IBJ: How were you approached about taking over the reins at the Speedway, then the Indy Racing League?

Belskus: During the board meetings, when we talked about potential candidates and roles, and so it was through that process.

IBJ: Were you surprised at the board's request to have you take over the entire operation?

Belskus: No. I'm pleased they have the confidence and trust in me to allow me to function in that capacity. I know the board members quite well, and the Hulman-George family quite well. Elevating Curt (Brighton) and I to additional responsibilities was a logical choice.

IBJ: Do you have any concerns that you are being spread too thin?

Belskus: No. I'm energized by this. I feel good about the opportunity. I'm appreciative to the Hulman-George family for what they've entrusted with me, and I feel quite good about where we're headed these days.

IBJ: What do you hear from the Hulman-George family about the long-term future of this facility?

Belskus: They are very committed to the track and Indy Racing League and to the multiple events we have here. They are very dedicated to continuing to grow the Indy Racing League. There is no interest in selling the track—or the league.

IBJ: How did you come to know the Hulman-George family?

Belskus: I've known Tony since high school and college days. We both grew up in Terre Haute. I've worked for him for the past 22 years as part of his executive leadership team here. Through knowing Tony and through the board activities, I came to know the rest of his family over the years.

IBJ: What has consumed your time since you've been installed as CEO of the Speedway and IRL?

Belskus: It's been a busy time. My travel schedule has picked up a bit with attending Indy Racing League events in Toronto and just this past weekend in Kentucky. Here within the building, dealing with working with our employees and continuing to develop our
leadership team, and with the added surprise that [Chief Operating Officer] Joie Chitwood decided to leave us has brought us another level of complication to the transition.

IBJ: What went into your decision not to replace Joie Chitwood at this time?

Belskus: We have a very good leadership team in place. Most of our leadership team has on the average of 15 or more years of experience.

IBJ: Have you reached out at this point to IRL and IMS constituents?

Belskus: As many as I can. At the IndyCar race in Toronto, I met with as many team owners as I could and other key stakeholders. Some I knew already; some I'm meeting for the first time.

IBJ: What kind of feedback are you getting?

Belskus: That change can be good. And that I've gotten a good opportunity here. I think everyone is excited about our future together, and recognizing that Tony will continue to be a part of that future.

IBJ: What in your background has prepared you for the position you are in now?

Belskus: Having been with the organization for 22 years and a part of the executive leadership team, I feel I'm very knowledgeable of the issues we face and very comfortable with our organization.

IBJ: What level of the decision-making process have you been involved in to this point concerning things like formation of the Indy Racing League, setting the [IRL] schedule, and determining diversified uses of the track?

Belskus: My involvement has tended to be on the higher level of those decisions, and [I have] been a part of many of those decisions. Over the years, I've worn a lot of different hats. I remember the early days of the Indy Racing League helping with the schedule preparation and the TV negotiations.

IBJ: How would you answer people who say Jeff Belskus is an accountant and a chief financial officer, and might not be cut out for the marketing and sales roles you'll need to fill as CEO?

Belskus: We all bring different strengths and weaknesses to the table, and that's why we have an executive leadership team. I don't pretend to have all the answers to everything.

IBJ: For a lot of years, Tony George and Joie Chitwood to a degree have been the face and voice of the Indianapolis Motor Speedway and Indy Racing League. Will you take on that role?

Belskus: I don't see myself in a public role with the Indy Racing League because of the leadership team we have in place: Terry Angstadt [president of IRL commercial division] and Brian Barnhardt [president of competition and racing]. In terms of the Indianapolis Motor Speedway, that situation is continuing to evolve in terms of who is the face and how that is represented.

IBJ: How would you characterize your leadership style?

Belskus: I see myself as a facilitator. A bit of an organizer. We want to develop creative solutions and a solution-oriented culture here.

IBJ: How would you characterize the current situation at the Indianapolis Motor Speedway and Indy Racing League?

Belskus: I wouldn't say 'being in need of an overhaul' is the right way to describe our situation, but we do face some challenges in terms of this tough economy. Many sports and entertainment organizations face the same challenges we do in terms of discretionary spending. We need to adapt to the situation we find ourselves in.

IBJ: What do you see as your most immediate challenge for the Indianapolis Motor Speedway?

Belskus: Dealing with this tough economy. We're fortunate we have a lot of dedicated fans that are willing to come to our events and buy our tickets, and we need to continue to develop that situation.

IBJ: What are your most immediate concerns with the Indy Racing League?

Belskus: Similar sorts of issues. The Indy Racing League does not sell tickets, but it does have customers being sponsors, event promoters, and all those folks are feeling challenges as well.

IBJ: Given that you can't change the economy, what can you do in practical terms?

Belskus: Our promotional efforts are important. We need to continue to have an awareness among sports fans. Anything we can do to help people with that ticket-buying decision will help our situation.

IBJ: What are your thoughts on the Versus TV deal?

Belskus: We're very pleased with it. Versus is a fantastic partner for us and will continue to be a fantastic partner.

IBJ: Can you characterize where the IMS and IRL are financially?

Belskus: We face some challenges. Both are viable businesses, and we're very fortunate to have the resources to continue to invest in them.

IBJ: What are your thoughts on diverse [non-open-wheel] uses of the Indianapolis Motor Speedway?

Belskus: If we can find high-quality activities that people are interested in seeing, we are interested in having those conversations. The Sprint Cup race is a very good event for us, and I expect we'll continue with that. We're in the second year of our arrangement with MotoGP. The first year, we had such incredibly bad weather. We hope this year the weather will cooperate and allow that event to demonstrate how entertaining it can be.

IBJ: Is having a second NASCAR or IRL race on the track's road course something you would consider?

Belskus: Those are conversations we could have at the appropriate time. I don't want to turn off communication.

IBJ: How do you balance respecting tradition at the Speedway versus your desire to bring in more revenue?

Belskus: Our traditions are important to us. Yet, having said that, we need to adapt to our environment and adapt to the world around us. My primary criteria is, it needs to be tasteful. We have the greatest race course in the world here, and to the extent that we would deviate from anything, it would need to be done in a tasteful way.•