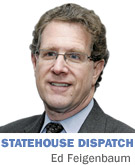 As the 2017 legislative session reached its midpoint, attention briefly turned to a different branch of state government.

Hoosiers learned that 21 attorneys have applied to fill the forthcoming vacancy on the Indiana Supreme Court created by the retirement of Justice Robert Rucker of Gary, who was Indiana's first male African-American justice. He was appointed in 1999.

This appointment carries assorted nuances, and raises implications for the business community, in particular.

With a pair of post-1988 constitutional changes, Indiana's Supreme Court was relieved of burdensome mandatory criminal appellate responsibilities. That made it freer to focus as a court of last resort on civil and business disputes than it was during the first 175 years of statehood.

At the instigation of Chief Justice Loretta Rush, six commercial courts opened for business across Indiana last June, a pilot project to resolve business disputes more efficiently and consistently. Their existence will require the Supreme Court to fill in some blanks about their processes and substantive work.

For the first time since Indiana adopted merit selection for the court, the Supreme Court will consist of justices appointed by governors of one party. With this pick, a Republican chief executive (albeit three different ones) will have selected all five justices.

Hoosiers are accustomed to nonpartisan appellate decisions over the past generation, regardless of court composition. In Indiana, the appointing governor's political affiliation (and that of justices themselves) appears far less important than in most states. This perception is borne out by not only the rulings themselves, but also their tone and language, as well as voting alignments in non-unanimous decisions.

Since the approval of merit selection in 1970, there has been a perception in some quarters that appointments were "wired" and governors would "encourage" a given candidate to apply with an understanding he or she was the governor's choice. This was particularly true in Democratic administrations, but even subtle gubernatorial fingerprints are less evident over the past three administrations.

The Judicial Nominating Commission—six members chaired by the chief justice— interviews applicants and recommends three finalists to the governor. Some commissioners are elected by fellow attorneys, seats traditionally dominated by trial lawyers. The remainder are lay members chosen by the governor. One is the spouse of a prominent health law attorney, another the spouse of a former gubernatorial staffer now in the health care industry, and the third is a former finance director for a Republican congresswoman. Four of the seven hail from Indianapolis or Boone County; only one is from south of Marion County.

As with the nominating panel, there is minimal geographical diversity among the applicants. Only one comes from Rucker's native northwestern Indiana, two from east-central Indiana, two from southwestern Indiana, and three from southeastern Indiana. The bulk are from central Indiana.

Applicants include 15 men and six women (eight are judges), 19 are white, and most are familiar with the process. Twelve previously sought an open Supreme Court seat; two others were Court of Appeals applicants. Two judges currently applying were finalists for the last Supreme Court vacancy; another judge was a finalist for the most recent open intermediate appellate seat.

What to watch for?

Gov. Eric Holcomb isn't an attorney. He'll rely heavily upon his general counsel, Joe Heerens, a former Appellate Court clerk with a front-row seat to brief late-1980s high-court dysfunctionality. Holcomb prefers a longer perspective on policy and programs, looking to resolve concerns for at least a decade and preferably 20+ years. That portends selection of a younger applicant.

As a homegrown Hoosier and Hanover College alum, the governor isn't distracted by Ivy League pedigrees. You could see a court composed exclusively of Indiana public law school graduates (Rucker is a Valpo law alum).

With the new appointment, the longest-serving justice will have less than seven years of tenure. Expect this court iteration to serve together for a long time, shaping the future of commercial and criminal law in a high-tech e-society.•

__________

Feigenbaum publishes Indiana Legislative Insight. His column appears weekly while the Indiana General Assembly is in session. He can be reached at edf@ingrouponline.com.