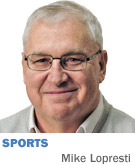 Archie Miller is 38. Why that's important, we'll get to in a minute.

Anyway, he has hit the court sprinting as the new basketball coach at Indiana, opening with a boffo press conference, where he pushed all the right buttons and said all the right things. Or, as Athletic Director Fred Glass said after Miller finished hitting the last question into the upper deck, "If I was practicing law, I'd just rest my case."

Miller is as gung-ho as a 5-9 guy who once played guard in the ACC needs to be. Back then, giants from Duke and North Carolina tried to squash him every bit as hard as Michigan State will try now. He's not Indiana, but he coached next door and grew up next door to that, and that's close enough. When he stands up there and says, "The reason I'm here, and I really believe this, is the state of Indiana," well, what should we do next—ask how many times he's watched "Hoosiers," or invite him in for some sugar cream pie?

Plus, he's young. How young? The day he was born, Indiana had already been to two Final Fours with Bob Knight. The Buckners and the Mays and the Bensons had come and gone from Bloomington. He is seven years younger than the arena where he now works. He was 5 months old when Larry Bird took Indiana State to the national championship game. He was a college senior the last time Indiana went to the Final Four. The presumption is that Instagram and all the other necessities of now are no challenge.

In short, Indiana is moving into the future with this fresh face—not that Tom Crean was a geezer at 51—and that is an issue that will soon be sweeping over the sport as a whole. College basketball coaching is on the very brink of a mass changing of the guard, and we're talking the elite of the elite.

Look around. Jim Boeheim is 72.

Mike Krzyzewski is 70.

Roy Williams is 66.

Rick Pitino and John Beilein are 64.

Tom Izzo is 62.

It won't be long before the torch will have to be passed by the traditional powers of college basketball, and the dominoes in the coaching line will start to fall, as the legends retire and are replaced by men down the food chain, whose positions will then have to be filled, and so on.

Indiana might be ahead of the curve on this. And let's face it, fellow natives, it's not often we can say the state of Indiana is ahead of the curve on much of anything. But suddenly, the Hoosiers have the second-youngest coach in the Big Ten, behind only Minnesota's Richard Pitino. Also, someone who has already coached four NCAA Tournament teams, including the 2014 Dayton Flyers—a No. 11 seed who whisked past Ohio State, Syracuse and Stanford on the way to the Elite Eight.

"I revolve everything around how I played, because it wasn't easy for me. It wasn't easy at all," Miller said. That was three years ago, while taking the University of Dayton on its long NCAA Tournament ride.

So if Miller is the man, and he loves it in Bloomington after five years as much as he said he loved it after five days, and Indiana is still gaga over him, the Hoosiers will be set at precisely the time the Great Change is going on among a lot of the blue bloods.

Besides, IU has done pretty well with this young-coach motif. Two of the youngest men to win the national championship did so with the Hoosiers. Branch McCracken is No. 1 at 31, Knight No. 4 at 35.

The average coaching age of this weekend's Final Four is just over 57, by the way, so McCracken's record is quite safe. Matter of fact, about the only presence the state of Indiana has in this Final Four are the names still in the record book.

Purdue's Rick Mount is still tied for second all-time in most shots taken in a Final Four game, with the 36 against UCLA. Indiana State's Bird is still sixth, with 16-for-19 shooting against DePaul. Indiana's Steve Alford is still tied for second, with seven 3-pointers against Syracuse, and Butler's Shelvin Mack still second, with his 5-for-6 shooting in 3-pointers against VCU. The 1976 Indiana Hoosiers still have the last-champion-to-go-unbeaten name tags proudly attached to their shirts.

And, alas, Butler is still at the top of the list in futility, going back to that night someone put plastic wrap over the basket and the Bulldogs shot 12-for-64, or 18.8 percent, against Connecticut.

Miller's goal is to crash the Final Four one day. It has been 15 years—no big deal in most places, but eons at Indiana, which went six times in a 30-year stretch from 1973-2002.

"I think you can deliver all [of] what we want because it's been done before," he said the other day. "I wouldn't be here if I didn't believe that."

But here he is, eager and earnest. And young. Why, he's even younger than 40-year-old Brad Stevens, and Brad Stevens never seems to age.•

__________

Lopresti is a lifelong resident of Richmond and a graduate of Ball State University. He was a columnist for USA Today and Gannett newspapers for 31 years; he covered 34 Final Fours, 30 Super Bowls, 32 World Series and 16 Olympics. His column appears weekly. He can be reached at mjl5853@aol.com.