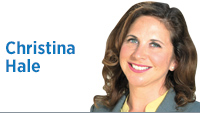 By now, most consumers of news media, while more than distracted by the latest D.C. debacle, have cottoned onto the fact that truly important things are either being pushed through or ignored by lawmakers.
Fueled by drama, these constant news cycles often have ill effect. Friends supportive of the Trump administration seem obsessed with their defense of our president. Those with a different impression of the man seem equally obsessed, at times to the point of physical illness.
Sometimes we pay more attention to the silly memes and jokes than to what really matters. Sometimes we just can't get past the anger. I hope we will get over it soon, but I suspect not.
Meanwhile, as our heads are turned by the drama, some important business is being done.
Technology and the way we consume information, what some of us still call the news, and more broadly the role of journalism in society, is changing in significant ways.
While our attention is taken over by the Affordable Health Care Act non-deal, Russian interference in our elections, and (much less important but certainly as distracting) the latest Kardashian-style celebrity uproar, Congress is doing things like passing a bill that some argue will allow internet-service providers to violate your privacy for their own profit.
Yes, only last October, the FCC delivered a landmark ruling in favor of online privacy for consumers, limiting how internet providers can use and sell your consumer data, including your browsing history and mobile location data. Yet Congress plans to send a bill to the president's desk for signature that forever reverses these protections.
You'd think this would cause some public outcry, but so far, just crickets.
Policy analysts more expert than I indicate that this failure to value and protect people's privacy could truly change the future of the internet. Perhaps there is an upside for people like you and me that I am just not seeing yet, but clearly this is a really big deal, with far-reaching and long-lasting implications. That means we need a much more robust public conversation about this before we cede this power forever.
There are so many questions to be addressed, most notably: Who will be watching the companies that control your access to the internet, that see everything you do on the internet, that know where your devices and you yourself are located—companies able to sell your personal data without FCC oversight? Nobody, it seems.
Governments might now have access to this data, and all of it will be at risk for hacking. For-profit companies will likely be able to optimize this information for their best interest—not ours.
We have fewer people watching the decision makers, yet we will have more people watching us.
This is happening. We need to know about it, we need to talk about it, and we need to do something about it. What happens when commodified news sources buy our search information from our internet provider? Will we know we are being sold information? Will companies try not only to cater to but also to craft our opinions?
In the meantime, thank you for paying attention.•
__________
Hale is a former member of the Indiana House and ran for lieutenant governor in 2016 on the Democratic ticket. Send comments to ibjedit@ibj.com.
Please enable JavaScript to view this content.