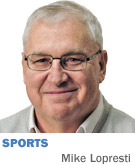 We all know how it works in college athletics. The coaches come, the coaches go: Tom Crean, Kevin Wilson, Darrell Hazell, etc. etc. etc. Every sport, every school. It's a transient business.

But not always. On the phone is Bill SanGiacomo. He has coached men's golf at Trine University for 46 years—so long he has seen the school change its name from Tri-State. Not to mention long enough to earn 19 conference titles, 14 trips to the national championship, and more than 300 match and tournament victories.

So how does a New Jersey guy end up in Angola, Indiana? Because he was chipping in his front yard one day, but we'll explain that in a minute. He's No. 1 in seniority among college coaches in this state, and gives a couple of reasons why he's still around at 77.

"One, we've had very, very successful programs. It's no fun coaching when you're losing," he said. "The more important reason is, the kids are just marvelous to be around. I've got five freshmen playing for me, and they're just wonderful kids. Anytime we go on trips, they never allow me to lift anything, even though I'm perfectly capable of doing so. That's what keeps me going, and it keeps me young."

Next, say hello to the man in the black Ball State University cap over there on the tennis court. Practice starts soon, and Bill Richards will be talking to his Cardinals team. His 45th Cardinals team. He is the dean of Division I coaches in this state, by a bunch of years.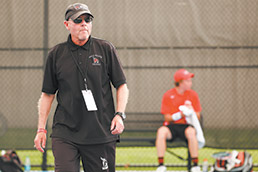 Ball State University men's tennis coach Bill Richards once verbally accepted an offer from Indiana University but the Cardinals made a successful counteroffer. (Submitted photo)
"I don't think about it a lot," he said. "I've never really been the type of person or the type of coach who thought too far in the future. But I will say, when I was younger, I thought I would be retired by this time."

But he's not retired, at 69. Not after 21 Mid-American Conference season titles, 17 more league tournament crowns and national rankings. A lifetime spent raising a family and a tennis program, 40 years of it in the same house. Richards has a picture from his early days, of his 3-year-old son Rob climbing a fence during a Cardinals tennis match. Rob is now budget director for Ball State athletics.

How to explain 45 years in one job? "I like the game of tennis a lot," Richards says. "But I love coaching."

So in this age of coaching vagabonds—sometimes by their own choice, sometimes not —let's hear it for those who stayed.

Let's hear it for Jim Kessler, who just finished his 40th season as men's basketball coach at Grace College, and owns 758 victories and the 1992 Division II NAIA national championship. And Mac Petty, who went 35 years as Wabash College basketball coach and is in his 13th as golf coach. And Kerry Prather, after his 34th basketball season at Franklin College. And Huntington University baseball coach Mike Frame, now in his 33rd year. And University of Notre Dame's Muffet McGraw, the longest-serving female coach in the state after 30 Hall of Fame basketball seasons.

Let's hear it for SanGiacomo. When he wasn't on the golf course for Trine, he was founding the school's drama club and writing a musical, "Moll!'' It's based on the novel "Moll Flanders."

His journey is filled with turns fashioned by fate. As a college student at Montclair State University in New Jersey who had never played golf in his life, he was debating a professor about a questionable grade. As a peace offering, the prof showed SanGiacomo to his garage and gave him a set of used clubs, some golf balls and advised him to give the sport a try. SanGiacomo fell in love with the game.

Out of college and looking for a job, he had just moved into a house and was chipping in the front yard one day, when a neighbor drove by and invited him to play. During the round, SanGiacomo mentioned he'd really like to find a job at a small school. The neighbor knew just the place: his alma mater—a tiny dot in the Midwest called Tri-State. The man called the college president, and two weeks later, SanGiacomo was interviewing for a position.

He's still there. "If it had rained on that particular day and I hadn't been out in the yard chipping, God knows where I'd be today."

And let's hear it for Richards, who started life in the middle of nowhere. "We lived out in the country in rural southern Michigan. I went to a one-room school until I was in the fifth grade. We had four kids in my class; the other three were Amish kids."

The family moved into Sturgis when he was in fifth grade, just a few blocks from the community tennis courts. He tried out the sport as a fifth-grader, loved it, and the rest— as they say—is history.

Richards was Mid-American Conference champion in singles and doubles at Western Michigan University and showed up at Ball State to coach in 1973. It took until 1984 to win his first Mid-American Conference title. Then look what happened.

"It took so much to elevate the program to that level, and then for whatever reason, we won 12 years in a row," he said. "I can tell you they're a lot harder to come by now."

Bigger fish noticed. Richards verbally accepted a move to Indiana University in 1984— "I remember sitting in [IU Athletic Director] Ralph Floyd's office and him chewing on his cigar, interviewing me"—but Ball State made a successful counteroffer.

When the coach of Big Ten champion University of Minnesota moved on in 1988, he hand-picked Richards as his successor. Terms were discussed. Richards put up a "for sale" sign in his front yard. But Minnesota changed directors of athletics, and the new man said he could not live up to what had been promised. Richards stayed in Muncie.

"A lot of things happen for a reason," he said. "We were better off staying here as a family. I think it was just meant to be that we stayed here." Two years later, he took his Ball State team to Minneapolis and the Cardinals snapped Minnesota's 47-match home winning streak. So there.

The years went by. Competition in the spring and fall, camps and recruiting in the summer.

"I had a recruit in a week ago," he said. "His parents asked, 'What do you do with your free time? You have any hobbies?' I said, 'No. It's all my job and my family.' My wife and I, we try to make time for each other, but it's hard. We're just consumed with this, and our family."

For how much longer? Richards isn't sure. Retirement is not imminent.

"I feel like my relationship with the players is the same as it was from day one. What we talk about is no different than it was 45 years ago," he said.

"I don't fear retirement because my wife and I have a lot of things we want to do. We haven't been to Washington, D.C. We haven't been to the Grand Canyon. We've been nowhere. I've never been to Disney World. That shows you how one-dimensional life is. If you do something for 45 years, you certainly wonder what it's going to be like when you don't do it.

"I don't want to see the program decline in my later years, so I think about that. I worry about that."

SanGiacomo plans to go two more seasons. There is another reason it has meant so much to him. He has buried two wives, both lost to cancer, the most recent five years ago. He taught his second wife the game, and they had planned a move South, to a house on a golf course, but life went another way. His job got him through.

"I don't know what I'd be doing if I didn't coach. I might be wandering the streets," he said. "They say when people retire and don't have anything to do, they kind of dry up. I don't want that to happen to me."

So the most enduring college coach in Indiana has carried on, loving every second of the game and the career that came his way by chance. Call his office, listen to his recorded message, and these are Bill SanGiacomo's closing words to you:

"Above all, keep it in the fairway."•

__________

Lopresti is a lifelong resident of Richmond and a graduate of Ball State University. He was a columnist for USA Today and Gannett newspapers for 31 years; he covered 34 Final Fours, 30 Super Bowls, 32 World Series and 16 Olympics. His column appears weekly. He can be reached at mjl5853@aol.com.