When we think of great pizza styles—the Chicago deep dish, for example—we tend to think of the whole pie as the unit of measure. But with New York-style pizza, the basic unit is the slice. While you wouldn't dream of walking down the street gnawing on a wedge of deep dish, the slice is as ubiquitous on the streets of New York as hucksters trying to get you to ride tour buses.

Two recent additions to the pizzeria scene here bring the emphasis on those New York-style triangular-ish wedges of dough, sauce and cheese to two of Indy's most prominent foot-traffic areas.

The stronger of the two, Goodfellas Pizzeria (545 Massachusetts Ave., 317-602-3401), has the benefit of big windows looking out on Mass Ave. It also benefits from a jovial crew of workers and reasonable prices.

My hopes went up when I saw dough actually being tossed in the air behind the counter. They rose further when I saw that the pies weren't buried in toppings and that the cheese slices in the glass case looked as appetizing as the pepperoni and sausage. And those hopes were satisfied when I heard the crack of the crust when I bent a piece in half and took a bite. A nice blend of cheese and sauce without one overpowering the other. No dripping of grease down the crevice. And good for reheating as long as you skip leafy toppings.

Here, a cheese slice will set you back $3. Basic pies run $8.95 for a 12-inch (half price on Mondays) up to $18.95 for a 22-inch that comes in so large a box you can expect comments from strangers as you walk down the avenue. Specialty pies can go as high as $34.95 for the Fuhgetaboutit, which has, well, every available topping. That's an offer I'm very comfortable refusing.

Beyond the pizza, the Caprese, Pasta, and Spring Mix salads ($2.95) come in little single-serving plastic containers, the extra Large Breadstick ($2.95) is singular and as big as a child's arm, and the piemakers are prone to mistakes (two errors in three visits, both corrected and/or compensated).

To be clear, there's nothing gourmet about a Goodfellas slice. The taste isn't subtle, but it's as good as any New York-style slices I've had in central Indiana. There's nothing fancy about the order-at-the-counter presentation, either, and the layout of the place is odd. If everyone in your party is of age, the bar area tucked around back has more comfortable seating, but the paper plates don't quite match the decor. I'll continue to prefer Bazbeaux's for a comfortable, sit-down dining experience. But for a place to grab a slice or casually share a pie, I'm glad to have Goodfellas in the mix. If parking were easier, it would be my grab-a-pie-on-the-way-home spot.

In Fountain Square, the newcomer is Papa Ray's Pizza and Wings (1267 Shelby St., 317-820-3173). Here, the stuffed-with-mozzarella Bosco Breadsticks ($5.99 for four) were doughy and a notch undercooked and accompanied by marinara sauce served refrigerator-cold. Wings (six for $6.99) were respectably meaty and crispy but left me wondering what competition allowed them to boast they are "award winning." Our party split on the quality of the mild Buffalo sauce, which had an unexpected but, to my taste, pleasant sweetness.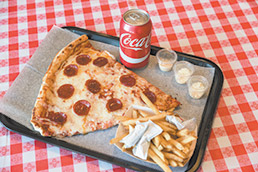 The $5.99 lunch special at Papa Ray's Pizza and Wings includes an oversized slice and better-than-expected fries. (IBJ photo/Eric Learned)

The Chicken Club Calzone ($8.49) looked intriguing, and not just for its enormous size. The pastry shell was soft and flaky enough to be fresh. Sadly, its main ingredients—chicken, bacon, tomatoes and Bermuda onions—failed to assert themselves above a general blandness. Mac n Cheese ($5.99, $7.99) offers another carb option with 30 optional add-ins ($1.25, $1.75), including artichoke hearts, Kalamata olives and smoked bacon.

But the place's raison d'etre is the Monster Slice ($5, including a canned soda). This aptly named creature extends about the width of a standard cafeteria tray, making it cover about as much real estate as a personal pie elsewhere. The sauce didn't have a lot of zip and the sausage topping was sparse to a point of neglect, but when you're hungry, low on cash, and/or need a place to process whatever happened the night before in Fountain Square, the deal is tough to beat. The $5.99 lunch special includes an enormous slice, fries and a drink. And the fries are much better than you'd expect from a pizza joint.

Another big plus: Papa Ray's is open until 2 a.m.•

—Lou Harry