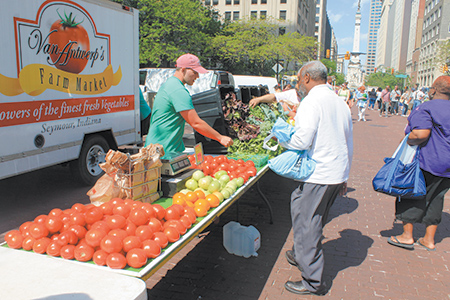 It's common to see Peter Blum shopping close to home for ingredients to use in his Duos food truck. So close to home, in fact, Blum has only to look to his neighboring farmers market vendors to find fresh produce for his rotating menu.
Every Thursday morning after the Duos truck parks at the downtown Statehouse Market, Blum jumps out to buy the tomatoes, greens or other produce he needs from VanAntwerp's Farm Market. Then he gets to cooking before the Statehouse Market opens and state government workers begin pouring in.
The relationship between Duos and VanAntwerp's began at one Indianapolis-area farmers market and has continued at others, lasting more than a decade.
"I have a product they seem to like and I like them using my product," said Dave Sturgill, owner of VanAntwerp's Farm Market. "They've got great food. They make this stuff taste great. I can't do that."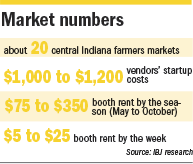 As farmers markets have grown increasingly popular in Indianapolis, relationships like the one between Sturgill and Blum—formed over a love of food and fresh produce—have taken root across the city.
Stevi Stoesz, market manager of the 20-year-old Original Farmers' Market at downtown's City Market, said the growing movement of local food sourcing referred to as farm-to-table is more than just a trend.
Stoesz said she often hears about connections formed by vendors at the Original Farmers' Market that have extended to corporate accounts with local restaurants. She said it's common on market days for vendors from as far away as East Chicago, Fort Wayne and Terre Haute to fill orders with restaurant accounts in Indianapolis before heading back home to their farm.
"They're going to be driving around to the restaurant accounts that they have and delivering fresh produce to be on their menu for the day," Stoesz said. "Farm-to-table is the new normal. It's not just a trend."
Blum said Duos, which also operates two Indianapolis restaurants and a catering business, tries to source as much food locally as possible.
"We want to support the local economy," Blum said. "It makes us feel good. It's not the cheapest way to go. Everybody will tell you that, but money isn't everything."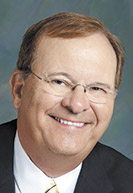 Carter
Ron Carter, market master of the Carmel Farmers Market, often compares the advantages of local sourcing over food sold at grocery stores.
For example, each of the Carmel Farmers Market's 64 vendors are given signs to place outside their stands every Saturday that note the number of miles they traveled to attend the market. Carter said the market's vendors come from an average of just 23 miles away.
"The average supermarket food travels about 1,500 miles," Carter said. "So farmers markets are all about relationships with vendors, food security and food safety and food freshness, and that's what our guests are looking for."
Stoesz said she often sees chefs from City Market and other downtown restaurants shopping at the Original Farmers' Market in large quantities for ingredients to satisfy their menus.
"Some of your better-named, better restaurants are here," she said. "It's a great thing to see because you know that fresh things are going to be on that menu."
The relationships are one reason many farmers try to set up booths at multiple locations, spreading themselves across at least a few of the two dozen or so markets in central Indiana. Often, they're in several locations on the same day, even though they have to pay for each market space.
VanAntwerp's, for example, goes to markets each week in Indianapolis, Carmel, Seymour and Bloomington.
Vendors typically spend $1,000 to $1,200 to get started at a market, which covers health department permits, insurance and market supplies. It doesn't include, however, the cost to actually sustain a sellable product.
Renting space at a single market can range from $75 to $350 for a full season. The fees help managers pay operational costs for the market's own health department licensing, venue rental on market day, and promotional materials.
Despite the costs, many established markets easily recruit vendors to sell for entire summer seasons.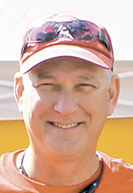 Woodall
Rick and Rhonda Woodall, owners of Red Barn Farms, spent years on a waitlist before joining the Original Farmers' Market, Rick Woodall said. In addition to selling Wednesday mornings in Indianapolis, the Woodalls attend a Wednesday evening market in Plainfield and a Thursday evening market in Brownsburg.
The markets connect them with customers who appreciate their specialties.
"We wanted to raise animals with no preservatives, no medicines and no implants," Rick Woodall said. "We felt the best way to do that would be through farmers markets."
After years of selling at markets, the Woodalls were able to open their own shop in Greencastle. But they said the busy and social nature of the Original Farmers' Market keeps them coming back each season.
"At our local Greencastle market, you're lucky if you get a hundred people a morning to show up—and look at this place," Rick Woodall said, referring to a busy Wednesday morning at the Original Farmers' Market. "This is our best market."
The Woodalls' story is common among farmers. Finding the right market can lead to relationships with bulk buyers, local chefs and repeat individual customers who are simply picking up produce and other goodies for their families. But finding the right market can be tough.
More have been popping up in the Indianapolis area over the last several years. North United Methodist Church reintroduced a farmers market at its 38th and Meridian streets property in 2012, the Southport Farmers Market launched in 2013, and the Garfield Park Farmers Market opened in 2016.
Some markets become staples of their community—think the Broad Ripple Farmers Market and Noblesville Main Street Farmers' Market—while others last only a few years.
"It's challenging," said Stoesz, who often consults with communities looking to start their own markets. "Markets have to prove themselves year after year after year, and the bottom line is, if a vendor doesn't make money at your market, that vendor doesn't come back."
Nikki Royer of Royer Farm Fresh Beef, Lamb & Pork in Clinton said she sells at the Broad Ripple Farmers Market every year because of stable support from customers doing their weekly shopping.
"We've gone to other markets that have folded," Royer said. "For us, it's a two-hour trip and you've got to sell some product to justify all your time and all the paraphernalia that goes along with coming to the farmers market."
Full Hand Farm owner Eli Robb sells at Broad Ripple for similar reasons. He said that, despite relationships with Indianapolis restaurants like Napolese, Patachou and Bluebeard, about half of Full Hand Farm's revenue comes from markets.
Robb said Broad Ripple is a customer-driven market. He emphasized the benefits his patrons receive shopping both at Full Hand Farm and other market vendors.
"It keeps their dollar close to home," Robb said. "I take their dollar and I spend it as close to home as possible, so it brings it full circle because it may be back to some of their businesses. It's a local economy which helps everybody."•
Please enable JavaScript to view this content.