It's been called one of the biggest success stories in Indiana health care, adding more than 400,000 Hoosiers to health insurance rolls and earning strong bipartisan support.
But now, the future of HIP 2.0, an expansion of Indiana's Medicaid program that requires low-income Hoosiers to have "skin in the game" by contributing financially—is up in the air, causing hospitals and other health providers to fret it could be decimated.
Republicans in the U.S. Senate are continuing to work secretly on a bill that could repeal the Affordable Care Act, which funds the plan, while giving few details on how the bill would affect Medicaid programs.
Last month, House Republicans narrowly passed a bill, called the American Health Care Act, that would cut $880 billion from Medicaid funding.
Kessler
Now, Indiana hospitals are bracing for possible deep cuts in the HIP 2.0 program, a move that could strip health insurance from thousands of people and cut millions of dollars from hospital budgets.
At Community Health Network, reimbursements from HIP 2.0 added up to $49 million last year, or about 9 percent of the health system's business—up from about 6.5 percent a year earlier. That amount represents a huge chunk of the system's salaries, supplies and other expenses, said Joseph Kessler, chief finance and administration officer
"Take it away," he said, "and the impact on this organization could be extreme."
He said Community Health has not drawn up a contingency budget plan yet, but any future cuts would likely come from back-office functions to preserve resources for patient care.
Kitchell
At Indiana University Health, the state's largest health system, HIP 2.0 accounted for 6.4 percent of gross patient service revenue last year, up from about 1 percent in 2014, a year before the program expanded.
The Medicaid expansion has allowed IU Health to treat tens of thousands of additional low-income patients, including those who for years had neglected chronic conditions such as diabetes and cancer.
"Many had to forego care [before HIP 2.0] because of the cost until they became so sick they could wait no longer, which often resulted in their needing expensive services for health problems that would have been easy to treat if they had received care sooner," said Ryan Kitchell, IU Health's executive vice president.
An IU spokeswoman declined to speculate on the impact of deep cuts to HIP 2.0, saying there are too many variables and too little certainty, making it difficult to do long-range planning
Outside metropolitan areas, HIP 2.0 has helped small hospitals provide basic services such as emergency care and maternity care, said Brian Tabor, president of the Indiana Hospital Association.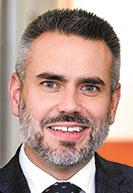 Tabor
"Rural providers have said expanding coverage has been absolutely critical to being able to keep the doors open," he said.
Higher reimbursements
What has made HIP 2.0 so popular with hospitals and other providers is that the plan pays better than traditional Medicaid rates, which are often so low that some doctors are reluctant to treat low-income patients. Instead, the HIP 2.0 program uses Medicare rates, which are often 30 to 50 percent higher.
So a hospital or clinic that performs a procedure known as a gastrointestinal endoscopy (with a biopsy lab test) would get reimbursed $337.06 under the HIP 2.0 rates, rather than $188.60 under traditional Medicaid rates. And a primary care physician would get reimbursed $102.28 for an initial office visit with a patient, compared with $47.44 under Medicaid rates.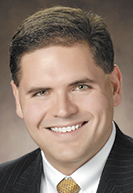 Clere
Not surprisingly, the higher reimbursement rates have attracted providers and built system capacity quickly, said state Rep. Ed Clere, a New Albany Republican who was chairman of the House Public Health Committee when the state was putting together the program.
"HIP 2.0 has been a great success, and it would be tragic to go backwards at this point," Clere said.
Another feature has helped the program take off so quickly: using a managed care model that brought insurance companies in as partners. Four insurers in Indiana—Anthem, CareSource, MDwise and Managed Health Services—enroll customers and manage the plans. In turn, they get a monthly fee per member from the state, depending on such variables as the type of plan and the age and gender of the customer.
The insurers use the money to pay the health providers for the services. Whatever they don't use, they get to keep.

The insurers have rushed to keep up with the flood of demand from low-income customers wanting to enroll. Anthem has bulked up its call center on Virginia Avenue with dozens of staffers to keep up with calls from customers, who are happy to finally have health coverage. As of April, it had enrolled 184,000 Hoosiers in the program.
Anthem also beefed up its IT support team, its provider relations team and expanded its field presence. Today, the company has about 300 employees and contractors across the state helping HIP 2.0 customers, company spokesman James Freeman said.
Program's history
HIP 2.0 was built on an earlier version of low-income health insurance, called the Healthy Indiana Plan, created by Republican Mitch Daniels and the Legislature in 2007.
The Affordable Care Act, signed into law by President Obama in 2010, was designed to expand access to medical care. The administration of former Gov. Mike Pence negotiated with the federal government for two years to use the Healthy Indiana Plan to offer that coverage.
Under the plan, most participants must pay a small monthly amount, usually a few dollars, into a health savings account—a requirement that's not part of the federal legislation. The plan covers Indiana residents between the ages of 19 and 64 whose family incomes are less than 138 percent of the federal poverty level and aren't eligible for Medicare or another Medicaid program.
Indiana is one of 32 states that have expanded their Medicaid program through the Affordable Care Act. Last year, the federal government gave Indiana $1.8 billion in Medicaid money to fund HIP 2.0, and the state chipped in another $100 million, using money from Indiana's cigarette tax revenue and through fees assessed on hospitals. The federal funds accounted for 95 percent of the cost, but that will fall to 90 percent by 2020.
Under Indiana law, if federal funding dries up, HIP 2.0 would revert to the original Healthy Indiana Plan, with enrollment caps of 35,000 and the likelihood of a long waiting list.
"If that goes away, it's like removing the sandbags during a flood," said Susan Jo Thomas, executive director of Covering Kids and Families of Indiana, a statewide not-for-profit focusing on health care. "It will hurt people because it means we will go back to the original Healthy Indiana Plan, with wait lists and restricted services. It will be a very sad day."
HIP 2.0, she said, has helped hundreds of thousands of low-income Hoosiers get care for a wide swath of health problems, from primary care to HIV and opioid addiction.
All eyes on Senate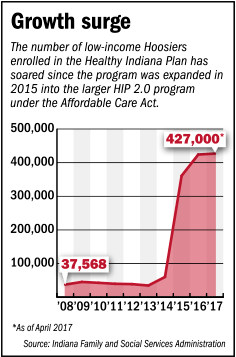 The bill passed by the House is now in the Senate, but it's unclear what changes it might undergo there. A team of about a dozen Republican senators is drafting a separate health care bill in private, without hearings. The Senate leadership has said it hopes to get a vote on the bill before the July 4 Senate recess.
The secrecy is making it all but impossible for the public—including hospitals, insurers and patients—to see what's unfolding.
Across Indiana, Republicans and Democrats alike have raised the alarm that Medicaid cuts could cause havoc. Democrats sent a letter to Congressional leaders in March saying the GOP health bill "could be dire" to many people.
Indiana Republicans warned in March that repealing the Affordable Care Act could unravel a vital health program for the poor. Indiana House Speaker Brian Bosma and Senate leader David Long, both Republicans, said tens of thousands of low-income people could lose their health insurance.
"The issue of the working poor is real," Long said at the time. "It's not going to be easy."
Indiana's two U.S. senators are now under the spotlight. Democrat Joe Donnelly said he opposes repealing the Affordable Care Act, and would rather fix parts of it that aren't working.
Republican Todd Young has said "it's essential" to maintain the Medicaid expansion—or at least create the ability for the state to maintain the Medicaid expansion, according to the Muncie Star Press. His spokeswoman did not return a call to IBJ.
Seeking extension
The state agency that administers HIP 2.0, the Family and Social Services Administration, said it is proud of HIP 2.0 and wants it to continue. The current program will expire at the end of January 2018.
Earlier this year, the state applied to the federal government for another waiver that would extend the program to 2021.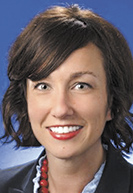 Taylor
"We are proud of the unique design of the Healthy Indiana Plan and how it successfully engages more than 420,000 Hoosiers using a consumer direct approach that focuses on improved health," Allison Taylor, the state's interim director for Medicaid programs, said in an email to IBJ. "We are committed to continuing the program and have proposed to extend HIP for an additional three years with various enhancements.
Republican Gov. Eric Holcomb said in March he had not "seen a more successful program" than HIP 2.0. But just weeks later, he announced his support for the GOP health bill to repeal and replace Obamacare—a move that would threaten federal funding.
His spokeswoman, Stephanie Wilson, declined to say what Indiana might do to keep the program fully funded if the U.S. Senate goes along with the House in repealing Obamacare and cutting Medicaid funding.
But she said the governor's office has been asking federal lawmakers for adequate time to "adjust to new funding realities," rather than cutting off funds with little notice.
"Indiana will need time to transition our programs in a way that protects the health of our most vulnerable populations," she said in an email to IBJ.•
Please enable JavaScript to view this content.