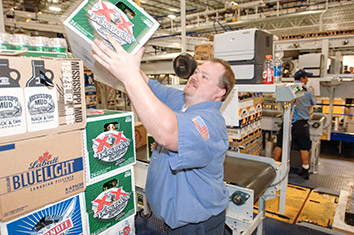 An appeal by beer wholesaler Monarch Beverage Co. to challenge Indiana's alcohol laws in court and be able to sell liquor in addition to wine and beer has been rejected by judges in the U.S. Seventh Circuit Court of Appeals.
The court affirmed, in a decision released June 30, a district judge's earlier decision in 2015 that Indiana's policy of separating beer and liquor wholesaling does not violate the Equal Protection Clause of the U.S. Constitution.
Monarch was challenging Indiana's so-called "prohibited interest" law—part of the company's years-long attempt to expand its beer and wine wholesaling business to include liquor. But the state's prohibition-era alcohol regulatory scheme prohibits issuing permits depending on what type of alcohol is being handled. 
For instance, beer wholesalers can wholesale wine, and liquor wholesalers can wholesale wine. But beer and liquor wholesaling are separate.
"A beer wholesaler may not acquire an interest in a liquor-wholesaling permit and vise versa," according to the opinion, referencing state law. That is unique to Indiana.
Monarch argued in the suit that the prohibited-interest law "facially discriminates against beer wholesalers in violation of the Fourteenth Amendment's equal protection guarantee."
But the Chicago-based court wrote in its opinion, written by Judge Diane S. Sykes, that "Indiana's prohibited-interest law doesn't draw lines based on race or any other suspect classification, it doesn't burden a fundamental right, and it raises no federalism concerns under the Supreme Court's dormant commerce- clause doctrine."
"So Monarch's equal-protection challenge triggers only the most lenient form of judicial review: The law is valid unless it lacks a rational basis," according to the decision.
Monarch's suit was filed against officials of the Indiana Alcohol and Tobacco Commission in 2013. The Indiana Beverage Alliance and the Wine & Sprits Distributors of Indiana supported the commission in the case.
The state has given several reasons for choosing to separate beer and liquor wholesaling, the opinion says. It has an interest in discouraging alcohol consumption, which is accomplished by making distribution more expensive. It has an interest in maintaining tax revenue. And it has an interest in market stability, "arguing that market upheaval would ensue if the prohibited-interst law is invalidated."
"Everyone agrees that reducing liquor consumption is a legitimate governmental interest. Monarch argues that it's irrational to think that the prohibited-interest law furthers this interest in any meaningful way," according to the decision. "We disagree. It's certainly not the most direct way of achieving this aim … but it's hardly irrational."
Circuit Judge Frank H. Easterbrook wrote in an concurrence opinion that Monarch isn't being discriminated against because "Indiana does not treat any person differently from any other" in its alcohol system.
"No one, directly or through a corporation or other business, can have all three alcohol wholesale licenses," according to the opinion. "That may be sensible or silly, but it does not discriminate. Beer wholesalers can get one other license type, just as wine or liquor wholesalers may, but not two others. A beer–liquor license combination is forbidden to everyone by (Indiana code)."
Monarch Beverage CEO Phil Terry told IBJ on Wednesday, "We understand we had a really tough and high burden to meet to overturn the statute and the Seventh Circuit concluded we didn't meet that."
"The court said we didn't overcome the regulators' argument that the reason for this statute is an intent to make the distribution system inefficient and drive up prices so that we reduce consumption," Terry said. "I understand the court's rationale. That's the standard. The state chose to argue that the system was designed to create higher prices for consumers."
Terry said the company hasn't decided whether it would appeal the case to the Supreme Court.
The case is unrelated to an ongoing battle that has reached the Indiana Supreme Court between the state and a Monarch Beverage affiliate, Spirited Sales. Oral arguments were heard in that case in February.
"Though the cases involve the same statutory provisions, the question here is distinct and seems unlikely to be affected by the outcome of Spirited Sales," according to the decision.
The decision came as good news to the Wine & Spirits Distributors of Indiana and the Indiana Beverage Alliance.
In a statement from spokeswoman Tina Noel, they said they were "confident the Seventh Circuit Court would rule this way, as the law is clear."
"This is a victory for Hoosiers in many ways," Noel said in a statement. "First, it's a win in the fight against monopolies in the alcoholic beverage industry. Second, it proves that non-stop bullying of regulators in this state doesn't work. Finally, we would hope that this would be the end of Monarch's wasteful lawsuits against the State of Indiana because Hoosier taxpayers have long been footing the bill for Monarch's unrelenting efforts. 
"Sadly, though, we fully expect Monarch to file another lawsuit soon, despite the fact they have lost multiple times now. If Monarch persists, Hoosiers will continue to be on the hook for those expenses."
Terry said Monarch was undeterred in its efforts to change Indiana's system.
Please enable JavaScript to view this content.