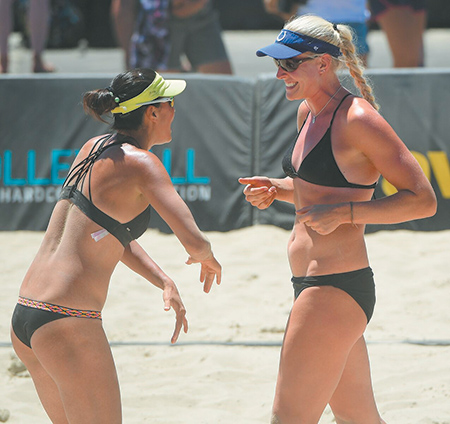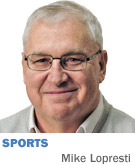 On the phone was the professional beach volleyball player from Zionsville, talking from San Francisco, which was the next stop on her dream.
"Never been here before," Kim Smith said, so she was excited about the weekend. Excited about the next tournament on the tour, too. Eager to get back out on the sand, to pursue the life she has chosen for herself. She'd be the one wearing the special necklace. We need to talk about that necklace.
"I feel myself grabbing it all the time. It actually broke off during a game one time," she said, and then described frantically grabbing it before it disappeared into the sand and handing it over to a friend for safekeeping, "because it's really important I have that."
An unusual piece of jewelry, it is. The imprinted fingerprint of a former Butler basketball star—Andrew Smith.
Her brother. The one she lost to cancer 17 months ago
"It's pretty awesome knowing that he's up in Heaven watching and he's proud of me," she said. "I wish he could be here. But here we are."
Andrew Smith's kid sister is 6-3 and turns 25 this month. She is a California girl now, living in Hermosa Beach, and playing on the AVP beach volleyball circuit for the third year. Having her best season, too, earning four top 10 finishes with Xi Zhang of China (she recently changed partners) and climbing to a 26 national ranking.
A few things we should know about Kim's journey in the sand.
One … she had to learn in a hurry. She was an avid volleyball player in college in Chicago and Miami, but that was the indoor game. The one with six players, and all a woman her size need do is skulk around the net and block the ball.
"Then I decided to just try out California and see how beach volleyball works out," she said. "I honestly didn't even know there was a tour. But I did know what the sport was, and I loved the idea of it.
"Once I got out here, I fell in love with beach volleyball, and I think I'll play this for a while."
Two … playing on the beach in a bikini is a different animal than playing in the gym.
"You're running around in the sand; there's the sun, the wind, the rain and the other elements," she said, mentioning a four-hour delay at the Austin tournament for lightning, the swirling winds at the Chicago tournament as a storm front blew through, the cold winter practices in the off-season.
"There are only two players, so I have to know how to do everything now. I'm still the blocker, so my job is still to block the ball when we're playing defense, but I have to pass the ball, set up my partner, everything that I didn't really ever do indoors. So I kind of had to start from scratch and my first two years on tour, I was basically just learning fundamentals. And now that I have those down, I feel like I can start improving my game elsewhere."
And three … she must really love it, because this is not easy. "Challenging is the word I would use," she said. "There's not a lot of money in beach volleyball."
Her winnings so far this year are $5,250, so it takes moonlighting to make ends meet. She was a nanny for three boys. She was an executive chef for a meal prep company, and doing very well, but the days in California are only 24 hours, same as here, and it soon became clear either working as a chef or training for volleyball had to go.
"I kind of had to pick dreams," she said, "and volleyball won out, as usual."
Now she works as a nutritionist, among other things. "I've coached indoor and beach. Lots of random babysitting jobs. You do what you can to make things work out. It's gone really well. I feel like God has led me to where I'm at, and opened a lot of doors for me."
Meanwhile, Andrew is never far away.
"I think about him a lot. When someone calls out a score, and it's 6-11, he was 6-11, so I always think of him then."
She was attending Florida International when he was first diagnosed, but hopes were high for recovery. When the cancer returned, she had moved to California and started her beach volleyball career. "We were still so sure he was going to be OK, the whole time he kept saying to me not to come back. He was really proud of me for being out here."
But by Thanksgiving of 2015, it was becoming clear the cancer was winning. Kim came home to share the final weeks of her brother's life. "He did a really good job of spending time with us. He was so sweet for Christmas that year. He made sure we were all there on Christmas Day, even though he was exhausted and had wires and everything hooked up to him."
Now when she plays, it's for more than herself. There's Andrew, and also the family back home that endured so much together.
"They're adorable. I always get back on my phone [after competing] and there's like 150 text messages in a group text. It's fun because I used to be on the other side of that, watching Andrew at Butler and being so excited with the family watching him. Now I can almost picture myself in that room watching someone I love play a sport. And I know exactly how they're feeling, and I love [that] I can do that."
It's a long road from Indiana to the sands of Hermosa Beach—whether by miles, or heartache endured, or jobs taken to pay the bills. Two last things to ask Kim Smith before she headed out to see San Francisco.
That volleyball dream?
"Stronger than ever."
Zionsville, Indiana?
"Still the best place in the world at Christmastime."•
__________
Lopresti is a lifelong resident of Richmond and a graduate of Ball State University. He was a columnist for USA Today and Gannett newspapers for 31 years; he covered 34 Final Fours, 30 Super Bowls, 32 World Series and 16 Olympics. His column appears weekly. He can be reached at mjl5853@aol.com.
Please enable JavaScript to view this content.