As the state moves closer to starting work on the final stretch of the Interstate 69 extension, one thing is clear: It's going to take many years and lots of money to complete the last 26 miles of the Evansville-to-Indianapolis project.
In his recently released $5.1 billion Next Level Roads Plan, Gov. Eric Holcomb included $554.3 million in state funding for the Martinsville-to-Indianapolis stretch of I-69, known as Section 6. That marks the first time specific dollar amounts have been attached to Section 6—a significant milestone.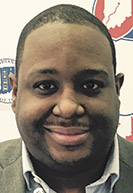 Holliday
"This is a big step for Section 6. This basically means it's a new level of certainty for the people along this corridor," said Indiana Department of Transportation spokesman LaMar Holliday.
The governor's plan accounts for only about a third of the $1.5 billion price tag for Section 6, which will upgrade State Road 37 to interstate standards in Morgan, Johnson and Marion counties from Martinsville to I-465. INDOT said it expects work on Section 6 to continue past 2022, and that it is still weighing its options for funding the rest of the project.
But INDOT and others say the initial funding gets Section 6 off to a good start.
In March, the state released plans that show locations for Section 6 interchanges. Now, the preliminary funding information provides another piece of the puzzle, said Martinsville Mayor Shannon Kohl.
"It gives us more of a way to get a game plan together, for sure," Kohl said. "Now we feel like we have more of a map of how things are going to go."
Section 6 passes through Martinsville, and four of the section's 10 interchanges will be inside or just outside that city's limits.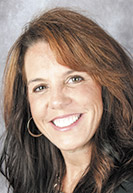 Kohl
The city is working with property owners who are likely to be affected by construction, Kohl said. Having some numbers and dates helps clarify particulars.
Construction on Section 1, from Evansville to Oakland City, began in 2008. Four sections are now complete, and the new road is open to traffic for 95 miles—from Evansville to Bloomington. Section 5, a 21-mile stretch from Bloomington to Martinsville, is currently projected to open late next summer. Its completion date has been delayed four times; the original target was October 2016.
One reason Section 6 is expected to take so long is that it will pass through so much existing development. Sections 1-4 were almost entirely brand-new road built through undeveloped land.
"Section 6 is, by far, going to be the most urban section," said another INDOT spokesman, Scott Manning.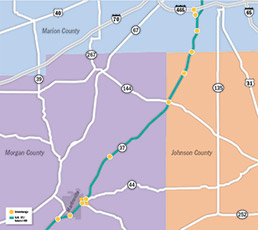 Click to learn how much money will be released for work in each county.
That means Section 6 will pass through many smaller parcels of land; property acquisition and right-of-way issues will be more complicated.
The agency has already started one-on-one meetings at the request of property owners along Section 6. It expects to have about 500 of those meetings—significantly more than the 325 meetings associated with Section 5.
"We have to have the property acquired before we can proceed with construction," Manning said.
So at this point, Holliday added, INDOT doesn't have a construction start date but should within a few months. At least some parts of the project should definitely begin next year, he said.
INDOT expects to receive a final environmental impact statement from the federal government in the first quarter of 2018, which frees the state to begin design work and property acquisition.
How to secure additional funding for Section 6 should also start to become clear next year, Holliday said.
INDOT is considering several options, he said, including the traditional design/bid/build method where the state oversees the project and a public/private partnership in which an outside partner is in charge.
The state tried a public/private partnership for Section 5. That arrangement, led by a group called I-69 Development Partners, fell apart when the contractor, Spain-based Isolux Corsan, ran into financial difficulties. In June, the Indiana Finance Authority voted to have the state take over the project.
But Holliday pointed out that INDOT has successfully used public/private partnerships for other projects, including the recently completed Ohio River bridges project connecting Louisville with its Indiana suburbs.
Holliday also said the Section 5 delays will not affect scheduling for Section 6.
"They're two separate projects on two separate stages which have no impact on one another," he said.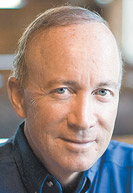 Daniels
Sections 1-4 were funded through Major Moves, an initiative of former Gov. Mitch Daniels. Under that 10-year program, approved by the General Assembly in 2006, Indiana generated $3.8 billion by granting an Australian/Spanish consortium a 75-year lease for the Indiana Toll Road in northern Indiana.
The money was earmarked for a variety of road projects, including $700 million for the first four sections of I-69.
Daniels, who is now president of Purdue University, said he's not surprised the I-69 extension is taking so long to complete.
"It's a massive project," he told IBJ.
Daniels said he considered Sections 1-4 to be the most important because they created a direct connection between central and southwestern Indiana. In contrast, Sections 5 and 6 represent improvements to an existing roadway.
"I've never thought that there was anything wrong with that part [between Bloomington and Indianapolis] taking more time," Daniels said.
Getting the Evansville-to-Bloomington portion finished, he said, created "80 to 90 percent of the value" of the entire I-69 extension because it opens development possibilities in what are now largely undeveloped areas.
"Viewed from the relative prosperity of central Indiana, people may not understand how important this is to a corner of the state that may not have shared in this prosperity," Daniels said.•
Please enable JavaScript to view this content.