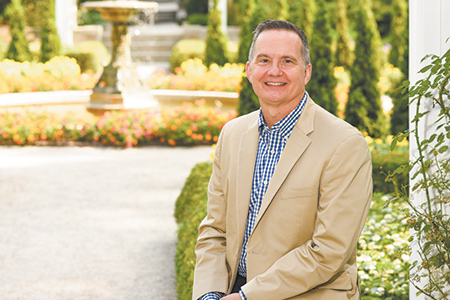 To see how the Indianapolis Museum of Art has fundamentally changed its vision since Charles Venable took over as director and CEO five years ago, you need only look at the annual reports.
Not inside. Just the covers.
The 2010-2011 edition, before his arrival, featured the work of outsider artist Thornton Dial, whom the IMA championed in the first retrospective exhibit devoted to his work, attracting critics from the New York Times, The Washington Post and more.
The cover of the most recent annual report features orchids.
The contrast might not have been intentional. But the orchids serve as a commentary on the museum's cutbacks on major exhibitions, the kind that generate national interest but cost a bundle to produce or borrow. And they represent Venable's expanding idea of what the IMA's grounds—which will be rebranded under the umbrella name Newfields beginning in October—can offer to a wider range of audiences.
For some, Venable is a visionary who is facing the IMA's fiscal challenges with a new focus on making the museum relevant to more people, including families, couples and millennials looking for experiences. Under his leadership, membership is at a historic high. And the amount the museum is drawing from its endowment to make ends meet is down.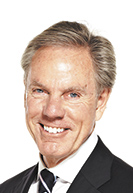 Hiatt
"When you think about it, 'museum' is an old word that conjures up images of an indoor experience—passive, looking at art on the walls, sometimes being exhorted not to touch the painting, wandering around in a hushed environment," said IMA Board Chairman Tom Hiatt. "That, frankly, is an experience which a lot of people don't find welcoming or engaging."
But to critics, Venable is the man who has turned the IMA into a members-only club, de-emphasizing art and accessibility in favor of flowers, food and fun.
When Venable arrived in 2012, the museum was free to the general public (excepting special exhibitions, some programs and parking), as it had been for all but one of the previous 65 years. However, Venable—who previously served as director of the Speed Art Museum in Louisville—came to believe the model was unsustainable, in part because the museum was annually drawing down about 8 percent of its endowment, which had fallen from $393 million before the recession to $266 million when he arrived.
Venable's boldest effort to rebalance the books was instituting an $18 admission fee in April 2015, which necessitated blocking most of the upper campus grounds to non-payers and funneling visitors through the main building.
He also changed the museum behind the scenes. Following his hire came a management shakeup, staff layoffs and an exodus of curators—including Lisa Freiman, chairwoman of the Contemporary Art Department, who largely crafted the 100 Acres Nature Park collection; and Sarah Urist Green, curator of contemporary art, who went on to create "The Art Assignment" for PBS.
Two of Venable's highest-profile hires, Tricia Paik, curator of contemporary art, and Scott Stulen, curator of audience experience and performance, didn't stay long. Currently, the museum has five full-time curators, down from 12 before Venable arrived—although an IMA spokesperson said to expect three key staff announcements over the next year.
Recent new hires include a director of hospitality and a director of festival, performance and public programming—both positions designed to expand the museum's offerings beyond traditional art exhibitions.
For some former employees, it's been a tough transition to watch.
"The IMA used to be a visionary art museum that demonstrated the power that art has to transform lives," one told IBJ. "Today, Newfields seems to be a place that also has some galleries with old art in it.
"This sends a signal that the leadership doesn't trust that we Hoosiers are sophisticated enough to be moved by compelling art experiences, and that we no longer deserve to be in the critical discourse of what matters today in art and culture. It's all mini golf and movies these days."
Early results
Under Venable, annual memberships ($55 for adults, $75 for families) have risen from about 6,000 to an all-time high of more than 17,000, while attendance appears to have dropped considerably. Before the admission charge, the IMA counted about 400,000 annual visitors inside the museum alone. It claims 360,000 today, but that figure now includes all visitors to all programming, inside and out—everything from the free 100 Acres park to corporate and wedding rentals to the popular Penrod Art Fair (about 20,000 attendees), to preschool classes, summer movie nights and the beer garden. Only about 111,000 come to the museum as general-admission visitors, either as members or paying for a daily ticket.
The endowment is now up to $340 million, with an estimated draw for fiscal year 2017 at under 5.25 percent.
According to Max Anderson, Venable's predecessor, comparing the impact on the endowment is difficult. That's because previous figures included debt service and pension costs, which are no longer bundled into the rate the museum cites.
Still, the financial improvement was enough for the IMA board to extend Venable's contract through 2026.
Venable said he's not tampering with the art museum itself—just acknowledging that the grounds have a wider appeal and making better use of them by delivering what the public wants.
Such ideas are nothing new. The IMA has long featured movie nights on its terrace and, from 1973 to 2004, was home to Indianapolis Civic Theatre.
But the museum is making the case that there are now even more reasons to visit its grounds, including new residencies in 2018 for Young Actors Theatre and the fledgling Indianapolis Ballet as well as experimental programs such as B-Movie Bingo and a cat video festival. A popular outdoor mini-golf course in the summer, a beer garden that now pays for itself (thanks in part to a donor who funded its construction), and a preschool provide more ways to get visitors onto the grounds. Some outdoor events require admission; some are ticketed separately, with discounts to members; some charge program fees.
All the new programming is intentional. Surveys, Venable said, have shown potential patrons are resistant to the idea of an art museum but they like experiences.
"They aren't couch potatoes," he said. "They go to sports, to restaurants, outdoor hiking, state parks. They go to theater. They go to First Friday." But, he's found, they've been reluctant to go to the IMA.
"But if they know they can go and have a glass of wine and walk around a garden and maybe see a little art, that sounds fun. They said they would come," Venable said. "If we can get those people to make that choice and spend their precious Saturdays or Thursday night here, then we think we can grow our audience."
More dazzle
The newest attempt to capture that audience will be Winterlights, launching in November.
"Literally, we have been all over Europe and all over the United States looking at winter festivals," Venable said. "And we think we are going to deliver something that is quite extraordinary."
With a $3 million price tag over three years, the walk-through event will include more than a million choreographed lights decorating the grounds—plus hot cocoa and roasted marshmallows.
Venable said he was "blown away" by holiday light shows at Tivoli Gardens in Copenhagen and another in Sweden.
When publicly announcing the program, though, Venable and his team failed to mention that Winterlights comes with a $25-per-adult fee. Members get $5 off.
Venable thinks that price is in line with similar attractions elsewhere. And there's great potential for financial benefit. "There are some, like Longwood Gardens, that get a third of their attendance from the holidays," he noted. "Eventually, I want 100,000 people to come to our holiday program."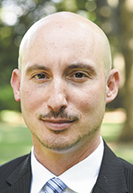 Wise
"It's about the growth of the organization," IMA's chief financial officer, Jerry Wise, said of Venable's moves, including the addition last month of the Newfields moniker.
"Over the last several years, we've been focusing on more investment in the gardens, trying to open up the campus to be accessible to more people who have viewed the institution as only doing art exhibitions."
Newfields has "the historic home as well as the performing arts," Wise said. "But a lot of people in the city don't really identify this campus that way."
And the financing for all the new programs? "We expect all of the new elements to cover themselves," Wise said. "And, fortunately, they are exciting to donors." In two months, he said, the beer garden (opened March 31) earned back its investment. "Our hope is that [Winterlights] really connects with our audience and is a self-sustaining enterprise."
"Of course," added Venable, "we don't want to do anything to disenfranchise the folks who come in to see the exhibitions."
Outside vs. inside
It's a different kind of disenfranchisement that has caused concern among many visitors.
"I've intentionally not purchased a membership, even though it would be more cost-effective for me personally," said artist Rita Spalding. "I don't want my one measly purchase of a membership to be seen as an endorsement of their new exclusionary practices, so I pay the higher one-day price."
Spalding acknowledged that the IMA needed a sound business model. "But doing so in a way that excludes low- and middle-income families is not the civically connected way to do that," she said.
Such complaints aren't leveled with as much hostility at other admission-charging local museums, including the Eiteljorg Museum of American Indians and Western Art or the Indiana State Museum. And even such esteemed museums as the Art Institute of Chicago have dropped their "suggested" price in favor of a must-pay model.
Others, though, have gone in the other direction. The Bronx Museum of the Arts in New York City ditched its $5 admission charge thanks to a three-year grant. Attendance doubled in its first year, to 30,000 and continues to rise.
When previous IMA chief Anderson jumped to the Dallas Museum of Art, he instituted free admission, which increased attendance dramatically. At the same time, the museum raised more than $40 million for its endowment and special programs. It also turned what had been a largely monocultural institution into one with a majority minority audience—a shift that led to an increase in appropriations from the city council there for the first time.
When contacted by IBJ, Anderson—now president of the Souls Grown Deep Foundation, which works to distribute African-American artworks to museums around the world—was diplomatic about the dramatic shift from his free-for-all vision of the IMA.
"It's the right of any board and chief executive to set a course for an institution," he said. "And the course that has been set does seem different from the traditional course for a museum, focusing on the outside rather than the inside."
To counter such complaints—which Venable said have died down considerably since the initial admission fee announcement in December 2014—he points to monthly free days as well as the museum's participation in the Access Pass program, which provides lower-income residents with $2 tickets with proof of qualification for one of three government assistance programs. Since December 2014, the Access Pass has accounted for about 2,500 admissions.
But, say some, applying for such a pass isn't nearly as inviting as being welcomed unconditionally into the IMA.
On the walls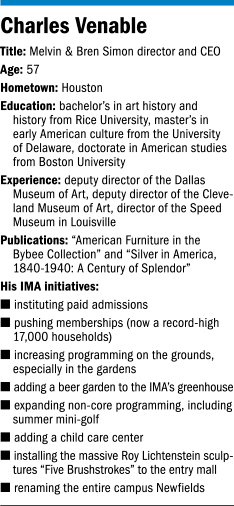 As for programming within the museum, the special exhibitions have been far more modest than in the past. Venable certainly garnered attention by offering "Dream Cars: Innovative Design, Visionary Ideas" to coincide with the 99th running of the Indianapolis 500. But there's nothing on the horizon comparable to 2013's "Matisse: Life in Color," which attracted 50,500 visitors, or to such ambitious, scholarly shows as "Sacred Spain" and "Andy Warhol Enterprises."
September offers a Venable-curated showcase of recent IMA acquisitions (more than 300 works were added to the collection in 2015 and 2016, bringing its total inventory to more than 55,000 pieces). October brings "City as Canvas," a graffiti art show from the Museum of the City of New York. And October launches "Portraits of Our City," a potentially ego-boosting collection of photographs of local residents.
Venable said high-profile offerings are just not affordable.
"If it's going to cost us $2 million, either we wouldn't put it on or we'd have to charge. Even members would have to pay extra," he said.
Christopher West, a local art dealer who attended the Newfields naming announcement, said he's an "art lover" and "always wants great programs and great exhibitions at the museum."
"The other, additional experiences that can add to the experience—that's great," he said. "But my hope is that it's always a museum first and foremost."
Venable and the IMA board are on the same page. Hiatt said creating options for food and drink and giving patrons new experiences are key to the organization's future.
"Our beer garden experience was a big success," he said. "In my view, it's important for us to build on that and mini golf and make even more friendly experiences—to broaden our menu."
In October, the board will decide which of 54 suggestions outlined in a recent study from David Rubin/Land Collective will be implemented. The possibilities include additional parking, a children's garden, thinning of trees to make the IMA more visible from Michigan Road and 38th Street, improved outdoor sound systems, more accessibility on the grounds for people with disabilities, and a new bridge to the 100 Acres sculpture park.
Much of that will depend on how much money the museum can raise—and how patrons react to changes already enacted.
"Right now," Venable said, "we want to prove that we have the visitation that requires us to invest."•
Please enable JavaScript to view this content.