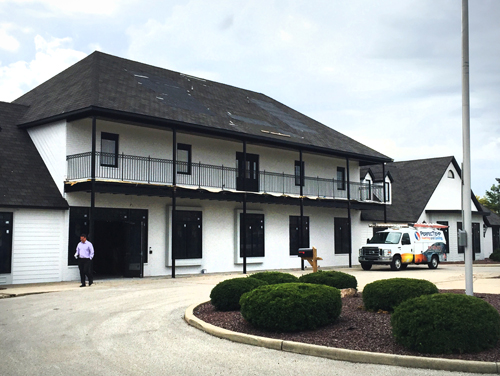 The new owner of a Greenwood building formerly occupied by a well-known restaurant is renovating the property and dividing the space in a bid to attract multiple commercial tenants.
South-side institution Jonathan Byrd's closed its flagship location in May 2016 as it began shifting operations to Hamilton County. Those plans, however, ultimately fell apart early this year.
But before Byrd's closed its doors in Greenwood, following a 28-year run, the family in January 2015 sold the 40,000-square-foot headquarters building just southwest of the Interstate 65 interchange at Main Street to Randy Faulkner.

Randy Faulkner
Faulkner, 52, who operates Faulkner Restoration Inc. and real estate firm Randy Faulkner & Associates along with his wife, Julie, bought the building for $1.1 million, according to Johnson County assessor records.
He now expects to spend another $500,000 readying it for up to 12 office and retail tenants. Its first occupant, Brickhouse Coffee Co., opened nearly two months ago.
In a nod to Jonathan Byrd's, Faulkner has named the building The Nest. When he bought it, however, he had no idea the restaurant would be leaving. Faulkner originally rented the space back to Byrd's but agreed to release the company from its obligations once it became evident the restaurant would be leaving, he said.
"We worked through it," said Faulkner, noting he relishes the "challenge" of renovating the building.
Faulkner is no stranger to redevelopment. In November 2016, his real estate firm bought Greenwood's former city hall. Known as the Polk Building, the 24,000-square foot, nearly century-old structure at 2 N. Madison Ave. is now occupied by the Cornerstone Autism Center.
In July 2015, Faulkner bought the building at 2115 E. Southport Road that formerly housed a Gerdt Furniture store. It's now home to dental claims processor Renaissance Electronic Services.
Although construction work still is progressing at The Nest, Faulkner has commitments from several tenants, he said. They include a title company, videographer and beauty salon. In addition, Faulkner's restoration company is located there, and real estate agent Bruce Richardson has moved into space on the second floor.
A 7,000-square-foot event center, which will be operated by Kristee Anderson, should open by November. Anderson describes the building's renovation as "farmhouse glam," in part due to the rustic look and the eight doors Faulkner salvaged from an old Wisconsin farmhouse and installed in the building.
On the west end, Faulkner is hoping to attract a McAlister's Deli to the 4,500-square-foot former dining room, saying the Atlanta-based chain "might have interest."
Brickhouse Coffee Co., operated by Jared and Lora Stayton, is located on the east end, in 5,000 square feet that boasts a drive-through window. The couple learned to roast coffee beans while working as missionaries in Spain.
"The drive-through was a bonus," Jared Stayton said. "So was the building's iconic status."
Byrd Enterprises left the building because it had planned to open a restaurant at the Grand Park Sports Campus. It said last year that it would partner with the city of Westfield to manage the park's two-story indoor soccer complex.
But by the end of January, Jonathan Byrd's had stopped doing business at Grand Park completely.
Byrd Enterprises still operates the 502 East Event Centre in Carmel, formally known as The Fountains.
Please enable JavaScript to view this content.