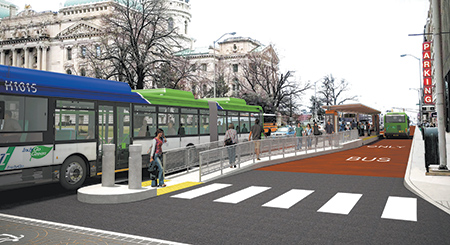 IndyGo's Red Line project took a big step forward Thursday evening when the public transit group's board of directors awarded $46 million in construction contracts to two firms for the 13.1-mile route.
Goshen-based Rieth-Riley Construction Co. Inc., which has an office in Indianapolis, will do the civil work of building the route itself, which includes things like road paving, sidewalk construction and adding red lane markings. IndyGo officials approved its total bid of $30.7 million.
Indianapolis-based F.A. Wilhelm Construction Co. Inc. won the contract to build stations at the 28 stops along the Red Line route. Wilhelm also proposed including $3.2 million for station features including snow-melt systems. Its total bid was $15.3 million
The bids together came in at 3.5 percent below the engineer's estimate for the Red Line project, IndyGo said.
Rieth-Riley and Wilhelm were identified last month as the apparent low bidders among the six firms that submitted project bids to IndyGo. Thursday's vote came after IndyGo's staff examined each of the bids for compliance with specifications.
The Red Line bus rapid-transit project is intended to be a 13.1-mile route that runs between Broad Ripple on the north side of the city and the University of Indianapolis on the south side, offering more frequent service and longer hours than current routes.
About 60 percent of the Red Line will have dedicated bus-only lanes, including the portions that run on College Avenue, North Meridian Street and Capitol Avenue. A raised curb will be installed along Meridian and College to keep cars from turning left across the bus lane—but U-turns will be permitted at traffic signals at specified intersections.
The Red Line stations will all look similar, but not identical. Shelters will have the same design and features, including canopy roofs, digital scheduling signs, elevated boarding and ticket-vending machines. Some stations will be curbside, with passengers boarding on the right side of the bus. Other stations will be in the center of the road, with boarding on the left side of the bus.
The buses will be custom-designed, 60 feet long and electric-powered. BYD America, a Chinese company with a U.S. subsidiary in California, is supplying the buses. In July, IndyGo placed an order for 13 Red Line buses (total cost $16 million); and another 18 to replace existing diesel-powered buses (total cost $22.2 million).
IndyGo plans to conduct public meetings in January and February to discuss detailed construction schedules for the Red Line. Construction is expected to begin early next year, with the route open for service in the summer of 2019.
The Red Line is intended as the spine of a fully revamped IndyGo network. Plans next call for similar projects called the Blue Line and Purple Line, which will run in other parts of town.
IndyGo is already looking ahead to the Purple Line. Plans call for it to run 14.6 miles between Lawrence and IndyGo's downtown transit center, mostly along the current Route 39. Construction is estimated at $139.5 million—considerably more than what the Red Line will cost. That, according to IndyGo Vice President of Public Affairs Bryan Luellen, is because the route includes areas with no sidewalks, poor-quality pavement and drainage problems; infrastructure upgrades will be necessary.
Please enable JavaScript to view this content.