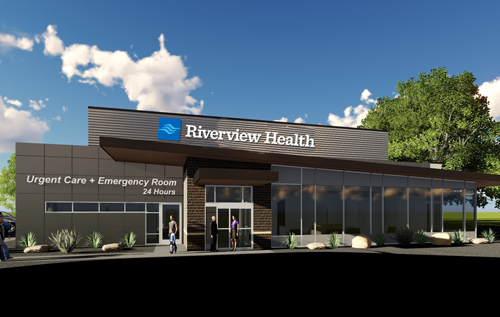 In the latest move among central Indiana health systems to offer patients care outside a traditional hospital setting, Riverview Health plans to build four freestanding facilities combining an emergency department and urgent care-center.
The Noblesville-based system said Tuesday it will locate the centers in north Carmel, west Carmel, Fishers and the Nora area of Indianapolis. It did not provide addresses.
Construction will begin this spring, and all four locations will open next year, the system said. Each facility will be approximately 10,000 square feet.
At each location, an emergency physician will see each all patients and make a decision whether the patient should be treated in an emergency or urgent-care setting.
Emergency departments typically offer acute-care service for people with life-threatening injuries, such as those from gunshots and car crashes. Urgent care typically means treatment for less serious injuries, such as sprains and infections.
"Many visits to the emergency department could be treated in an urgent-care setting at lower cost," said Seth Warren, Riverview Health president and CEO. "This model eliminates that discrepancy by billing only for the level of care needed, which has the potential to save money for patients, employers and communities."
The facilities, which will not include overnight beds, are not considered hospitals. They will be open 24 hours a day.
Riverview declined to say how much it is spending on the project.
In recent months, health systems throughout Indiana have been rushing to open a variety of small treatment facilities, from urgent-care centers in retail strips to "micro-hospitals" with a few overnight beds.
Riverview said its facilities combining oemergency departments and urgent-care centers are the first of their kind in this area.
The health system, owned by Hamilton County, has more than $100 million in ongoing projects, making this one of the biggest eras of growth in the history of Riverview, which opened its Noblesville hospital in 1951.
Small facilities are designed to save patients the time of driving to a sprawling hospital campus, often farther away from their homes or businesses. In many cases, the facilities charge less for treatment than a full-service hospital. The facilities also act as feeders for the hospitals if the patients need additional care.
Please enable JavaScript to view this content.